Listen
The SNAP Challenge is an annual event that asks people to learn first-hand what it's like to eat on the amount of money provided by the federal government's Supplemental Nutrition Assistance Program for four days.
That's the formal name for the food stamp program, and under it, the government provides about $4.16 a day for each person who qualifies.
"The SNAP Challenge is about raising awareness of hunger in the community," said Heath Butrum of the Community Food Bank of Southern Arizona, "really showing people on a day-to-day basis what our clients go through, always having to worry about where the next meal is coming from."
My wife, Ashley, and I decided that we would take part, and I would document our experiences here and in a daily journal you can find here.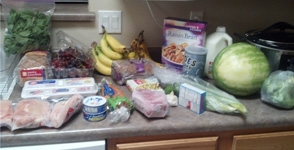 The bulk of the food we had for the SNAP Challenge, total cost $29.
We spent a total of just under $33 on food for most of last week.
Setting our budget started before Monday, beginning when the weekly grocery store ads came out.
I started by flipping through the ads that come in the newspaper on Wednesdays. But just browsing didn't work.
I started taking notes. That wasn't enough either, so that's when the spreadsheet started.
Roughly four hours later, I had a shopping list. I then spent another hour looking for coupons to save a little more.
On top of the five hours spent with ads and coupons, I then spent another three hours shopping.
Eight hours, six stores and $29 later, our food was purchased.
That left us a little bit of money, which came in handy once we figured out what we were missing out on.
Day one of the challenge was Labor Day.
I spent the day prepping food and planning. I cooked main courses, chopped vegetables and fruit and divided my cereal into four equal portions so I wouldn't eat it all before I was done.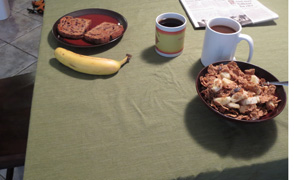 PHOTO: Zac Ziegler
The breakfast that Ashley and I ate every day of the challenge.
Day two was our first day at work.
I wasn't the only person in the AZPM building familiar with the challenge; U.S. Rep. Raul Grijalva was there doing an interview.
Grijalva said he did the SNAP Challenge last year and knows about the program's recent problems.
The Farm Bill, which funds SNAP, has been tied up in Congress for months.
"The concern I have is that we're still struggling with the Farm Bill," Grijalva said. "We're still fighting back the majority to cut $40 billion over 10 years from SNAP, which is nutritional support for families."
How did he get through the challenge last year? "Ramen, lots of Ramen. You throw in some carrots, and it's a whole different meal."
Ramen and carrots isn't what this amount of money necessarily leaves you eating.
We managed to eat decent cuts of meat, fresh fruit and fresh and frozen veggies. We ate more bread and cereal because grains are inexpensive and filling.
We benefited from good sales and lots of preparation. Those who can't get to two or more grocery stores may not eat so well.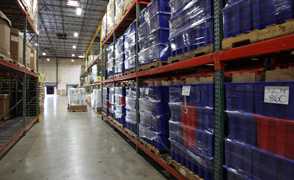 PHOTO: Zac Ziegler
Stock piles of ready-to-hand-out food bags sit on the shelves of the Community Food Bank of Southern Arizona, ready to be delivered in remote locations.
They may be stuck with what's cheap, and what's cheap isn't always healthy.
Eating healthy is definitely on the mind of the organization that promoted the challenge in Tucson.
The Community Food Bank of Southern Arizona ensures that the food it hands out is healthy.
That assistance is big, because nearly one in five Southern Arizonans are getting some form of help.
"In Pima County, there are 172,000 individuals that receive SNAP benefits," said the Community Food Bank's Butrum. "That comes out to about 17 percent of the total population in this county. About half of those recipients are children."
The food bank doesn't only give out food; it teaches people how to grow it. It even helps those in the most need build backyard gardens.
It helps people master what is becoming a lost skill.
"When I speak to my 92-year-old grandpa," said Melissa Mundt, "and tell him that I teach people gardening he says, 'What do you do that for? They should already know.'"
PHOTO: Zac Ziegler
Gardeners listen as Community Food Bank gardener Patricia Rojas teaches a class.
Aspiring gardeners show up to the weekend classes and get their hands dirty in the food bank's garden.
The classes are not just for those in financial need or for novice gardeners; they're for anyone who signs up.
My wife and I managed our $33 budget.
While we ate as healthy as usual, we still ate well, certainly better than we did in college and probably better than a lot of people.
We felt fine.
But there was an increase in tension around meals. Food wasn't the joyous thing that it normally is. It was sustenance, fuel for the body. It changed our view of food for those days.
And for some people, that is the everyday reality. Food is happiness, it's just sustenance.
Luckily for us, that joy was back after the challenge ended
You can read more about the experience my wife and I had, see pictures of what we ate, and here more from the people I interviewed on this daily journal.