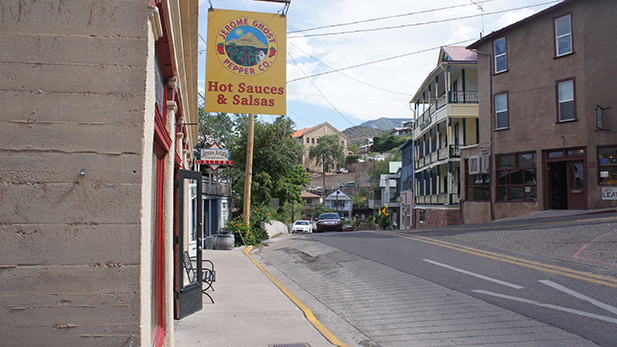 (PHOTO: Zac Ziegler)
Jerome's history stretches back to the days when Arizona had not even achieved statehood yet.
"1876 was when it was founded. 1899 there was a government put into effect," said Jay Kinsella, general manager of the Jerome Historical Society.
The town is named after Eugene Jerome, an early investor in the first copper company to set up in the area.
"Eugene Jerome was the great-grandfather of Winston Churchill," he said.
There are plenty of odd bits of trivia sprinkled throughout Jerome's history.
The town was once the third largest city in Arizona. The nearby open-pit mine was dug by a large steam shovel that was used to dig the Panama Canal. The machine would meet its end in the town when its scoop hit a patch of unexploded dynamite, raining pieces of the shovel all over town.
It was the home to many firsts in Arizona history.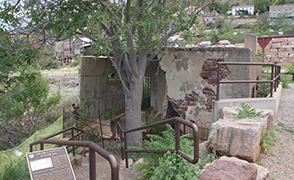 Among the buildings that slid down the hillside in Jerome is the town's old jail. The building was moved in the 1960s after it slowly slid on to Highway 89A, blocking what was then the main road between Phoenix and Flagstaff. (PHOTO: Zac Ziegler)
"We also had the first Safeway Pay and Take It in the state. We had the first building west of the Mississippi that had central vacuum cleaner systems," said Kinsella. "We had the firsts of everything. Case in point, we had the first J.C. Penney in Arizona. We had the second J.C. Penny in Arizona because the first slid down the hill."
Mining mishaps meant buildings slowly slid down the hill where the town is located. There were plenty of chances for mining blasts to shake the town. Under the approximate one square mile of the town's footprint stretch 136 miles of tunnels and shafts, Kinsella said documents suggest.
The digging of those tunnels led to some booming times during the town's heyday.
"The highest population of Jerome was in the early 1920s. We had about 15,000 permanent residents and about 8,000 transient workers that were bouncing between Jerome, Bisbee, Morenci and other holdings that Phelps Dodge (Mining Company) had."
The town's population was not much smaller than Phoenix nearly 100 years ago, and its population density was similar to modern day Paris.
Jerome's boom started to ebb in the 1940s. The end of World War II lowered the demand for copper, and new federal safety rules hindered sub-surface mines.

VIEW LARGER A panoramic view of Jerome, Arizona. (PHOTO: Zac Ziegler)
It was not long before Phelps Dodge lost interest in the mines and the town, of which it owned the vast majority of property.
"In 1953 the mines were shut down," said Kinsella. "At that time the mining company was set up at the end of Main Street where the fire station is with bulldozers, and they were about ready to level the town because they didn't want the liability and the state highway still ran through it."
A group of six residents formed the Jerome Historical Society to stop the bulldozers and save the town. They had one thought on their minds.
"At some point, someone is going to want to come to Jerome for the history," he said.
The historical society held on to the buildings that make up Jerome, but the same was not true of the population.
The town got down to about 50 residents and was on the verge of becoming a ghost town.
Then a whole new crowd moved in.
Jerome's current mayor, Lew Currier, was among them.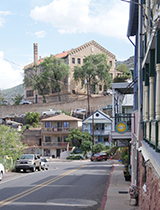 Jerome's Public Library and Town Hall sit on a cliff overlooking the houses and businesses in uptown. (PHOTO: Zac Ziegler)
Currier spent time in the Army before settling in San Francisco in the 1960s.
"I actually thought that civil war might be close at hand, and I had a child, five years old, and a wife, and I thought this is the wrong place to be for that," said Currier.
He was looking for a place to get away from the tumult taking place in the bay area during the time.
One of Currier's friends received a letter describing a nearly-vacant town that he had recently spent some time in.
"This letter said, 'Hey, there's a house here: 12 rooms, two kitchens, five or six city lots and a big workshop, $7,000.'"
Currier and two friends bought the house, packed up their families and headed for Jerome.
They arrived in 1970 to find that about 200 like-minded people had already settled in to the community.
"It was paradise. You said 'the war,' and they'd say 'what war?' They didn't even pay any attention to it."
The people who had arrived in the town prior to Currier secured national historic district designation by the federal government, giving it long-term protection.
The new residents then set about restoring the historic buildings that still stood.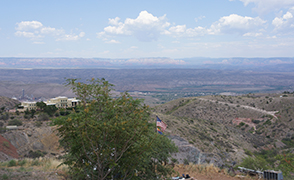 The view from uptown Jerome looks north over Clarkdale and the Verde River. (PHOTO: Zac Ziegler)
"Every year or so the town would reclaim a house," said Currier. "After a while most of the empty ones were reclaimed, so then maybe they'd build one. One a year, maybe. Then after a while maybe a couple a year. Then maybe we could put a shop in uptown."
As the town could accommodate more people, its population grew. It began attracting artists and craftsmen.
"People thought of Jerome as an artists' heaven. And that was okay by us because it brought some people and more artists, and we were all happy painting each other purple," he said.
A big factor was an old-world charm, according to Currier. Residents were close to their neighbors but far from the world.
"It was all laid out before the automobile. We have cobblestone streets. I've been to Europe, and I loved it over there in the little old towns. Jerome has a lot of that. Once you get outside the core center, you realize that this is still a small town with cobblestone and dirt streets," he said.
The people, buildings and history soon gave Jerome a new economic driver.
An iconic triangle-shaped building in uptown Jerome is now home to the Flatiron Cafe. (PHOTO: Zac Ziegler)
"Originally, our revenue was the mining. Now it's tourism," said Jerome Historical Society's Kinsella.
It also had small-town charm.
"It's all mom and pop. We don't have any franchises in this town. It's kind of a cool thing. We have no Starbucks but we have killer coffee shops," he said.
Tourism is treating the town well. Mayor Currier estimates annual visitors at around 1.2 million.
That works out to around 3,300 tourists a day on average, about seven visitors for every resident.
Michael Jackson and Robert Keaster were recently among those daily travelers.
Jackson is from Oakvale, California. He was in Arizona visiting Keaster, a resident of Peoria.
"I've always wanted to see what the town looked like, so we came up for lunch. And our wives wanted to go shopping," said Jackson.
"Well, I've probably been here 10 or 15 times before," said Keaster. "It's a cute little place and we like to come up here just to kill a day."
Other visitors come from a little further away.
I have a friend who hikes a lot in Sedona, and he had said 'go check out Jerome," said Linda Ogle, a visitor from Oklahoma. "It's a pretty cool little old mining town,' and so here we are."
"You can hear Japanese and Chinese and Russian and French and any language on the street any day," said Mayor Currier.
Sometimes, those who come to town never leave.
Jerome has added another 200 people in recent decades.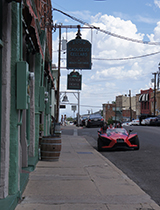 The view along Main Street shows the signs hanging outside area businesses. One of the newer businesses in this row of shop is a wineshop featuring local wines. (PHOTO: Zac Ziegler)
That includes Sally Dryer. She and her partner Mary Wills runs the Nelly Bly II, a kaleidoscope shop in uptown Jerome.
"I had met Mary a few years earlier, and she had this wonderful little store in a funny little town hanging off the side of a mountain, called Jerome," said Dryer. "I started visiting from San Francisco, which is where I'm from, and figured I could go from one city on a hill to another."
Dryer thinks the town's natural beauty is what has continued to draw those of a creative mindset for decades.
"The views we look at here every day are such a treat. It has to be inspiring for artists and musicians, and we are loaded with that in this town," she said.
And while arts and an interesting vibe have kept the town going for years, it has found yet another draw in recent times: winemaking.
"We're finding out that the soil here around Jerome has the same pH content as the Beaujolais Valley in France, except it's virgin soil," said the historical society's Kinsella. "So we're getting more and more clientele not only in Jerome, but in the Verde Valley. And we get more people coming up here and doing the wine tasting."
"Good food, good bars, great views," said Dryer, describing why she calls the town home. "We're bracing for a monsoon. Hopefully we'll get some rain, thunder, and lightning today and bring up the excitement level a little. So come see us!"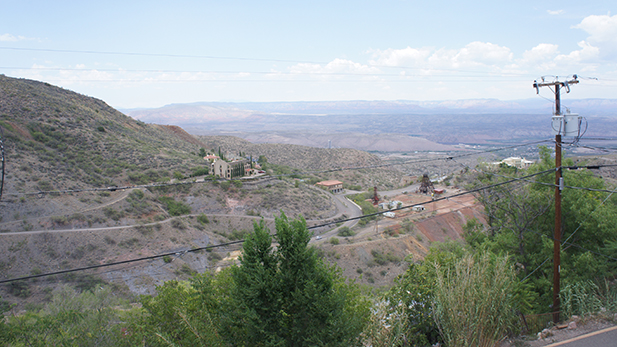 A couple of electricity lines may be in the way, but the view off the back porch of Nelly Bly II allows shoppers to take in the Verde Valley and Jerome State Historical Park.