This travel diary was written in the field by Lisa Schnebly-Heidinger, documenting a road trip that she took in early 2019 with her father, Larry Schnebly. Her most recent book celebrates her family's deep Arizona roots, The Journal of Sedona Schnebly.
---
Expedition launched.
Downtown Williams on a Sunday afternoon: through the open door of our Budget Host Hotel room we can hear passing traffic, the thrum and rumble of a Harley (at least I think so) and occasional music from origins unknown. Welcome to Day One of The 89-90 Trip.
This is the beginning and end of Larry's bucket list: to drive U.S. 89 all the way to the Canadian border. It was born driving back from Utah last year when he said that everything good was on 89: his favorite boyhood home of Parks, his forever home of Sedona, his boarding school in Utah.
"Some people love 66, but to me 89 is the road." So we…well, I…determined we would commence to make that trip.
Our first stop was Prescott, where the State Conference of Arizona Women's Clubs ended today; they'd asked me to be their lunch speaker long before I knew that it would be the perfect inaugural event of this trip. Back in the day, U.S. 89 started in Nogales and arguably still could in the minds of many, but officially its southern headwaters are in Prescott.
Unfortunately for me, a still unanswered question is where the heck I made a room reservation for tonight. All the places I thought I'd stored that information were empty. So once we book into the Prescott Resort --Casino On A Hill-- I called familiar-sounding names in Williams to ask the Expedia equivalent of "are you my mother?" No one claimed me, but the Budget Host said they could be for $50, so when we got here we took them up on it. Tomorrow I will find out by checking credit card expenses where we could have stayed but are now instead simply paying for.
It was grand to have him there for the speech – I couldn't think of the name of the King's Ransom Motel and he had it; he asked women who came to get their books signed if the names were spelled correctly on their badges, charmed them with his interest. They gave us a $50 gas gift card for our trip with a lovely note.
After the speech we went to Gurley St. Grill for lunch before meeting a gentlemen who will sell "The Journal of Sedona Schnebly" (and with any luck, more than one) at the new Western Spirit Mercantile on Whiskey Row. It opens May 16 and he wanted to show us around. If they'd done a focus group on what kinds of people would find it interesting, we'd be right there. Kind of like this; is a Ray Swanson (uncle of Trevor!) mural from a cowboy poetry festival.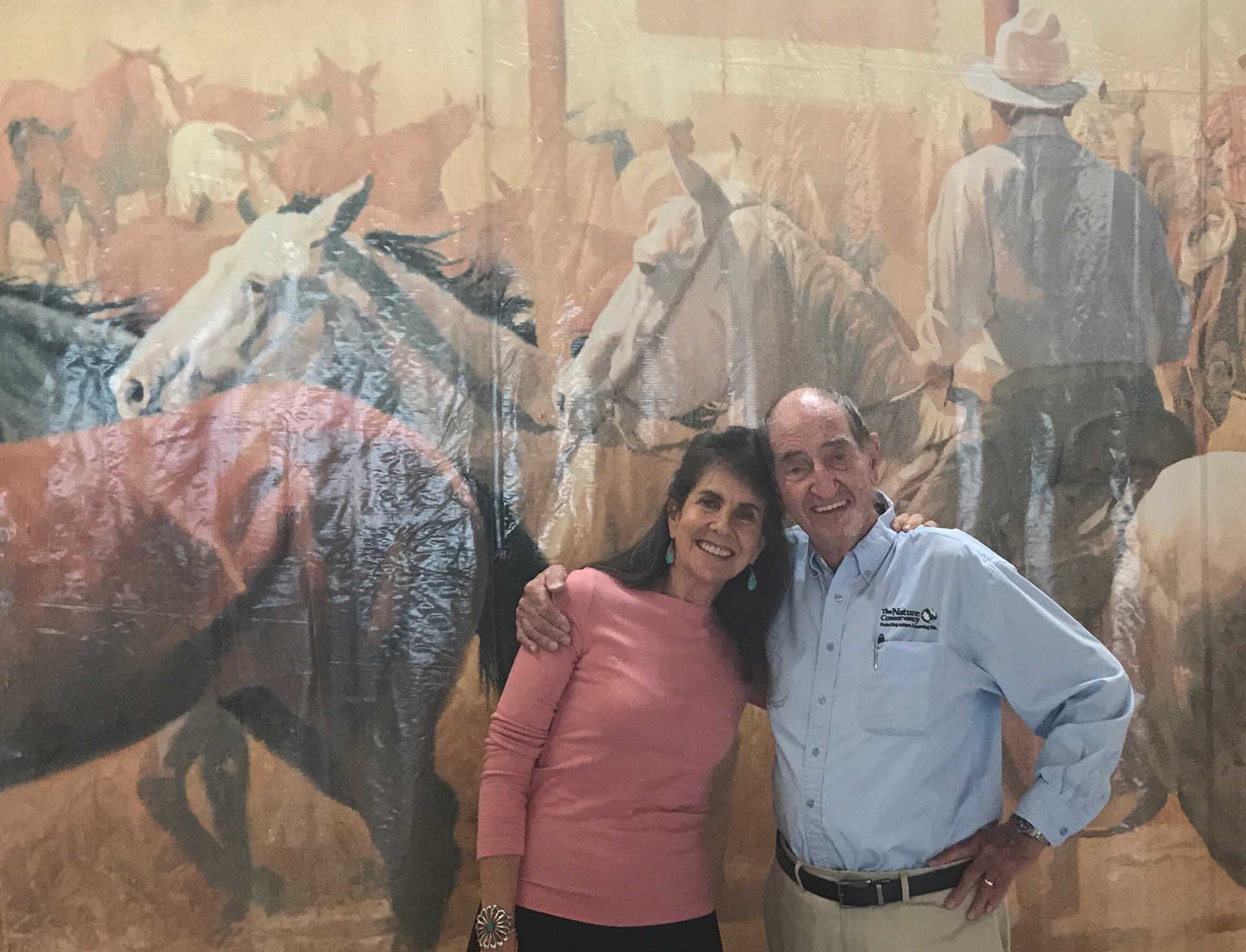 Lisa Schnebly Heidinger and her father Larry Schnebly pose in front of a Ray Swanson mural from a cowboy poetry festival in Prescott, Arizona.

Courtesy Lisa Schnebly Heidinger
There were Buckey O'Neill and Rough Riders things, including a piece of his very own stationery. I got a little misty thinking about that one degree of separation. The Rough Rider who said "who wouldn't die for another star on the flag?" about whom Teddy Roosevelt said something like "his gallant spirit had fled before his body fell" after he was shot: this was his.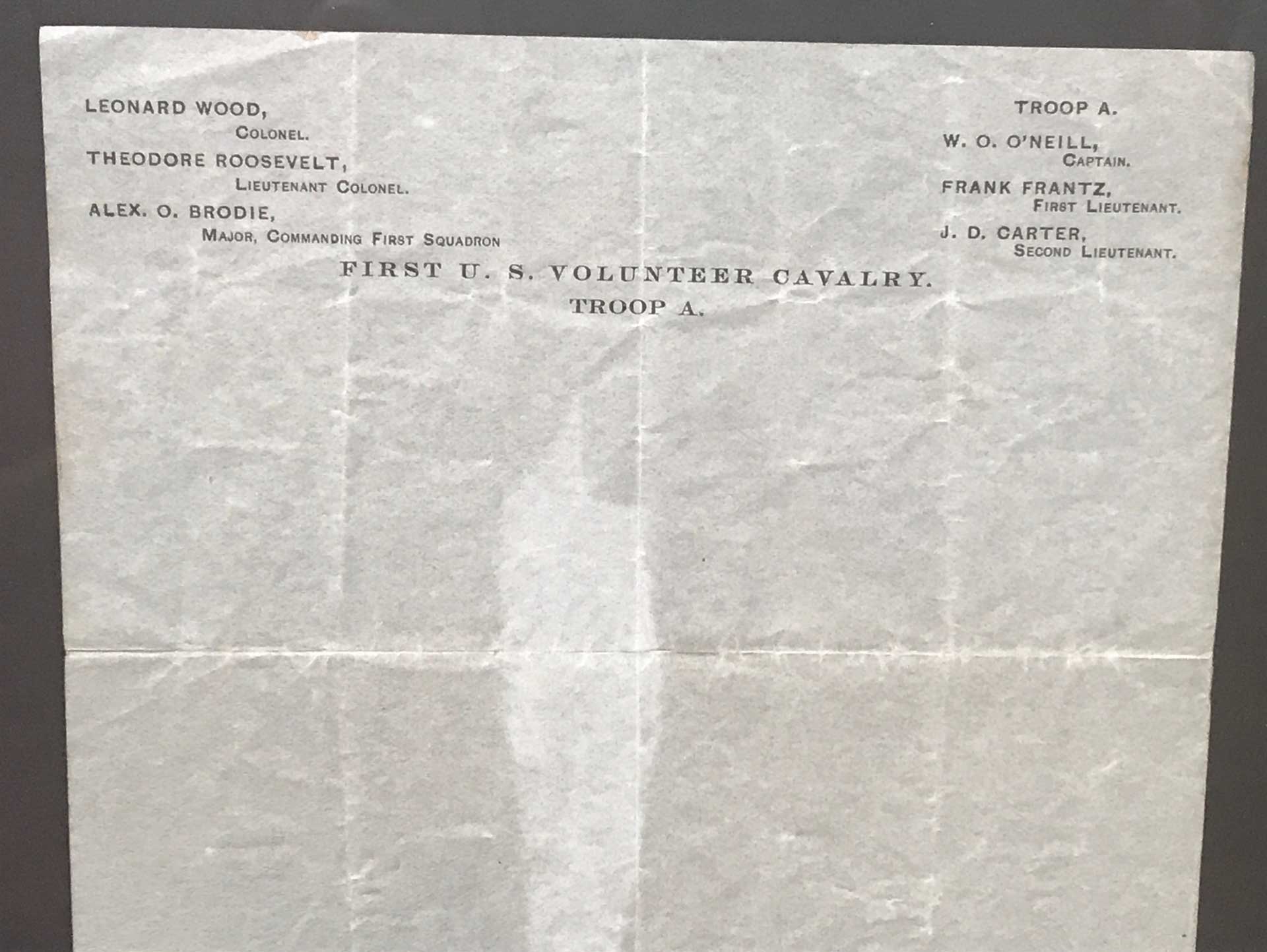 A close up of Rough Riders stationery from the desk of Captain W. O. "Buckey" O'Neill.

Courtesy Lisa Schnebly Heidinger
We drove the Ash Fork route to Williams, so I learned about how the cottonwood and sycamore down to the left means it's a draw where all the drainage from around here pools.; you can see lighter places among lava fields that show how much silica is present.
​First Historical Monument. Of the panoply of state and national parks and monuments we will pass, we don't know where all we'll go. But when I was little and we were on family vacations, Daddy would light up seeing a Historical Monument and prepare to stop. My shallow little heart would sink: we won't get there as soon! Who could care? Nooooooo.
​Well, there's nothing more zealous than a convert, so I stop at the "in half a mile" sign and have to get back on the road to get to the real thing. This is where our first territorial capital was.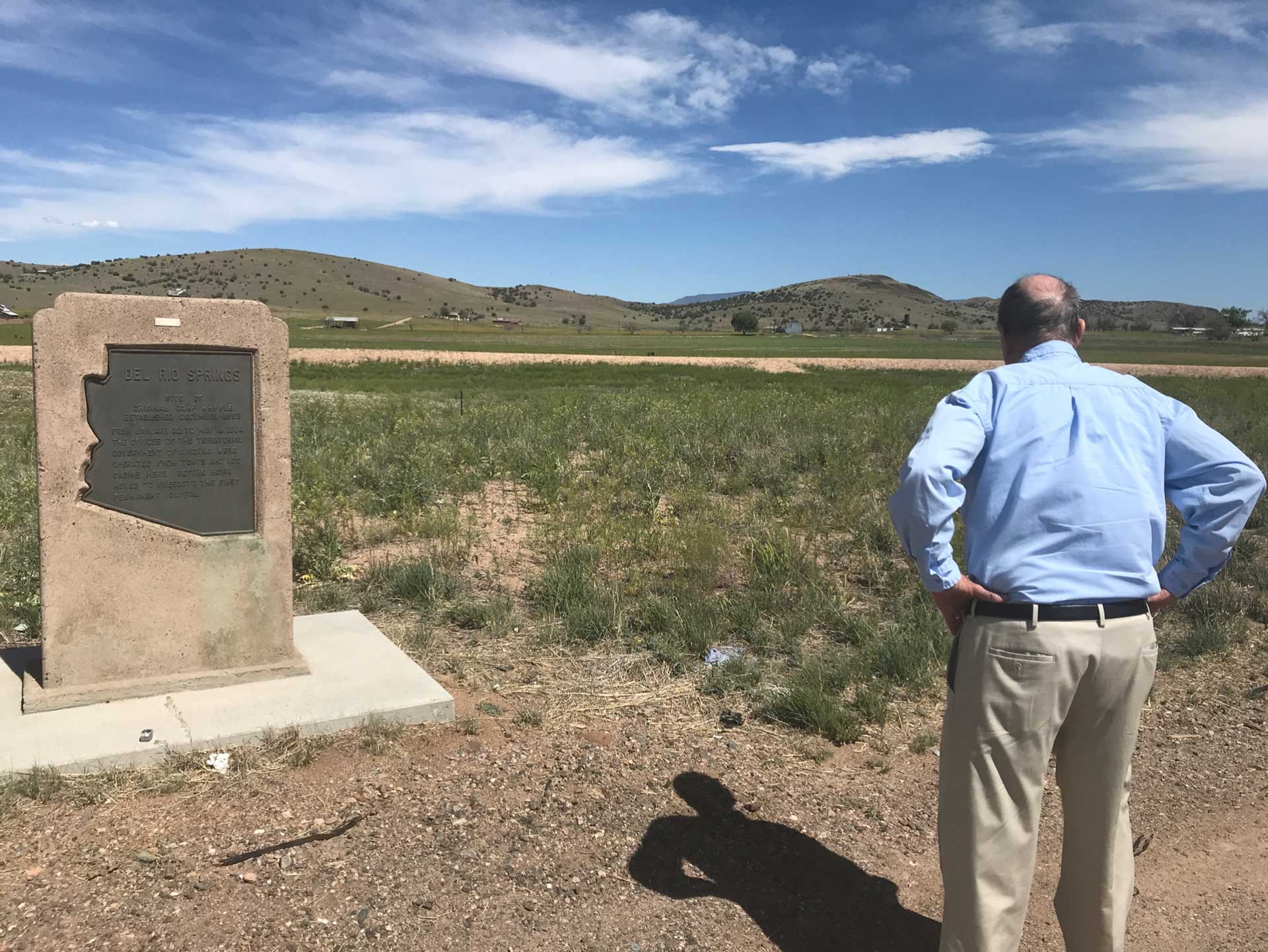 Del Rio Springs historical marker on Route 89 near Chino Valley, Arizona.

Courtesy Lisa Schnebly Heidinger
What's weird here is that it's like the anti-Alamo: usually a place where something momentous happened has been almost crowded out by development. But this? It was livable enough to put a territorial headquarters, and now all that's there is the sign? We puzzle over that a bit.
In any case, I remembered Chino Valley as unmemorable and it didn't disabuse me of that impression. The most interesting things were the lack of wild creativity naming streets: 4 South, 3 South, 2 South, 1 South, then – wait for it – Center! before climbing again. Also, what appeared to be former Mormon steak houses were now automotive supply stores and Baptist churches. Stealth Baptists?
Speaking of steak houses, we're about to go to Rod's to meet one of the boys who lived at Peterson Hall when Mom and Dad were the first head residents. They had dinner there on their honeymoon, as did Laura.
Housekeeping note: Before leaving home, I'd thought drinking tap water at every stop would be part of this experience, and before I could make it so, Dad walked out of the bathroom with a wobbly plastic cup and said, "Williams has good water." He's right. It has just a slight mineral bite, but cool and sweet.
​Let this be a lesson to the author: I said we were going to Rod's. Well, that part was true; we went to Rod's. Perhaps only one of a few places to create romantic memories that has a large cow outside. I carry in my wallet a tiny cow from a long-ago dinner.
We park, we get out, we see "closed." We try the door, and the sign proves true. Just as my heart sinks, Bill Williams, said boy from dorm, gets out with his lovely Ginny. You know how some couples the guy is so quiet you wonder if that's why his wife is a walking narrative? (My hand raises here.) Or you wonder how a wife puts up with a husband's coarseness? Well, here it is not that; Bill and Ginny are both light, fun, smart, interesting people. It's grand to see them, and while I'm disappointed because I can't get clinking-fork-and-reminiscing audio now, an adventure is defined as a time you don't know what's going to happen.
Equanimity reigns. We decide to regroup at Pine Country Café, but I don't let the closed sign deprive me of my photos. Bill and Ginny, ladies and gentlemen: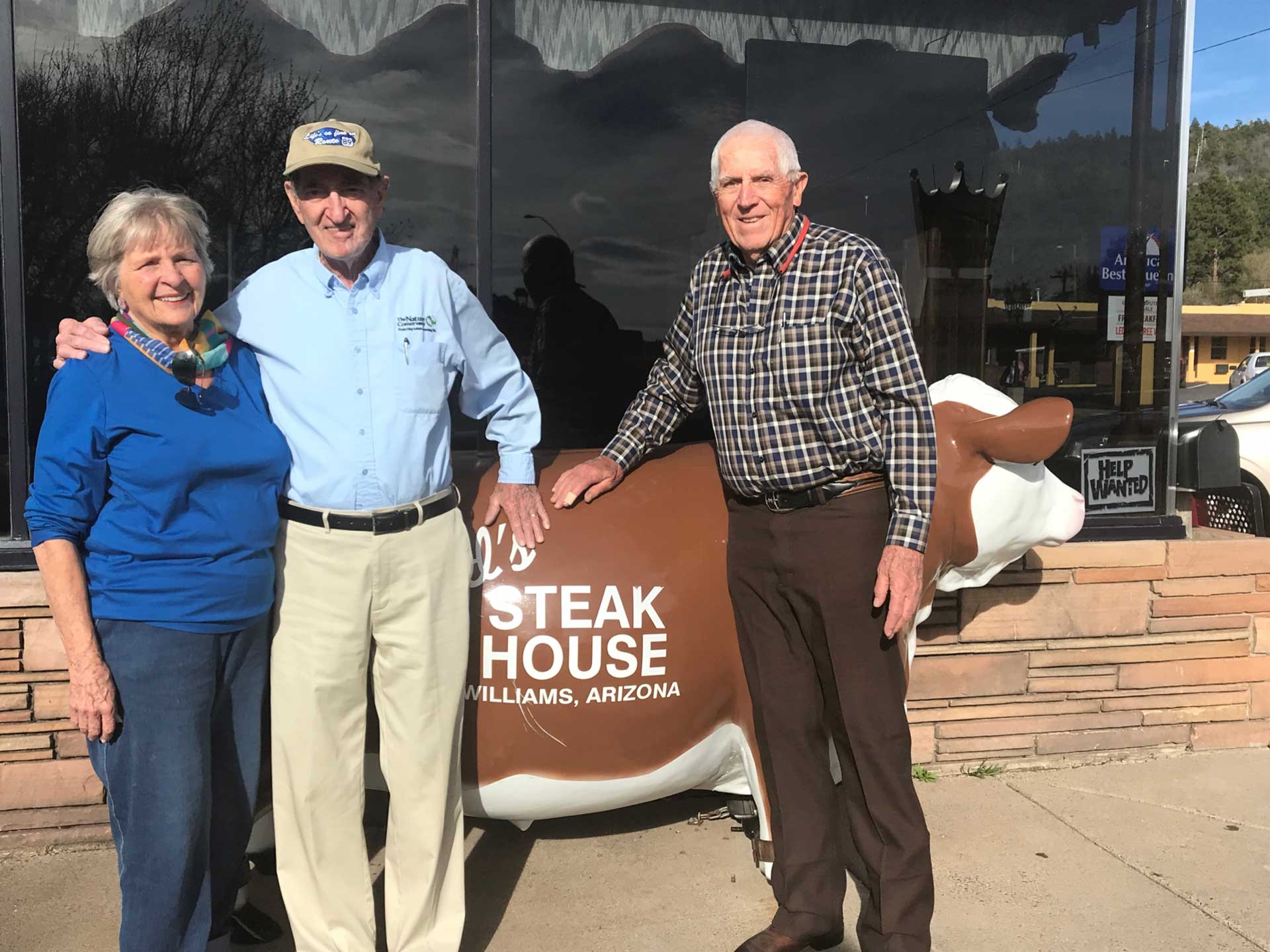 Ginny and Bill Williams pose with Larry (center) in front of the famous cow outside Rod's Steakhouse in Williams, Arizona.

Courtesy Lisa Schnebly Heidinger
While I was looking forward to Rods, I perk up when Ginny says "Pine Country has wonderful pie."
​Pie is a Larry thing, and a Northern Arizona thing. He'd said on some trip that ranchers often had pie for breakfast, because the day was going to be long and you needed to load up on calories. And Mum has said that when they were first dating, after a meal he'd ask the waitress, "What kind of pie do you have?" Sometimes he has pie on road trips, so Ginny's remark was a verbal dove holding an olive twig that this was the perfect first meal for the trip.
​It was also the first sponsored event, first 90th birthday gift of the trip. They had pledged this meal last fall!
​Service was swift, happy diners everywhere, and truly great conversation. I believe when we're with someone we met at a certain time in our lives, part of us becomes that age again. So we are all grownups, and we know things, but there's also the fraternity kid who moved into the dorm his junior year, and the me he babysat, and the Larry who did room inspections and knew Bill to be upstanding enough to trust.
By the way, while I think of him every time I see his mountain, he is not a direct descendent of that Bill Williams. That must be because someone else needs those bragging rights to be okay, and he doesn't. He's got it all already.
​Daddy's always lived the "get what you can't get somewhere else" credo for road trip restaurants, even down to a cheese-and-onion sandwich in Colorado City that turned out not to be a slice of American with a cold white onion, but grilled and gooey and full of caramelized strands. So after my egg white omelet, I go for Hawaiian Delight pie. If any of you has ever seen this before I'll give you a dollar when I get home. It's whipped and creamy and decadent and tastes faintly of peach and nutmeg. It's heaven. Many of you know I am not the person to say "what kind of pie do you have?" and how fully I'm immersing myself in this adventure.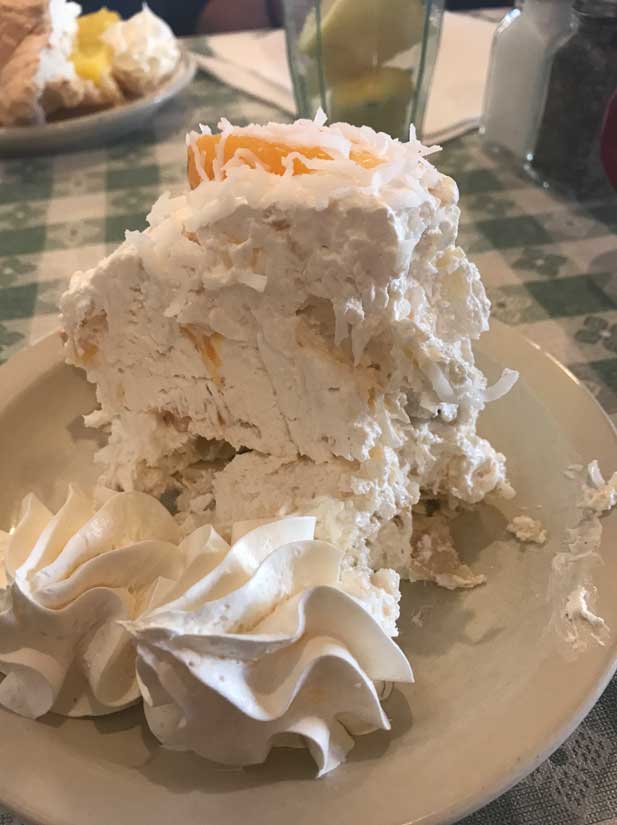 Hawaiian Delight pie from Pine Country Cafe.

Courtesy Lisa Schnebly Heidinger
​We parted about seven and stopped at a Circle K to get cups for this morning; the room has WiFi, a microwave and a bed but not coffee, so we figured we could make instant were there cups. When I bring the empties to the counter because there's no decaf, one of the clerk leaps to brew some, assuring us it won't be a minute, while the other gives us one free for waiting.
​We go to bed. ​We wake up around 11 with headaches. ​We take Tylenol. ​We hear one train. We smile. We sleep.

This story is part of
The 89-90 Trip
, a travel-series written in the field by Lisa Schnebly-Heidinger as she takes her father north on U.S. Highway 89, celebrating his 90th birthday by revisiting the memories of a lifetime.