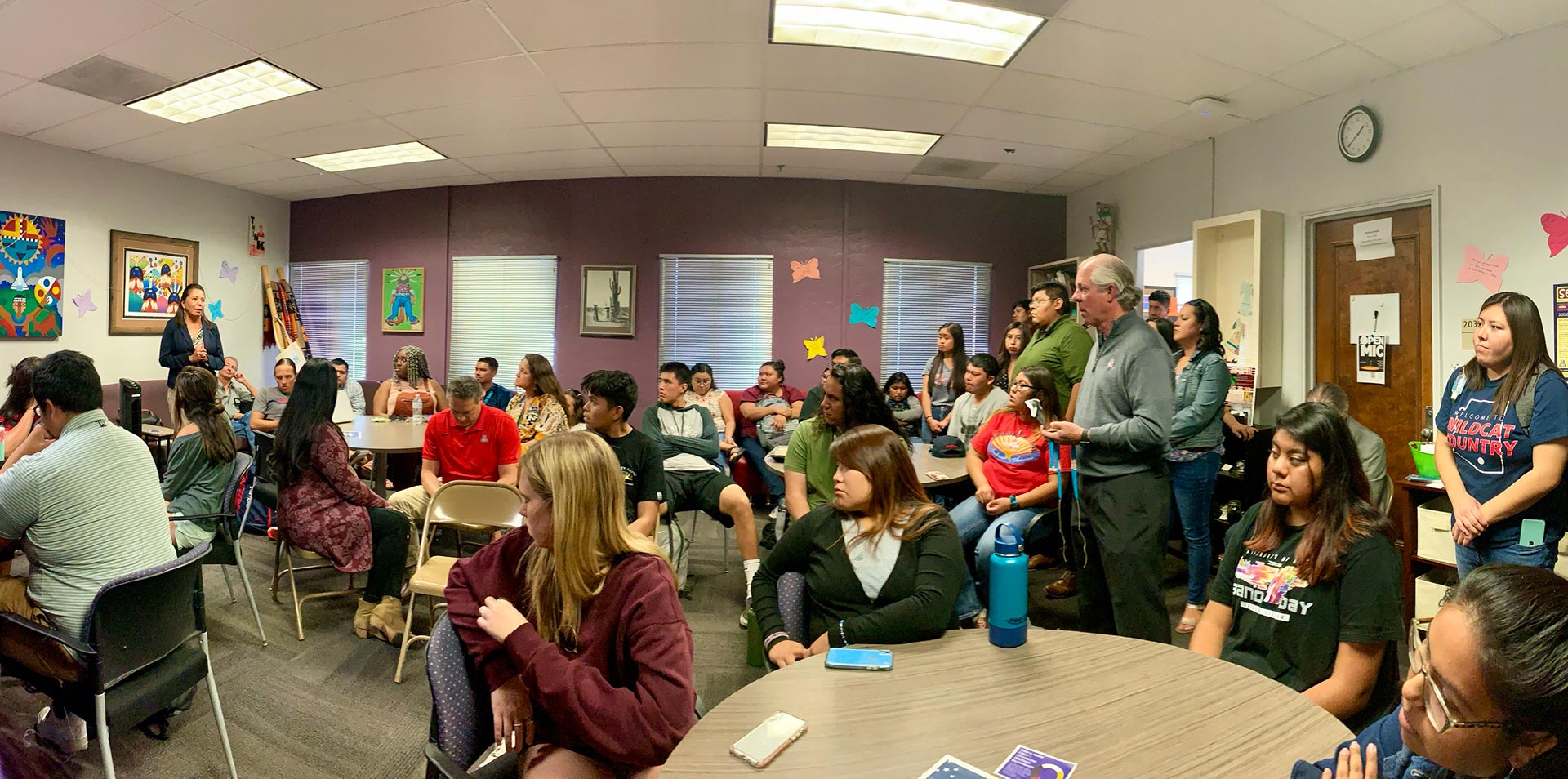 Indigenous students and allies meet with University of Arizona President Robert Robbins to hear his apology on campus after some students found his comments about his "very high cheekbones" offensive.
Courtesy of Felisia Tagaban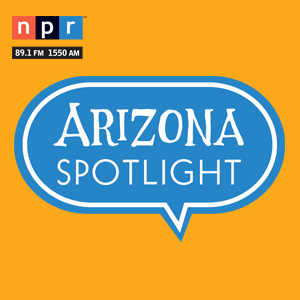 Featured on the Feb. 27, 2020, edition of ARIZONA SPOTLIGHT with Emma Gibson:
On this episode of Arizona Spotlight, AZPM student employee Vanessa Ontiveros sat down with Felisia Tagaban, one of the founding members of Voices of Indigenous Concerns in Education (VOICE). It's a new Indigenous student advocacy group at the University of Arizona that formed after UA President Robert Robbins told a class of Native American students Oct. 3, 2019, he believed his "very high cheekbones" pointed to his suspected Indigenous ancestry.
Many students say they found his reference to his cheekbones offensive, and they asked for an apology. Robbins said he would apologize, but a month after the event students said they still had not received one.
In response, the students formed VOICE and released a letter to the public demanding an apology and sharing why they found the comment offensive. The president apologized soon after the release of the letter, but VOICE isn't done advocating for Indigenous students at the university.
Tagaban said VOICE shared their recommendations with the president and she said Robbin's responded by increasing diversity in his senior leadership team. She emphasized that meeting with diverse leaders is necessary to know what challenges the communities those leaders represent face.
Tagaban said another group, the president's cabinet, was made up of diverse leaders advising the president, but it did not meet very often. She said she fears that will be the same fate for the senior leadership team.
Chris Sigurdson, the vice president for communications at the UA, said the senior leadership team meets weekly, and the first president's cabinet meeting of this semester will be soon. He did not comment on the frequency of past cabinet meetings.
---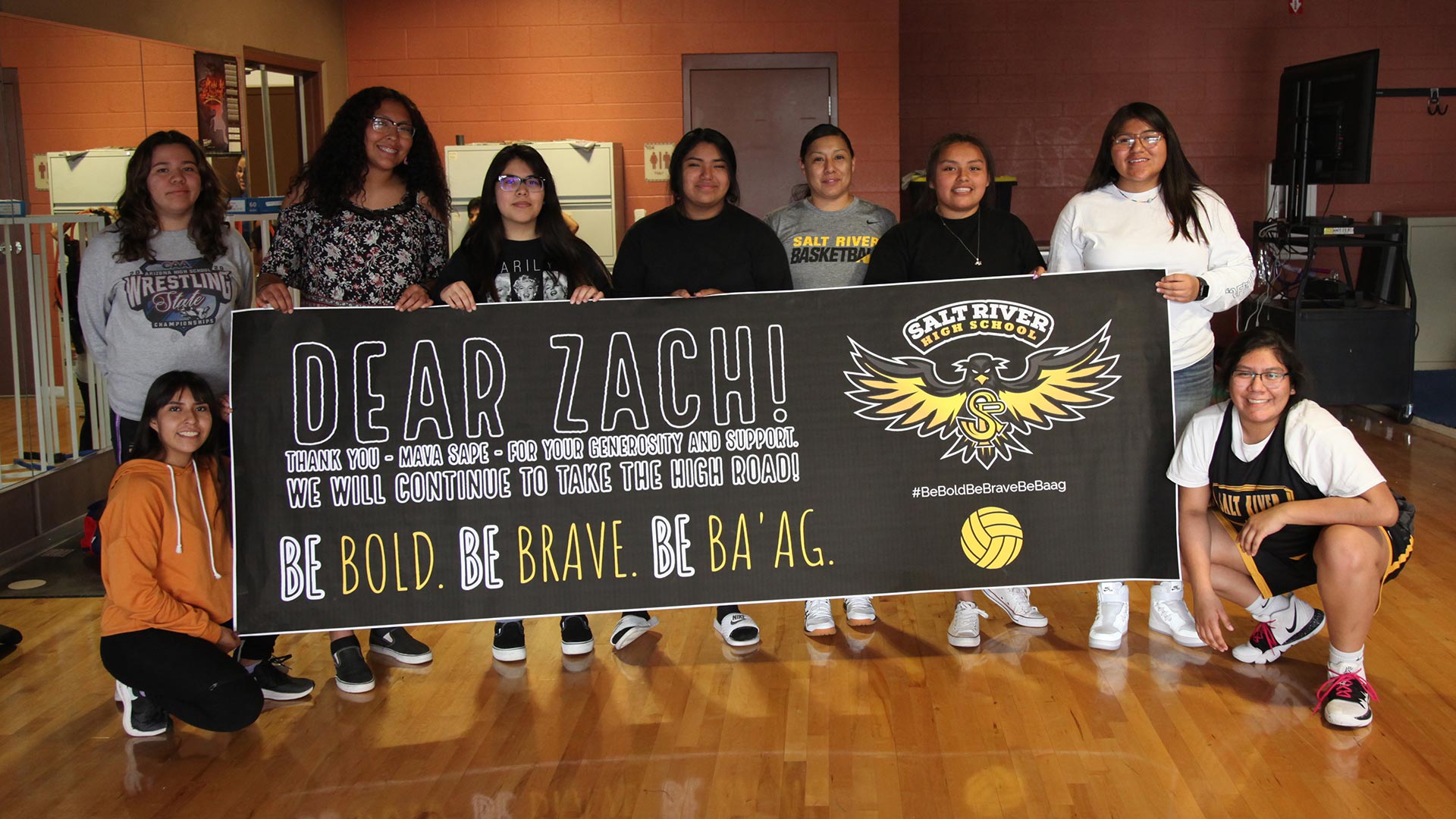 Salt River High School volleyball girls display a sign thanking Zach Galifianakis for donating to their team. They say his donation is a response to their game on Oct. 22, 2020, in which they say spectators called them "savages" and made offensive gestures.
Emma Gibson/AZPM
Arizona saw another incident of racial tension in the same month, this time at a high school volleyball game in Anthem on Oct. 22.
The Salt River High School girls varsity team, an all-Native team from the Salt River Pima-Maricopa Indian Community, was playing Caurus Academy, a charter school in Anthem. During the game, some Caurus fans allegedly called the Salt River players "savages" and made stereotypical hand tapping gestures over their mouths.
Emma Gibson, AZPM's Indigenous affairs reporter, talked to players and coaching staff of the Salt River team to find out how they're feeling four months after the game and what attempts the athletic association the schools belong to is doing to increase cultural sensitivity.
---
What stereotypes do people put on you? Alisa Ivanitskaya, a production assistant for Arizona Spotlight, spoke with people at the University of Arizona and Downtown Ronstadt Center about how they experience prejudice.
---
Emma Gibson spoke to Jeff Stone, a psychology professor at the University of Arizona, to find out more about biases, how they impact one's health and how we can reduce them.