The view of Oppelner Strasse in a multicultural neighborhood in Berlin, Germany.
Christopher Conover/AZPM
This week, The Buzz looks at worldwide immigration trends.
Immigration issues are not exclusive to the United States. In 2015, German Chancellor Angela Merkel agreed to allow refugees from Syria and Iraq into that country, and about 1 million people seeking refuge from war and violence in their home countries settled there.
In November, The Buzz traveled to Germany with the RIAS Berlin Kommission for the 30th anniversary of the fall of the Berlin Wall. While there, we talked with experts about the European migration crisis and asked what lessons, if any, the United States could learn from the experience in Europe.
To help with the flood of refugees, the European Union and Turkish governments adopted a migration plan that allowed Turkey to get paid by EU countries for housing refugees while they waited for entrance into Europe. That plan was largely written by Gerald Knaus, the chairman of the European Stability Initiative, a European think tank with offices in Berlin, Brussels, and Vienna.
"There are three things that are really important to understand the debate on migration in Europe, irregular migration," Knaus said. "The first is that for most of the past few decades, the number of people who crossed to Europe from Africa and the Middle East was low. In 2014, this changed. And for three years, four years, we had hundreds of thousands of people cross from Libya to Italy. And in 12 months, in 2015, we had a million people cross from Turkey to Greece. And these two things were not related; these were different nationalities, different groups, different causes. But it came together and created this sense in Europe in 2015 and 2016 of a massive transformation."
---
Many of the refugees that ended up in Germany came from Syria. Firas Zakri was one of them. He arrived in Berlin in 2015 after fleeing his home in Aleppo, Syria. The former English teacher now works as a tour guide, walking people through a Berlin neighborhood that has become a new home for Syrians. Like so many others, he paid smugglers to get him on a boat out of Syria.
"And we were told by the smugglers that the boat is a jet boat and a big one and a good one," Firas said. "But we discovered that it wasn't big. It was six meters long. It was supposed to take 16 people on board. So we were forced to climb this boat by the smugglers because they have machine guns with them. And then we took off but we felt that something was wrong and water was going inside that boat," Firas said. And after half an hour in a leaking boat, things got even worse. "We heard a crack and the boat broke in half."
After swimming for 3.5 hours, Firas said he finally reached a fish farm. The Turkish police took him to prison, where they held him for a week. Two of the people traveling with him on the boat, a woman and a friend of his, died.
It took him three more attempts to make it safely to Germany. Two years after that, he was able to bring his wife and son to join him. The Buzz asked Firas if he felt welcome in Berlin.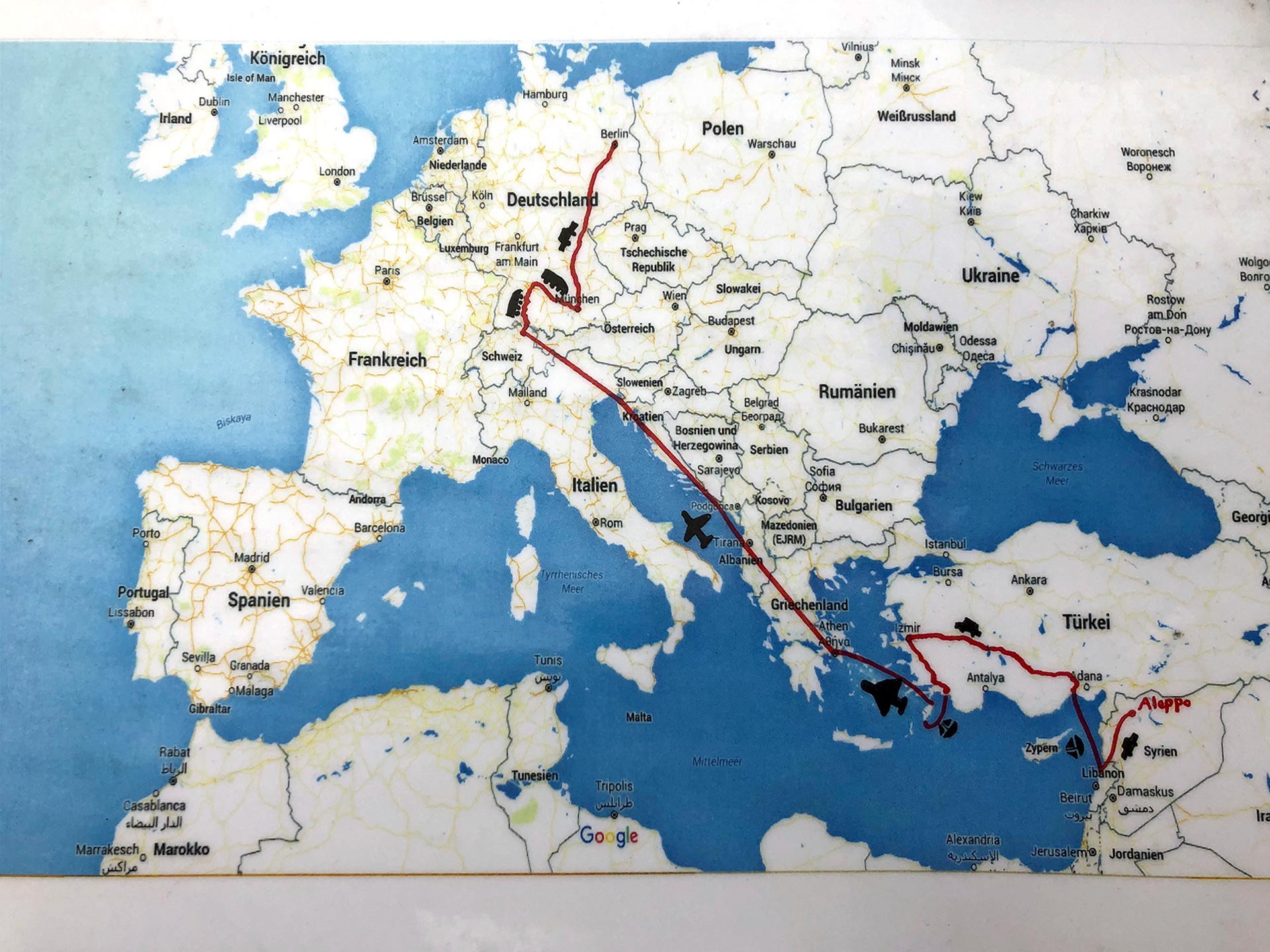 Firas Zakri fled his home in Aleppo, Syria during the immigration crisis of 2015. It took him three tries to make it to Germany. This is a map he shows people indicating the route and types of transportation he used on his journey.
Christopher Conover/AZPM
"In Berlin, you are not feel like you are pushed out," Firas said. "Because most of the people here are foreigners. So they are coming from all over the world...it's a very amazing mixture of all cultures and all civilization living in one place. This is one of the best areas to live in. You are feel welcome, you feel that you will be supported and get help from anybody."
---
Oliver Sallet is a journalist with Deutsche Welle, a German public broadcasting network that has programs in 30 languages. He is based in Washington, D.C. now, but Sallet covered the European immigration crisis from the moment in 2015 when German Chancellor Angela Merkel decided to allow nearly 1 million migrants, mostly from Syria and Iraq, to enter the country.
"In Germany, the first reaction was a very cheerful one," Sallet said. "You had thousands of volunteers suddenly organizing themselves, coming to the train station, bringing whatever they could find to help, starting with diapers, food, drinks, clothes, of course, and really trying to help here."
"People are very motivated and welcoming," he said. "I remember that moment when the first group of migrants left the trains coming into Munich, and they were actually greeted with applause for all the difficulties they had on their way and they had to overcome to make it to Germany."
But Sallet said not everyone agreed with Merkel's decision. He said since the arrival of the migrants there has been a surge in support for the far-right AFD party to levels not seen in Germany since the end of the Second World War.
Sallet said since the peak of the crisis, many of the migrants to Germany have helped fill the gap of skilled workers, and others are in education or training programs.
"What we've learned here is that it does work, it can work and there is actually nothing to be afraid of," he said.

The Buzz
airs Fridays at 8:30 a.m. and 6 p.m. and Saturdays at 3:30 p.m. on NPR 89.1. You can subscribe to our podcast on
iTunes
and NPR One. See more from
The Buzz
.