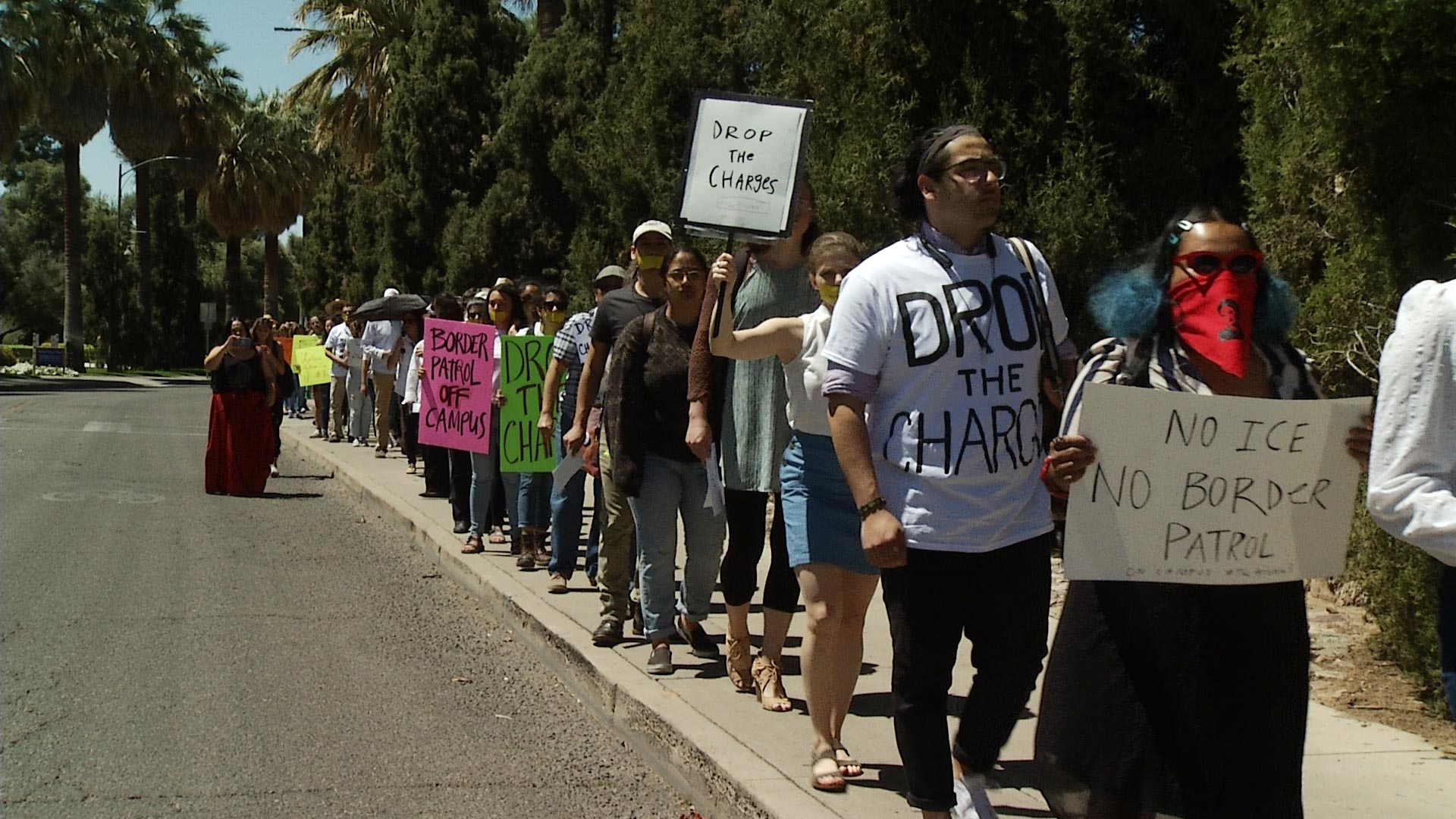 Protesters make their way to Old Main at the University of Arizona on April 10, 2019. They were demonstrating in support of three students cited for protesting a presentation given in a classroom by Border Patrol agents in March.
Robert Lindberg/AZPM Staff
When three people were charged with misdemeanors following a protest of Border Patrol on the University of Arizona campus, it ignited a monthlong debate on free speech and Border Patrol on campus.
This week The Buzz looks at the issue by talking with experts, campus leaders, and those charged with ensuring the First Amendment is upheld for everyone.
Jane Bambauer is a professor at the University of Arizona James E. Rogers College of Law. She said the right to freedom of speech has a special place on the campuses of colleges and universities.
"Colleges and universities, either by law or more often just by virtue and value have decided to go even beyond what the First Amendment would traditionally protect," Bambauer said.
To try and address the issues of free speech and Border Patrol presence, the UA held a campus conversation this week.
UA President Robert Robbins opened the meeting with a statement where he said he has "learned a lot" since the incident. He also admitted that "mistakes" were made.
Students, faculty, staff, and community activists who attended the two-hour meeting told the university they want an apology from Robbins and they also want Border Patrol banned from campus.
University officials did neither.
Professors Nolan Cabrera and Anna Ochoa-O'Leary were both on the panel. They said they have seen campus conversations like this before. But neither has seen much action from previous university presidents. They hope this time things will be different.
The University of Arizona is one of the few universities in the country that has First Amendment monitors. Dean of Students Kendal Washington White is one of the monitors.
She said it is a balancing act to ensure everyone can be heard. But she also said the monitors are there to diffuse tense situations.