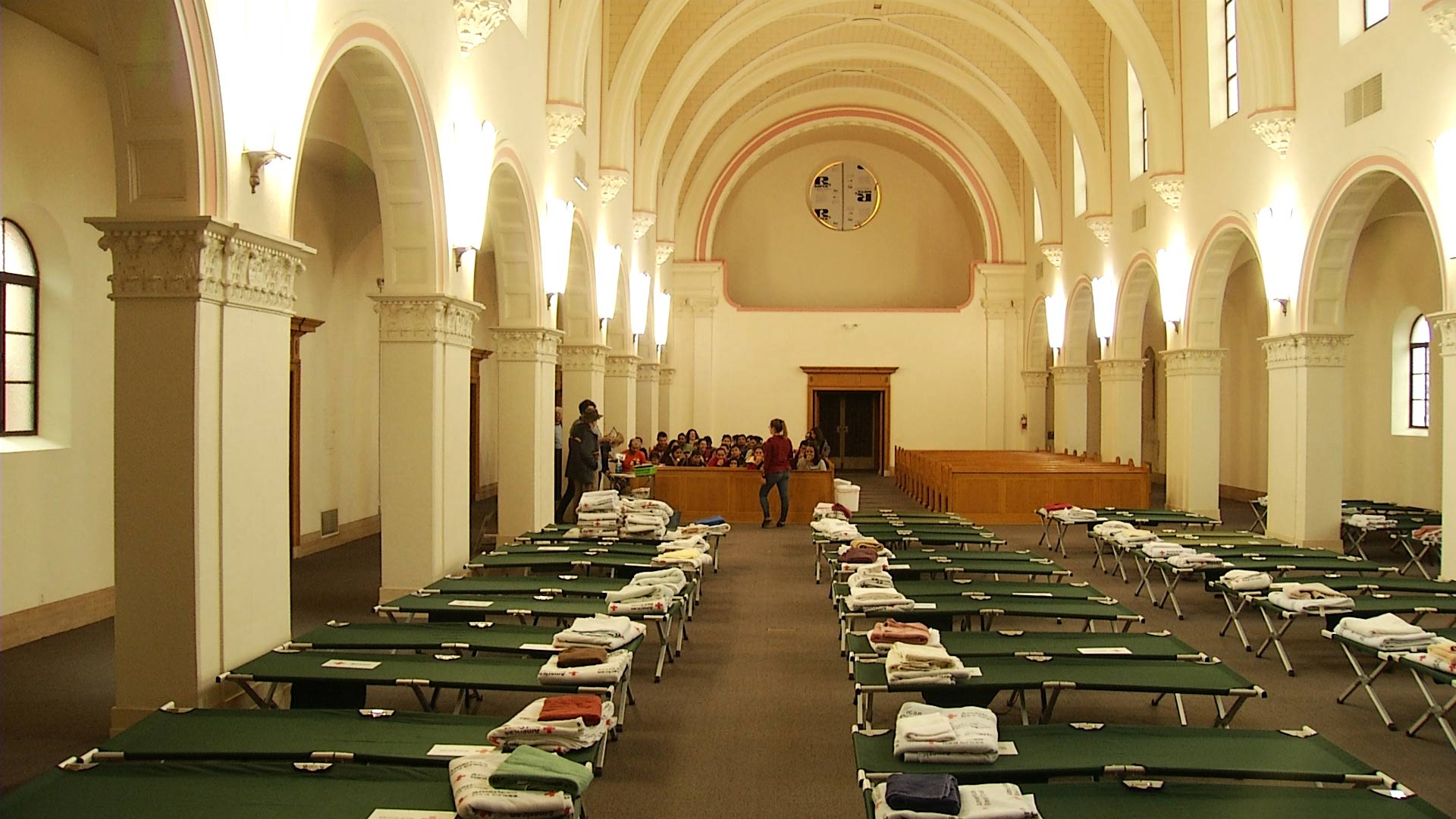 Rows of cots are set up inside the Benedictine Monastery in February 2019. The monastery served as a temporary shelter for migrant families seeking asylum.
AZPM Staff
For 80 years, the Benedictine Sisters of Perpetual Adoration owned the Tucson Monastery on Country Club Road. In 2018, they sold the property to developer Ross Rulney. Since January, Rulney has allowed Catholic Community Services to use the space as a refuge for thousands of people, mostly Central Americans, passing through Tucson on their way to await asylum hearings elsewhere in the U.S.

Teresa Cavendish with Catholic Community Services and the Casa Alitas Shelter is the force behind this temporary shelter at the monastery. Sitting in the sanctuary, Cavendish talked about about this monthslong, community-driven effort. Cavendish told The Buzz when they got access to the building, the need was immediate.
Since January, U.S. Border Patrol has apprehended more than 22,000 people in the Tucson Sector alone. In that time, Tucson's Benedictine Monastery has served as the largest local refuge for asylum-seekers – helping more than 7,000 people. In July, that will end as the development on the monastery site begins.
Cavendish says she's always seeking volunteers. She can be reached at 520-670-0800, or by email at teresac@ccs-soaz.org.
---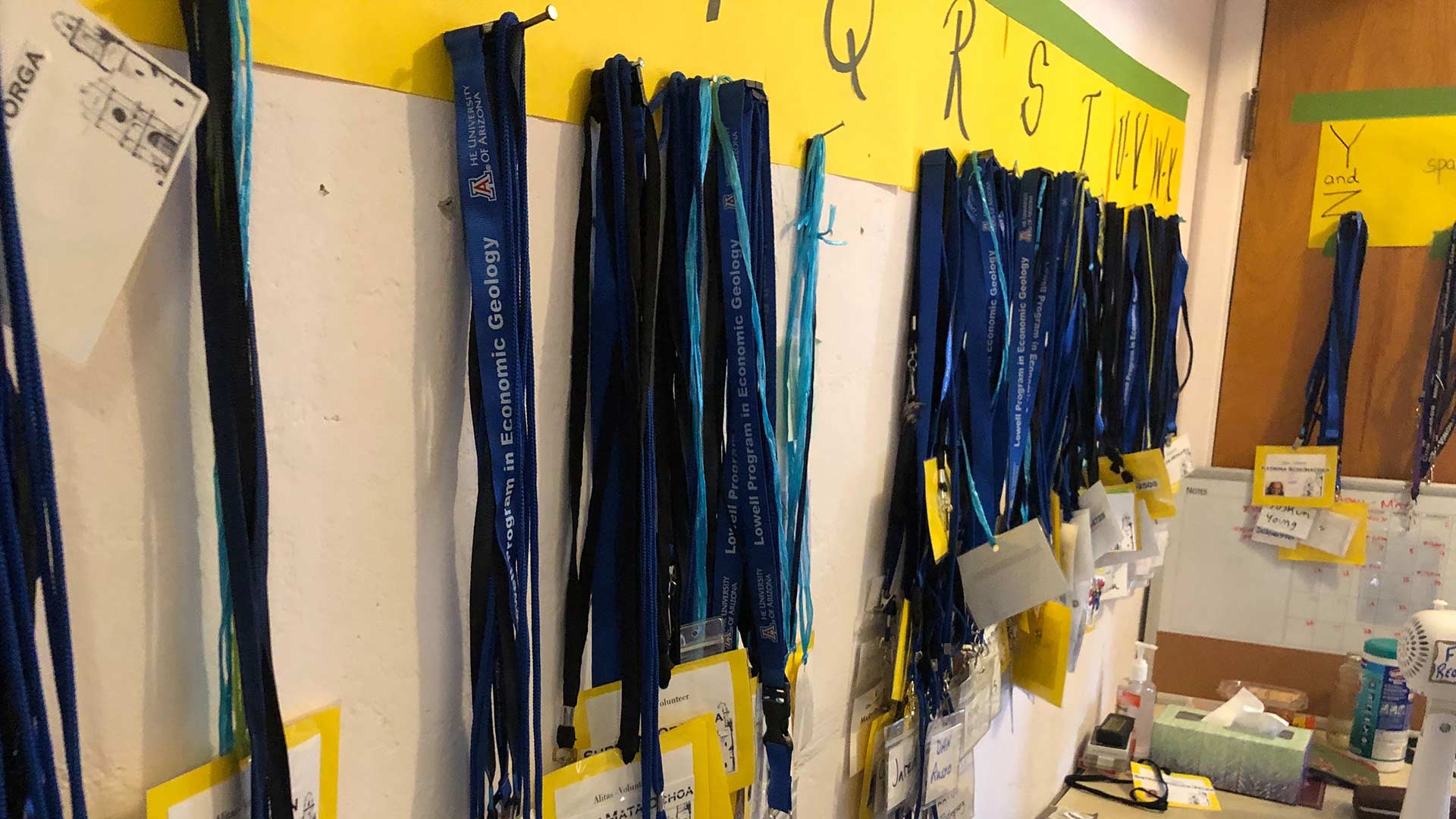 Nearly 400 Tucsonans have volunteered their time to help at the monastery.

Christopher Conover/AZPM
Local officials are now working to find other places that can take on the unabated flow of asylum seekers arriving in Tucson. Over Easter weekend, the number of migrants was more than the monastery could handle, so Tucson and Pima County opened emergency shelters in rec centers. Tucson Mayor Jonathan Rothschild said it cost the city $20,000.
Tucson City Councilman Steve Kozachik represents the ward that includes the Benedictine Monastery, and has been involved in the temporary shelter from the beginning. Kozachick told The Buzz that he'd prefer the care of migrants remain in the nonprofit and faith community, with continued help from local volunteers, rather than shutting down programs at local rec centers to respond. In addition to trying to find other shelter locations, he's working along with the county to repurpose some Stonegarden grant funds to help support the work of these shelters.
"We know that those dollars exist for humanitarian aid, things like food, clothing, transportation, shelter. The problem is, nobody in our federal delegation nor DHS has been able to crack the nut and get those dollars out on the table so we can actually access them," Kozachik said.
On Tuesday, the Pima County Board of Supervisors voted 3-2 to accept those grant funds once again.
---
Democratic U.S. Rep. Ann Kirkpatrick was in town this week visiting the monastery and taking tamales to volunteers to recognize their service to the community. She told The Buzz that she's working to help access Operation Stonegarden money on a national level.
"There's also talk in Congress about passing legislation that would provide emergency funding to offset some of these community costs," Kirkpatrick said. She said President Donald Trump's ideas to shut down the border and build a wall are not solutions to the problem.

The Buzz
airs Fridays at 8:30 a.m. and 6 p.m. and Saturdays at 3:30 p.m. on NPR 89.1. You can subscribe to our podcast on
iTunes
and NPR One. See more from
The Buzz
.