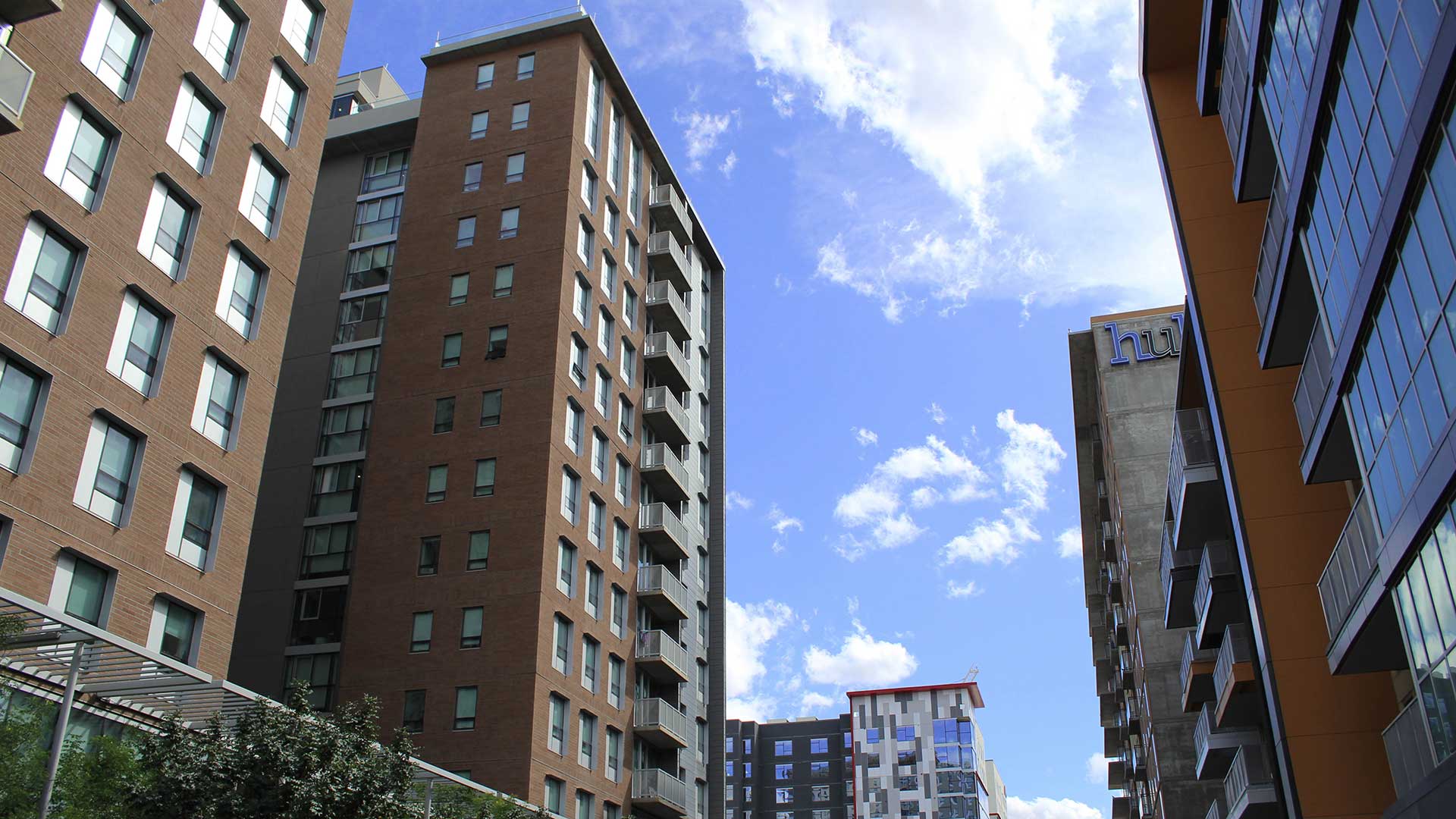 High-rise student housing has cropped up around the University of Arizona and downtown Tucson.
Meredith O'Neil/AZPM
Residents of neighborhoods around the University of Arizona say they bear the brunt of impacts from student housing developments, including increased traffic, reduced housing stock, noise and, in some cases, harassment.
The Islamic Center of Tucson has been next to the UA since the early 1990s. It's in the same city block where developers have built several multistory student housing complexes in recent years. In August, the Islamic Center was once again targeted by residents of the adjacent towers. The harassment included some residents throwing glass bottles and alcohol down onto the center. Outreach director Lynn Hourani talked with The Buzz about the ongoing problem.
"What we're finding is at the beginning of every academic year there's always issues until the students realize that we're going to catch them," Hourani said. She said while few members of the community want to press charges, evictions have had results. Additionally, the center has worked with city of Tucson to create an ordinance that prevents balconies from being built on subsequent towers.
After the recent incidents and the subsequent evictions of the students involved, the center held a community-building event last week called Salam Tucson.
---
Those towers have other city impacts as well. Pima County operates the metropolitan sewer system for Tucson. Eric Wieduwilt, deputy director for planning and engineering, talked with The Buzz about how the new high-rise student apartments affect sewer operations.
"The biggest effect is that these large buildings are being installed in residential areas where, in this area in particular, the sewers were built in 1916 and built for small residential houses," Wieduwilt said. "So bringing in 200, 300, 400 people in one building really impacts the capacity of the sewer system."
---
Lisette DeMars is a member of the West University Neighborhood Association and represents Local First Arizona on the Historic Fourth Ave Coalition.
That coalition negotiated a community benefits agreement with the Union on Sixth, a new student housing developing being built at the intersection of Fourth Avenue and Sixth Street.
DeMars talked with The Buzz about how residents of the West University neighborhood and Fourth Ave feel about the rise of student housing developments, and how they're working to integrate the new residents as part of the neighborhood.
"Some of it is cultural. We sit on our porches and tell them, 'Slow down,' because they're not from here and they don't recognize that it's a neighborhood yet," DeMars said. She hopes that community benefits agreements will become the new standard to hold developers and local officials accountable to making developments fit their communities.
"Anytime they are playing with our tax dollars ... they have a responsibility to bring the deals out of the back room and make it available to as many people as possible. And the coalition provides that tool," DeMars said. "But we also need our leaders to create a space for us to make those negotiations."
---
Many students spend at least one year living in university housing on campus. Dana Robbins-Murray, director of administrative services for UA Housing and Residential Life, said they've started to offer more single rooms and full-sized beds to respond to what students want. Still, she said many non-first year students continue to be drawn to the private apartments because of the amenities they offer.
She said the university is especially focused on providing support for freshman to help students adjust to college life.
"We are helping students to figure out how to be an adult, how to be responsible for themselves, how to respect diversity, how to study, how to take a midterm, how to plan for things," Robbins-Murray told The Buzz. "And you're not getting that in an apartment."
The construction of the new UA Honors Village dorm was not without controversy. Neighbors in the area complained that the university didn't consult them before plans were finalized, complaints similar to those made by residents of other areas when private high-rise apartments are put up. Residents were concerned the new housing was out of character with the neighborhood. University officials say they changed the plans, keeping the building height lower to better blend in with the area and moving entrances so neighbors would be less disturbed by the noise and traffic.
---
This is part of our continued look at housing in Tucson. Find more stories and episodes of the Buzz on this topic here.