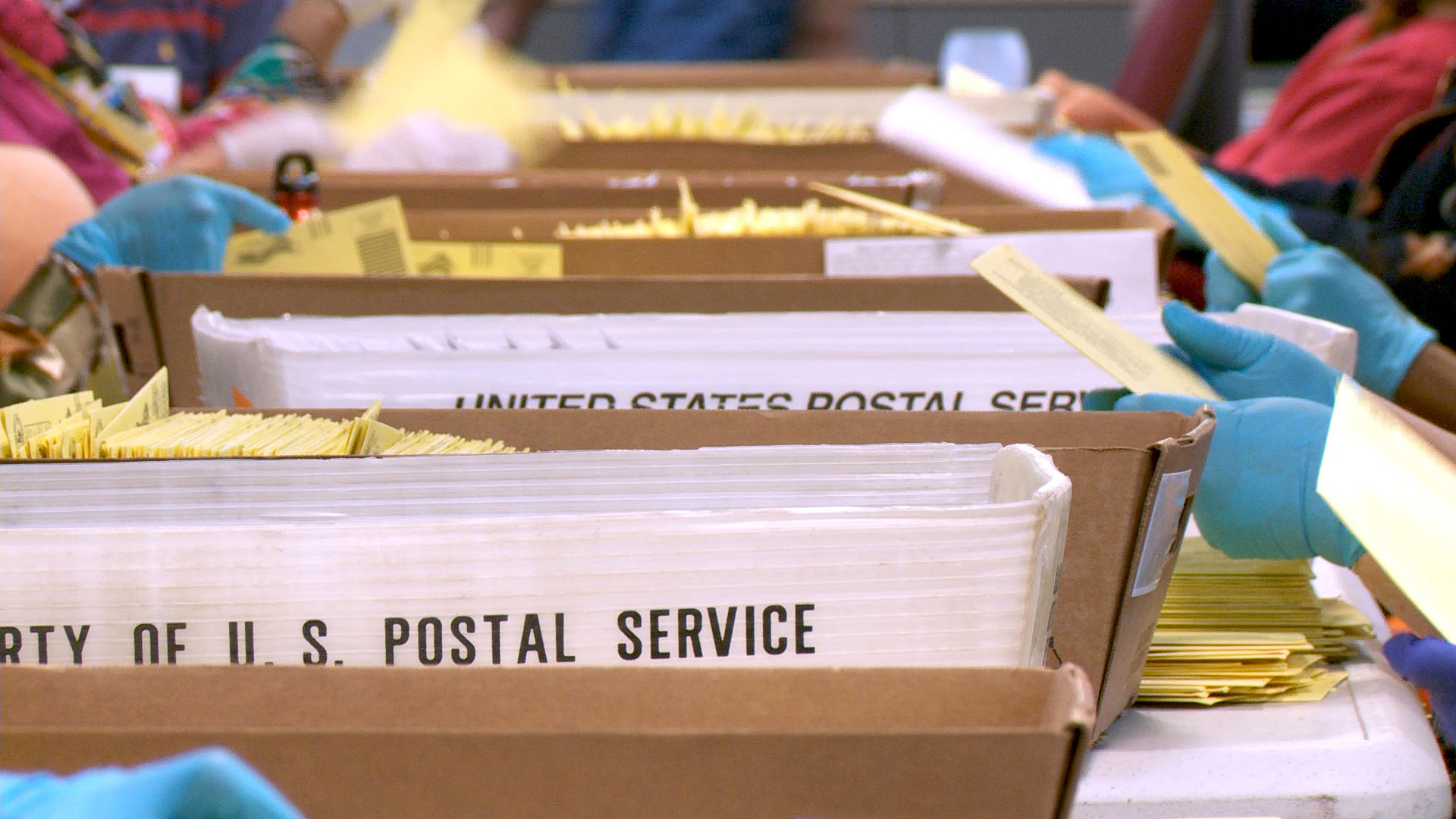 Pima County election workers process early ballots. 2012.
AZPM Staff
Voting is over, but the count is ongoing. As of Friday morning, Democrat Joe Biden maintained a lead over president Donald Trump in Arizona.
Arizona voters have approved recreational marijuana use for adults, and elected a second Democrat to the U.S. Senate, Mark Kelly.
Arizona voters cast ballots in record numbers in this election. While Republicans remain the dominant party by registration, for the first time in a decade Democrats have the second-highest number of registered voters, followed by those with no party affiliation.
Not everyone voted according to their party registration though. Mike Noble, who has spent years conducting polls with Phoenix-based OH Predictive Insights said that was not surprising.
"Arizona was traditionally classified as a Republican state. I would say it is definitely an independent state," Noble told AZPM. "Arizonans prefer a bit more of a moderate when it comes to statewide office."
That trend was present in the 2018 Senate race when Kyrsten Sinema, a Democrat who tried to stay near the political center, beat Republican Martha McSally, who embraced the far right and President Trump.
In the same year, Arizona voters reelected Republican Gov. Doug Ducey. That year's results showed Sinema won Maricopa County with 50% of the vote, but only 30% of the county's voters were registered Democrats.
In this 2020 election Joe Biden has led the presidential race in Maricopa County for much of the week, as has Mark Kelly, even though the county has more registered Republicans than Democrats. Noble said Arizona's change from a Republican stronghold to a battleground state has been coming for a while.
"It's really that suburban shift because there is a very big group that are very independent," Noble said. "We are the home of Barry Goldwater and John McCain. And again with this very polarized base strategy especially that Trump employed, it really pushed independents that used to lean center right. It leaned them left, but actually pretty far left and that's really the issue of why we are seeing the results that we are."
---
---
Democrats in Pima County also saw favorable election outcomes. Nearly all the countywide races went to Democrats. If current results stand, Democrats will hold four out of the five seats on the Pima County Board of Supervisors, as well as holding the office of recorder and assessor.
The races for sheriff and treasurer were still close on Friday morning but showed Democrats in the lead.
Dylan Smith, a longtime local journalist and editor and publisher of the Tucson Sentinel, said while Pima County has been a Democratic stronghold for a while, Republicans typically win some races.
"One of the other interesting things about election results is just about every office is going to be held by a newcomer," Smith said.
Though some of the incoming officials have previous political experience, many are new to these specific roles, which Smith said may lead to a steep learning curve. Serving as a county supervisor, for instance, requires significant time and energy.
Smith also said that a major Democratic majority on the board would not mean that the supervisors will agree on every single issue.
---
In a year like no other, political campaigns had to choose how to navigate the pandemic.
Kate Kenski teaches political communication at the University of Arizona. She said that the pandemic did not impact the campaigns the same, as Trump held multiple rallies in Arizona where mask wearing was not enforced, while Biden opted for smaller, socially distanced events.
Kenski said campaign rallies historically help to stir up enthusiasm among supporters and generate media coverage.
Excitement for one candidate was not the lone factor in persuading voters. Disapproval of the other candidate also played a part.
"No question that each side disliked the other side immensely and the data show that, but at the same time, I think both candidates managed to generate some genuine enthusiasm among their supporters," Kenski said.
Whoever wins the presidency will not have done so in a landslide. Kenski said this thin margin of victory points to the political polarization in the county.
---
Election results are still being counted. Find all the latest election news here.

The Buzz
airs Fridays at 8:30 a.m. and 6 p.m. and Saturdays at 3:30 p.m. on NPR 89.1. You can subscribe to our podcast on
iTunes
and NPR One. See more from
The Buzz
.