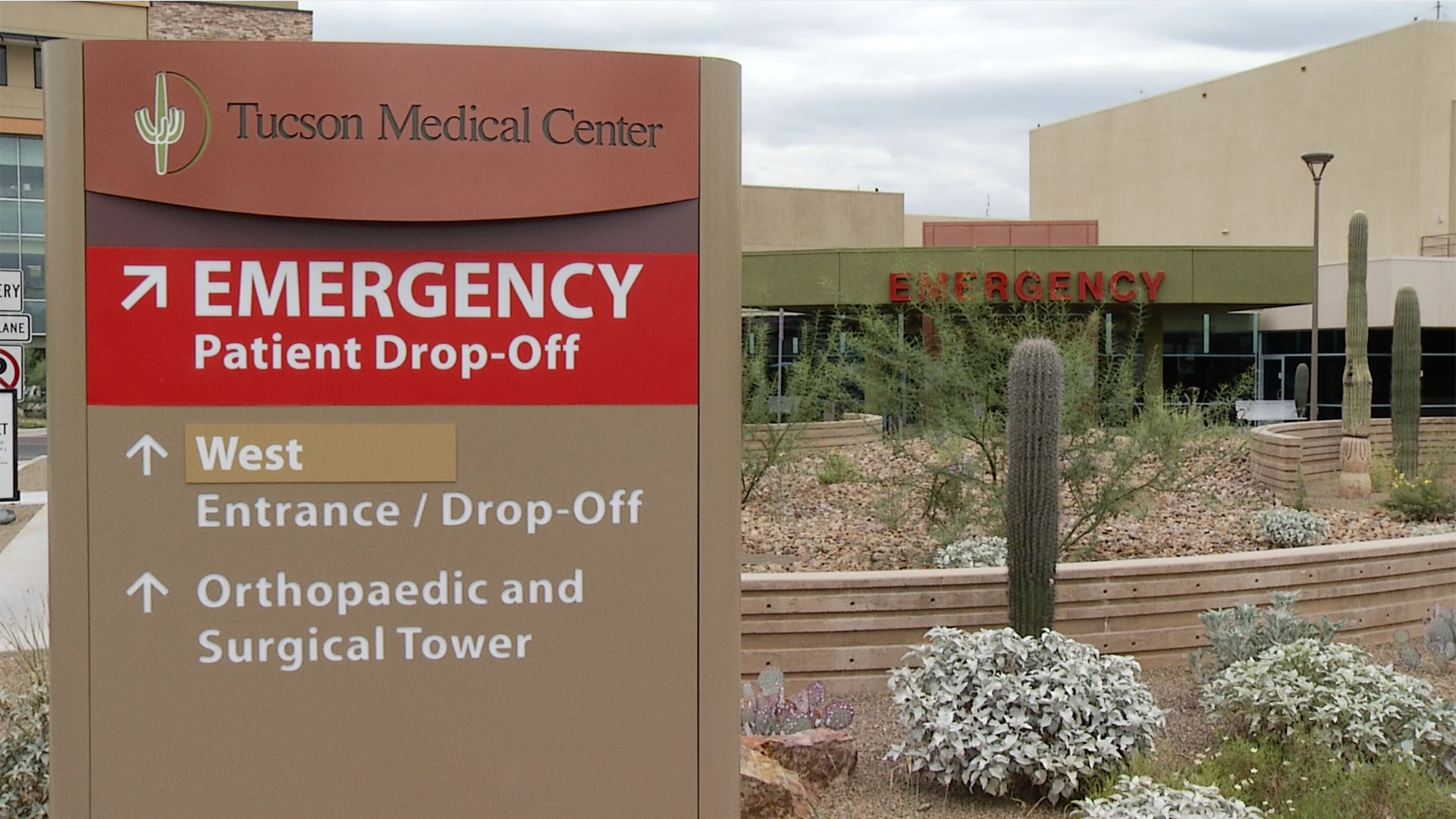 A sign in front of the Tucson Medical Center.
AZPM
Arizona's hospitalizations from coronavirus have doubled in the last month as high daily case counts continue. State data show that for weeks, Arizona hospitals have been running short on beds for COVID-19 patients. Capacity for inpatient beds, especially in intensive care units, has been hovering at about 90%.
The state health department set up what it calls the Arizona Surge Line, which allows for the transfer of patients between hospitals when they don't have sufficient resources to care for someone.
Jennifer Schomburg is the CEO of Northwest Medical Center, which operates Northwest Hospital in Tucson and Oro Valley Hospital.
She said that the hospitals she oversees have used the surge line both to accept patients from other facilities and to transfer patients to different hospitals. She said that transfer patients generally end up going to hospitals in Maricopa County or Yuma, but that she did not know of any patients sent out of state for treatment.
The availability of certain medical specialists and equipment can impact the hospital's ability to accept surge line requests.
"We have had to deny specific transfers coming through the surge line or other hospitals if I didn't have that type of bed, like an ICU bed, available or an ICU nurse available," Schomburg told The Buzz.
Schomburg said that the hospital is not currently under crisis care, explaining that status is triggered when the hospital experiences significantly worse conditions, such as a severe shortage of critical supplies, having to treat patients in unapproved areas and not having enough trained staff on hand.
The community has shown their support for health care workers, Schomburg said. She also said that the hospital staff has been working long and hard during the pandemic and will continue to do so.
"I believe so much in the strength of this team and of our staff, not only in their clinical excellence but also in their heart," Schomburg said. "They put their heart and soul in the work they do."
Catherine Dewsnup is a nurse who oversees the emergency rooms at Northwest Hospital. She said that though her job has always been hard work, the extra safety measures necessary during this pandemic have added to the workload.
"In the last two weeks, with the increase of patients that have come in, it's a labor-intensive job," Dewsnup said.
She said COVID-19 patients tend to stay in the hospitals longer. Dewsnup has also seen people with chronic health issues, such as diabetes, delaying their ER visits due to fears about coronavirus, which can greatly affect how much care that person will end up needing.
Dewsnup says her staff has been handling the stress and workload well, but still urges the public to take caution.
---
State Sen. Victoria Steele of Tucson visited Tucson Medical Center Tuesday to talk with medical staff about how they're handling the pandemic. Steele said she visited TMC at the invitation of hospital officials after she wrote on social media about her concerns with the state allowing hospitals to implement triage standards of care if they became overwhelmed with patients.
"[TMC is] not at complete capacity, but it could happen," she said.
Steele said doctors and nurses feel discouraged that people aren't taking precautions to prevent coronavirus infection seriously enough, while they fight day in and day out to save lives.
"And they really are asking the governor to reconsider and to please put a mask mandate in place. Because people just aren't doing it," Steele said.
Steele recorded an interview with Dr. Clifford Martin, an infectious disease physician and head of medical staff at TMC, which she shared with AZPM. TMC has declined interview requests from AZPM in recent weeks.
Martin said the governor's decisions made early on, like the stay-at-home order, were the right steps.
"Unfortunately, we opened things up so quickly, without appropriate baby steps to introduce regular life again," Martin said. "Without mask requirements, without really effective education about what it really means to social distance and why it was important. So we backtracked really quickly."
Steele said health care workers she talked with asked for the governor to institute a statewide mask mandate and also asked for more personal protective equipment. She said TMC is not currently transferring patients out of the city, but they have in the past.
TMC, Northwest Hospital and others will be receiving relief workers soon to help with staffing to handle the surge of cases.
---
Medical professionals in hospitals are not the only ones seeing patients with the novel coronavirus. Roy Loewenstein is an outpatient internal medicine doctor with Arizona Community Physicians in Tucson. He diagnoses COVID-19 and counsels patients who contract the disease.
"A lot of people over age 70 think it's a death sentence and, on average, it isn't," Loewenstein said. "And a lot of people younger than 40 think it's not a big deal, and that's not true either."
He said that right now there is nothing he can really give patients to treat the disease other than ibuprofen. However, some new therapies being tried elsewhere, like dexamethasone, give him hope.
By now it has become clear that people who do not show any symptoms of illness can still transmit the coronavirus. Loewenstein echoed the desires of other health care workers and said that people should engage in preventive behaviors like hand-washing, mask wearing and social distancing, even around people who appear healthy.

The Buzz
airs Fridays at 8:30 a.m. and 6 p.m. and Saturdays at 3:30 p.m. on NPR 89.1. You can subscribe to our podcast on
iTunes
and NPR One. See more from
The Buzz
.