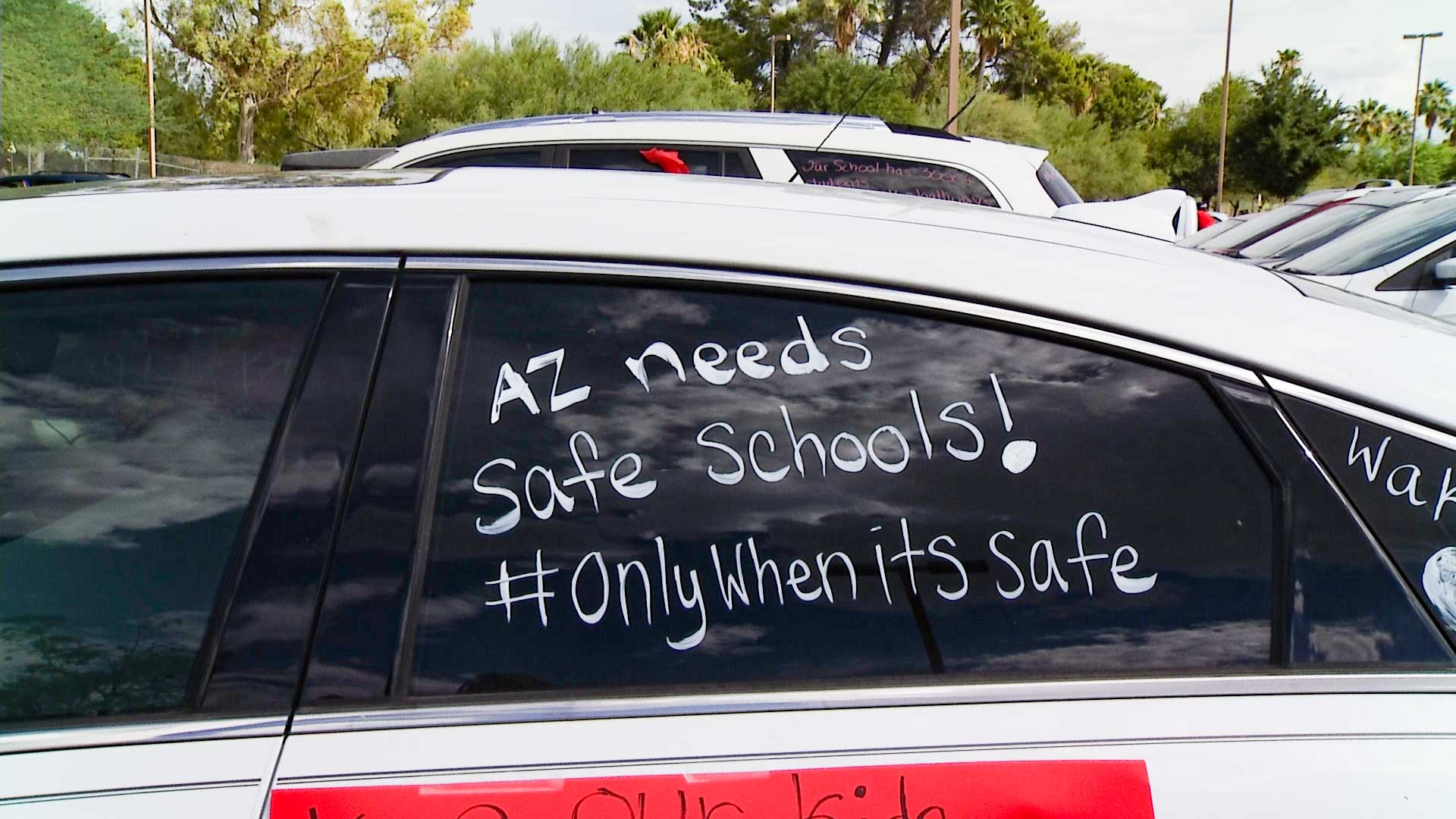 Tucson teachers led a car rally on July 22, 2020 to protest reopening schools without sufficient state guidance and safety benchmarks.
Martin Rubio/AZPM
Arizona educators have raised concerns for weeks about the plan to resume in-person instruction on Aug. 17. Following pressure from educators, activists and elected leaders, on Thursday Gov. Doug Ducey and State Superintendent of Public Instruction Kathy Hoffman released more guidance for schools this fall.
Hoffman released a statement Wednesday requesting Gov. Ducey use public health data to determine reopening metrics and guarantee full funding for distance learning. In the press conference Thursday, she said both of those things are part of the new plan.
The governor's office said the state's health and education departments will develop and release public health benchmarks for schools by Aug. 7. The plan leaves a lot up to individual districts, including when in-person instruction will resume. All schools will have to start the year with teacher-led distance learning. Schools will be required to provide 180 days of instruction regardless of instruction method.
The state will also send millions of additional dollars from the federal CARES Act to schools. Schools must provide free on-site learning and support services for students who need or want it. Schools will set their own face covering policies for students, though adults must wear masks.
---
On Wednesday, Tucson teachers organized a "motor march" — a car rally to protest the return to classrooms. Andrea Ayala, who teaches English and history at Pueblo High School, was one of the organizers. Though Gov. Ducey did push back the school start date to Aug. 17, Ayala said there's no way COVID-19 rates will be safe by then.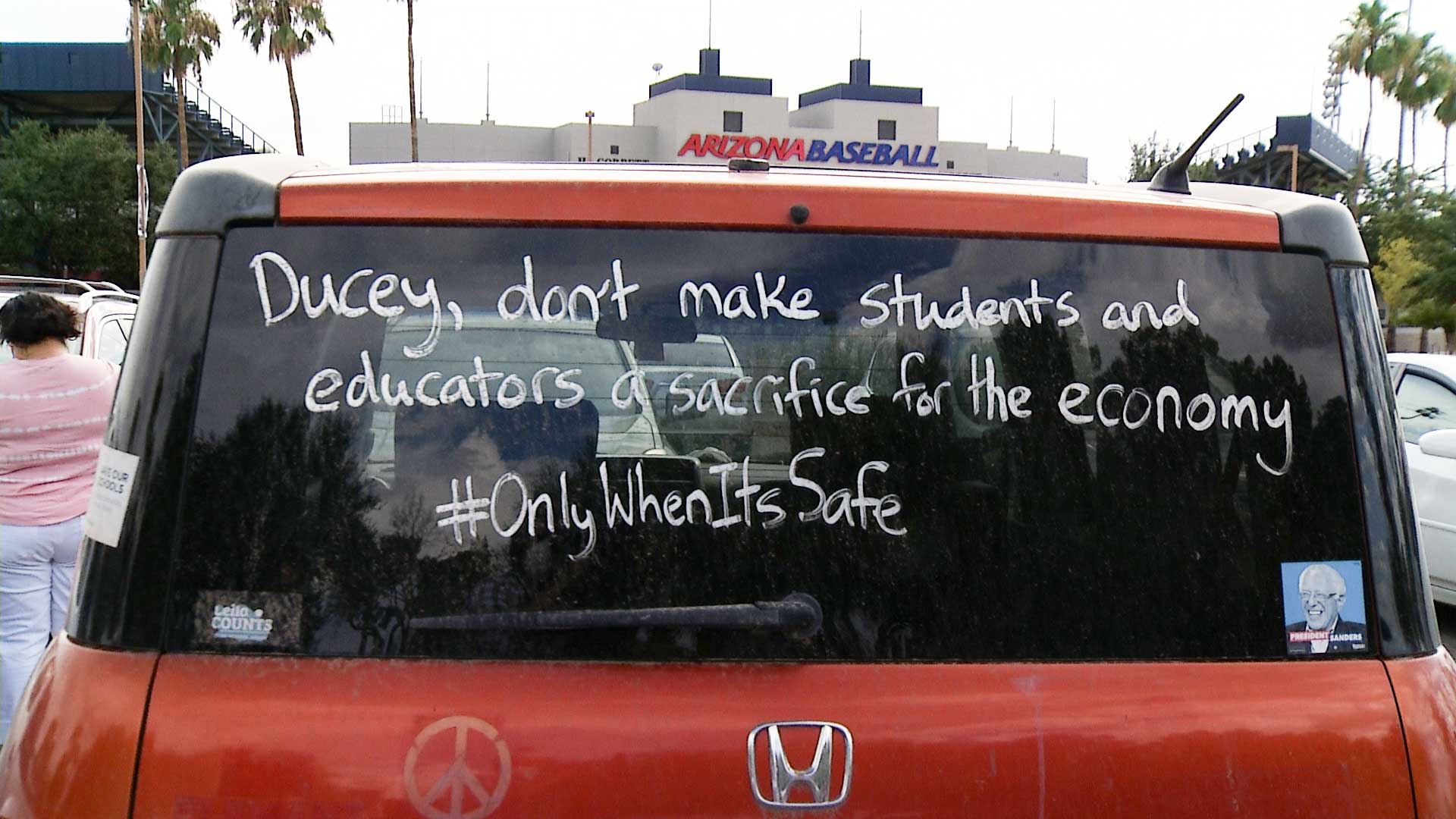 VIEW LARGER Tucson motor march on July 22, 2020.

Martin Rubio/AZPM
Ayala said she's especially worried about the disproportionate impacts on the Latino community.
"My biggest concern is that my students will suffer more loss than they already have because of unsafe decisions," Ayala said.
JJ Federico teaches Mexican American history and government at Cholla High School. He said schools should remain online as much as possible this fall to protect teachers, students and staff.
"If school starts too soon, we're going to see an increase in COVID cases for my students, my colleagues and their families," Federico said. "What kids bring with them to school they carry with them outside of school wherever they go."
---
Marisol Garcia is a teacher and vice president of the Arizona Education Association, the largest union for public school employees in the state. The AEA has been pushing for in-class learning to resume only once it is clearly safe to do so.
"We are not ready to go back into the classroom until health officials tell us it's safe and local officials give us an all clear to ensure that every employee, every student is walking into a safe building," Garcia said, prior to the governor's Thursday announcement.
According to Garcia, members of the AEA had not had the opportunity to speak with Ducey, though they have worked with Hoffman.
The planning for the upcoming school year, which so far has taken place on a district-by-district level, has left a lot of teachers unsure of what exactly their jobs will look like in a few weeks, Garcia said. Some teachers have created multiple plans for a variety of possible scenarios.
Teachers are not the only ones who face uncertainty. Garcia said remote-learning can make it more difficult to address the issues that students encounter, like losing family members to COVID-19 or facing financial insecurity due to a parent losing a job. She knows many creative educators who have been working hard to make sure students are safe and taken care of during this time.
---
Educators and parents know there are many things schools provide aside from basic learning, like social interaction and emotional development.
Michael Sulkowski is a school psychologist and assistant professor in the University of Arizona's College of Education.
"School also has been historically shown to reduce inequalities that might exist regarding how education is delivered across different classes and races," Sulkowski said.
Sulkowski also said that for students who live in unstable or even dangerous environments, school might be the safest place for them.
He recommended that parents take care of themselves and keep the household as stable as possible so students can focus on learning. He also recommended that parents talk to their kids and let them know things will not be like this forever.
Keeping students engaged will be one of the most important challenges for schools to meet, according to Sulkowski. Many students have grown up surrounded by technology, which can make digital communication less daunting.
---
In late June, Gov. Ducey and State Superintendent of Public Instruction Kathy Hoffman announced a plan to send $270 million to public schools to help with reopening. Most of that money is earmarked to help schools with remote learning.

Private schools did not receive that state money but were eligible for some funding from the federal CARES Act.
About two dozen private and charter schools in Pima County received Paycheck Protection Program loans from the federal Small Business Administration. Julie Sherrill, the head of The Gregory School, said the money was needed.
"I can't imagine where we would have been without that assistance from the PPP loan because it assured us that we could continue to employ the faculty and staff that we have," Sherril said.
According to federal reports, the loan was supposed to save 75 jobs at The Gregory School.
Salpointe Catholic High school also received a PPP loan. Kay Sullivan, the school's president, said the money helped but the budget is still tight. The loan was supposed to help cover more than 200 jobs at the school, according to federal reports.
Private schools like Salpointe and The Gregory School face many of the same issues that public schools do with reopening during the COVID-19 pandemic.

For The Gregory School, classes will begin online, but Sherrill said the small student body and large campus offer some advantages. The school is looking at ways to use tents and other structures to teach outside when students do return to campus.
Salpointe plans on opening a dual track program with in-person and online classes. They will also allow students to learn remotely with the help of new tools.
---
Public schools are also trying to figure out how to safely teach kids this fall. Manny Valenzuela is the superintendent of Sahuarita Unified School District. Teachers in his district are expected back next week to start preparing.
"I think there's simultaneously feelings of wanting to move toward normalcy but there's also understandable apprehension and perhaps an elevated level of anxiety and concern based largely on what we all know to be true, which is that there's a lot of uncertainty about this situation," Valenzuela said.
As of Thursday, there were two options available for families in the district. About 20% of families have chosen to keep their kids in Sahuarita's online classes throughout the fall semester. The rest of the students will return to classrooms after the beginning of the school year. New social distancing policies, mask requirements and enhanced cleaning schedules will be in place.
Valenzuela said his district is focused on flexibility and choice for its families, as well as minimizing risks for faculty and staff.

The Buzz
airs Fridays at 8:30 a.m. and 6 p.m. and Saturdays at 3:30 p.m. on NPR 89.1. You can subscribe to our podcast on
iTunes
and NPR One. See more from
The Buzz
.