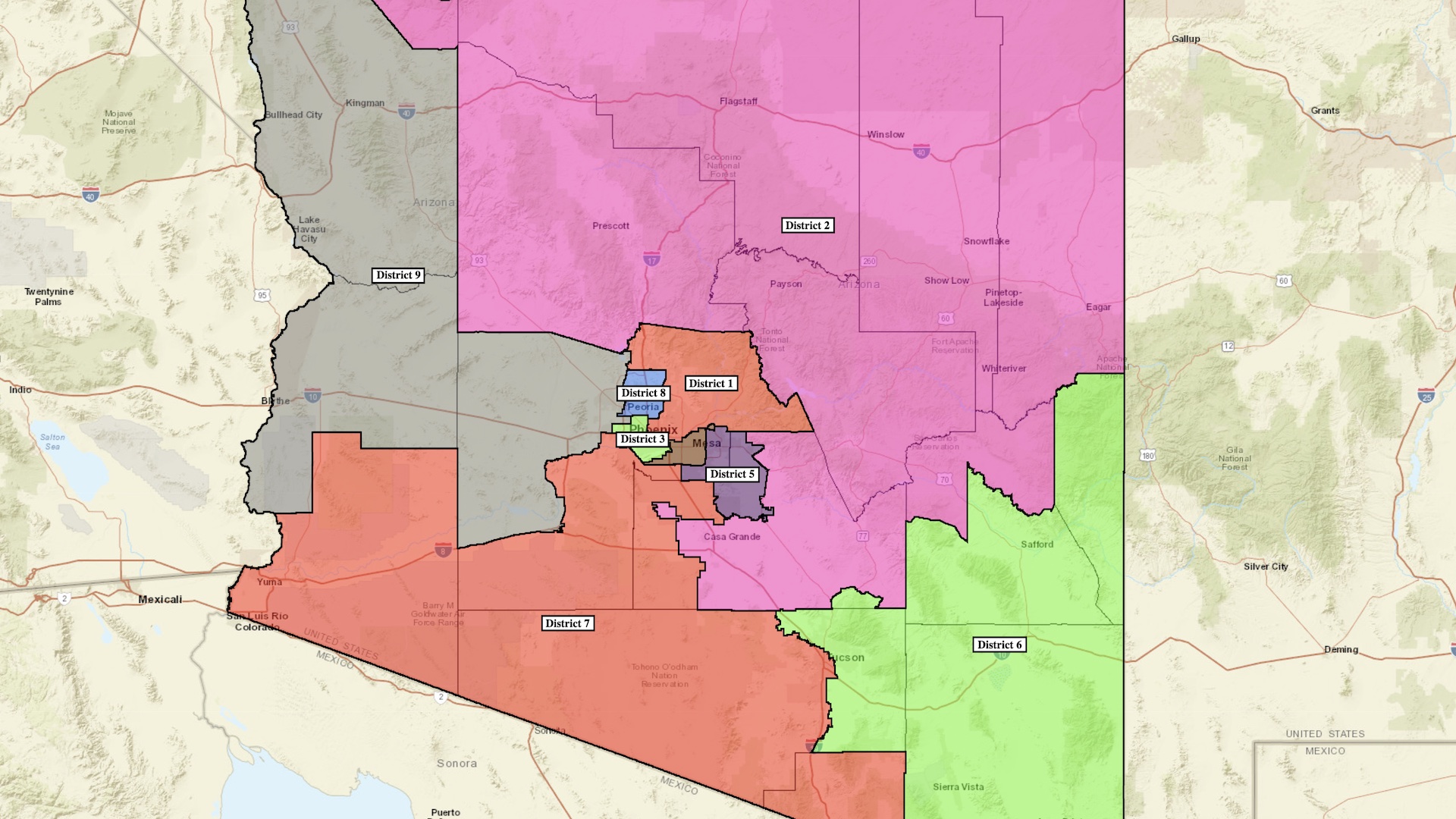 A draft map of congressional districts from the Arizona Independent Redistricting Commission.
If you live in Oro Valley or Marana, you live in the same district as residents of Flagstaff and Page.
For years, Pima County communities have been the southernmost point of Arizona's sprawling 1st Congressional District, which is bigger than Tennessee.
But that could change, along with much else about Arizona's political landscape.
The state's Independent Redistricting Commission is in the process of redrawing the boundaries of Arizona's congressional and legislative districts.
Draft maps from the commission — two Democrats, two Republicans and an independent chairperson — propose moving northern Pima County communities into a district that stretches from Cochise County north to Safford and west across the foothills to Tucson.
The rest of Tucson could fit into a district that resembles the present day Congressional District 3 covering the University of Arizona, downtown, South Tucson, all of Santa Cruz County as well as at least part of Yuma.
The drafts would create five congressional districts won by President Joe Biden — the same number as exist under the current maps.
But Democrats would be at risk of losing Congressional District 1 on the northern end of the state, as drafts propose redrawing it to include Prescott.
And Republicans would risk losing a district around Scottsdale.
These maps are fluid, however, and will change before the 2022 election.
The commission is planning hearings throughout the week of October 18 with an aim of finalizing maps in December.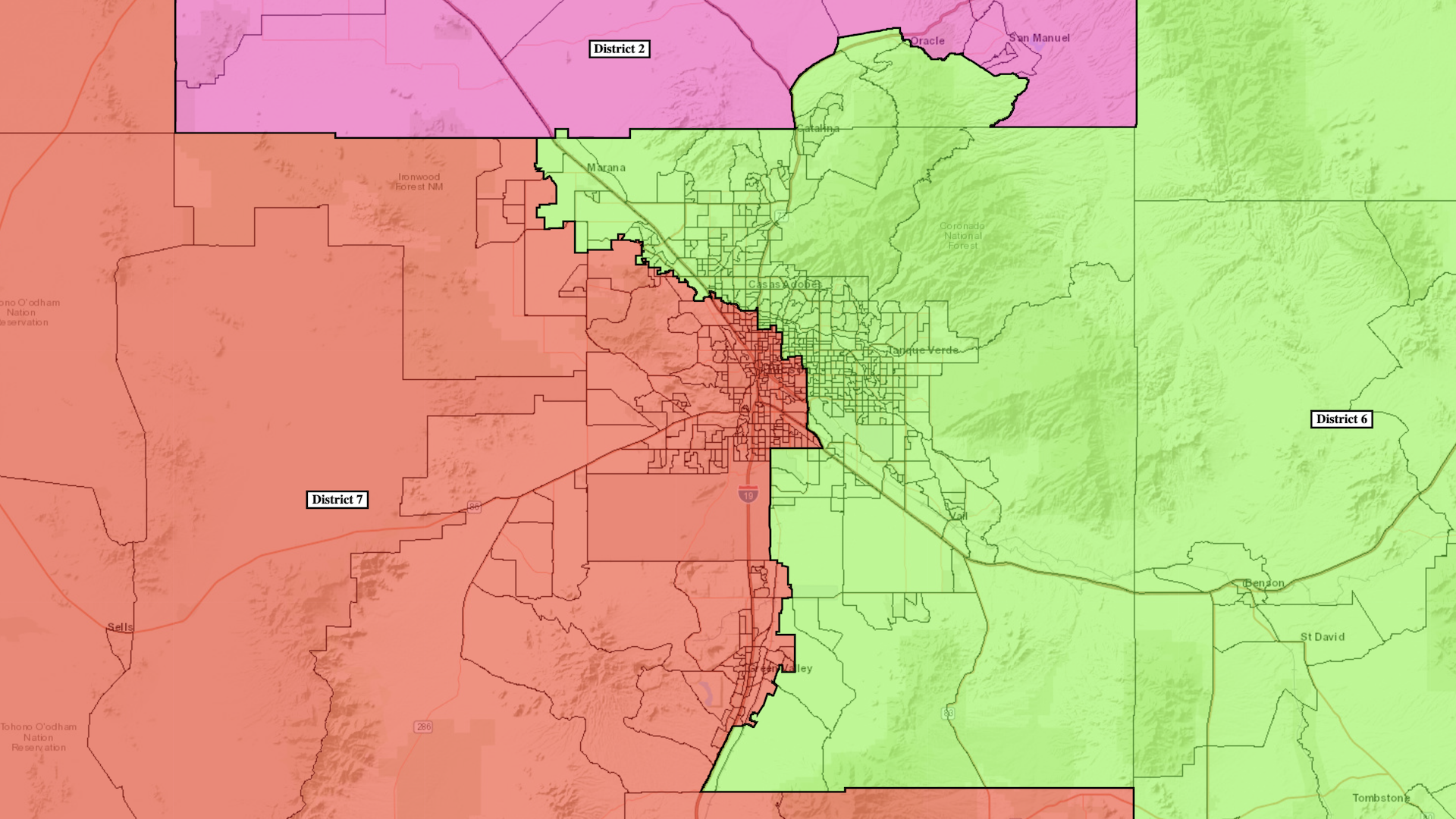 Draft congressional map for Tucson.
While parts of the draft maps may look familiar, the commissioners are starting entirely from scratch.
That is part of the process Arizona voters approved in 2000 when they voted to create the redistricting commission, taking the work of drawing political boundaries out of the hands of the Legislature.
The commission must work with a series of requirements. The districts must comply with the United States Constitution and the Voting Rights Act, for example. The districts must also have about equal population. Districts must also be geographically compact, respect communities of interest and use visible geographic features as well as city boundaries — at least, to the extent practicable. And when possible, districts should be competitive.
"Our job isn't to draw Republican districts or Democratic districts. It's to draw fair and competitive districts," said Colleen Coyle Mathis, former chair of the Independent Redistricting Commission.
But the different pieces of criteria can be in tension.
"As a political independent, I would love to draw nine competitive districts for the congressional map but that's not reality, though," Mathis said. "There are all these other criteria that come into play and there's also clustering — natural clustering of populations where people live. There are rural communities, there are urban communities. There could be communities of interest that come into play that affect the competitiveness of a given district."
Communities of interest — school districts, tribes, neighborhoods and more — can overlap and have different needs, too.
While one rule of thumb is to avoid splitting tribal lands in to different districts. But that does not always hold true, for example.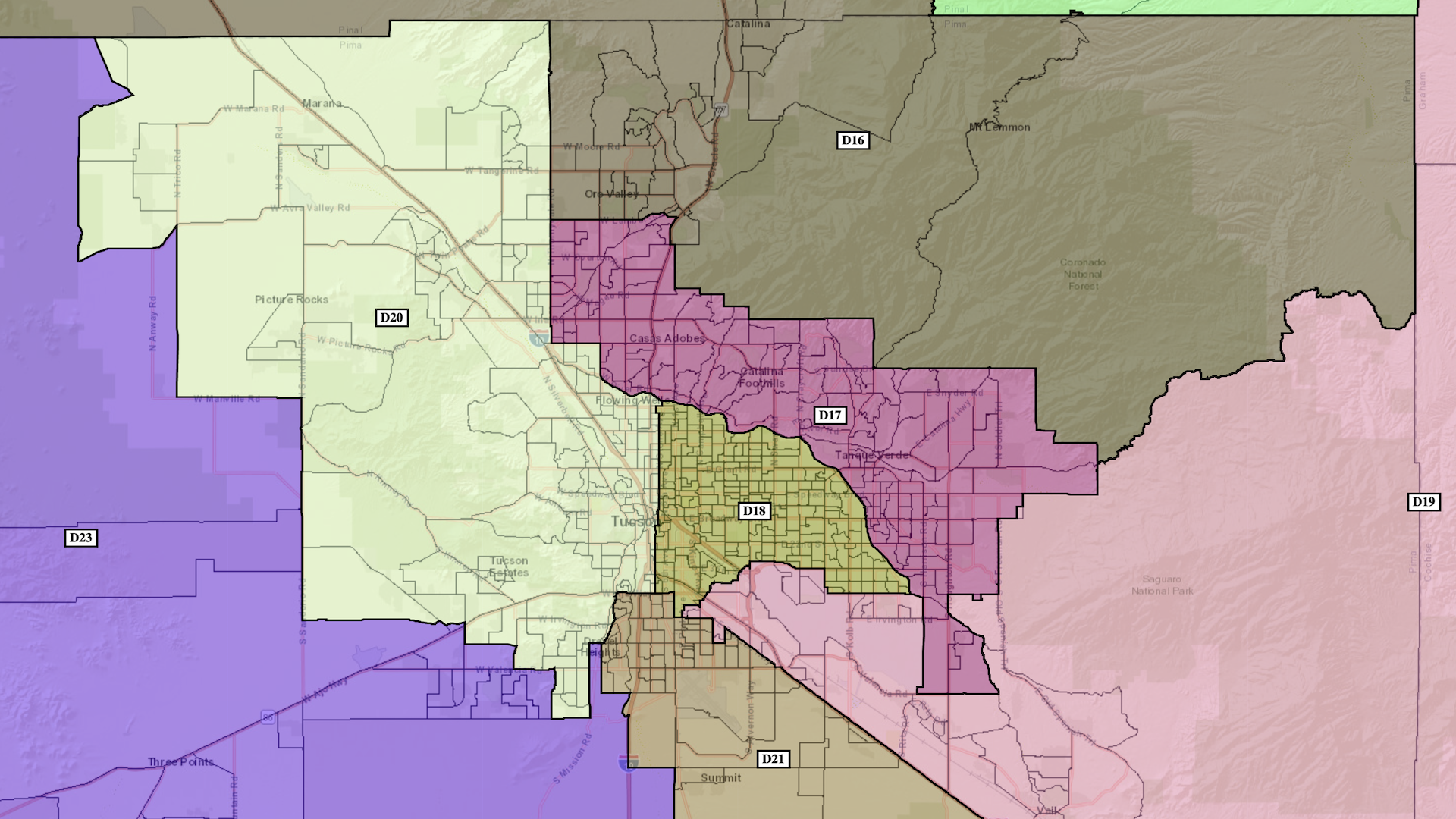 Draft legislative district map for Tucson.
"Some tribes may have a reason for wanting to be in separate districts and their interests are better represented if they are split into multiple districts. So, it really is on a tribe-by-tribe basis," said Blair Tarman, Native Vote Fellow at the Indian Legal Clinic at Arizona State University's Sandra Day O'Connor College of Law.
Balancing out the populations between districts can raise a set of separate challenges.
State Sen. Martín Quezada, D-Glendale, has sponsored legislation to change how people in prisons and detention centers are counted for redistricting, for example.
People in prisons and detention centers are counted as residents of those facilities, which some argue gives more population and political power to the rural areas where those facilities are located.
"It gives that legislator — those politicians in that geographic area — a credit for people they should be representing but really aren't," said state Sen. Martín Quezada, a Democrat representing parts of Glendale and Maryvale who has proposed changing how people in prisons are counted for redistricting.
Arizonans can review draft maps, submit comments and draw their own proposed districts at irc.az.gov.

The Buzz
airs Fridays at 8:30 a.m. and 6 p.m. and Saturdays at 3:30 p.m. on NPR 89.1. You can subscribe to our podcast on
iTunes
and NPR One. See more from
The Buzz
.