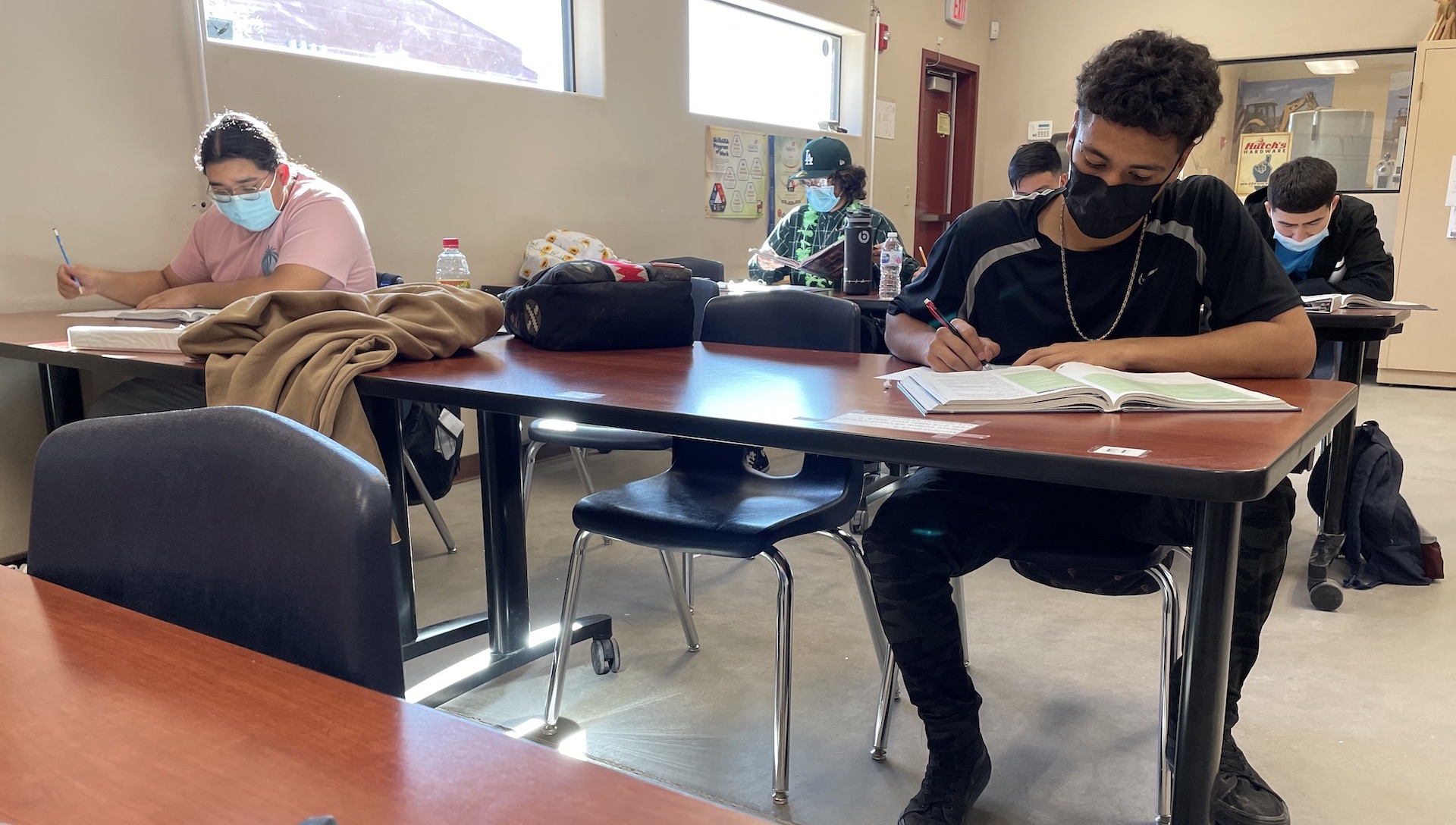 Jorge Rios is a student in Craig Bal's class. He studies a construction textbook at the training center next to his high school on October 26th, 2021.
Megan Myscofski/AZPM
Walk through downtown Tucson or other business areas and you will see plenty of help wanted signs.
But at the same time, unemployment in Arizona is back to pre-pandemic levels.
"We got hit hard during the early months of the pandemic," said University of Arizona economist George Hammond. "The state lost about 330,000 jobs from February to April but then we bounced back rapidly as the stay-at-home orders were lifted. And since then, we've had relatively strong growth."
Still, while the state has replaced 94% of the jobs it lost during the pandemic, as of September, the labor market has changed as workers reevaluate where they want to work and the careers they want to build.
This week, The Buzz examines how Arizona is recovering from the economic losses of the COVID-19 pandemic.
Broader changes in the economy are driving growth in certain sectors. Hammond said there has been particularly notable job growth in the warehouse and transportation sectors — a reflection, he said, of the shift to online shopping.
The pandemic pushed hospitals in southern Arizona to their limits. And Mimi Coomler, a nurse and CEO of Tucson Medical Center, said the need for nurses still cannot be overstated.
"As the peak of the pandemic particularly here in Tucson and Arizona started to wane in the spring, we saw a significant number of nurses retiring," Coomler said. "They'd made it through the fire, through the storm and said 'now is the right time for me.'"
Meanwhile, some nurses left as spouses got new flexibility to work from home and relocate elsewhere.
At one point, the medical center was short about 200 nurses, she said.
And that has prompted the hospital to draw more on traveling nurses, who can earn more than the staff nurses they work alongside. That, in turn, can attract nurses to leave to work as traveling nurses, Coomler said.
While some of these factors may change, such as the need for traveling nurses, Coomler suggested other trends may persist.
The construction industry has been slow to hire since long before the pandemic, and added demand for homes made the need greater.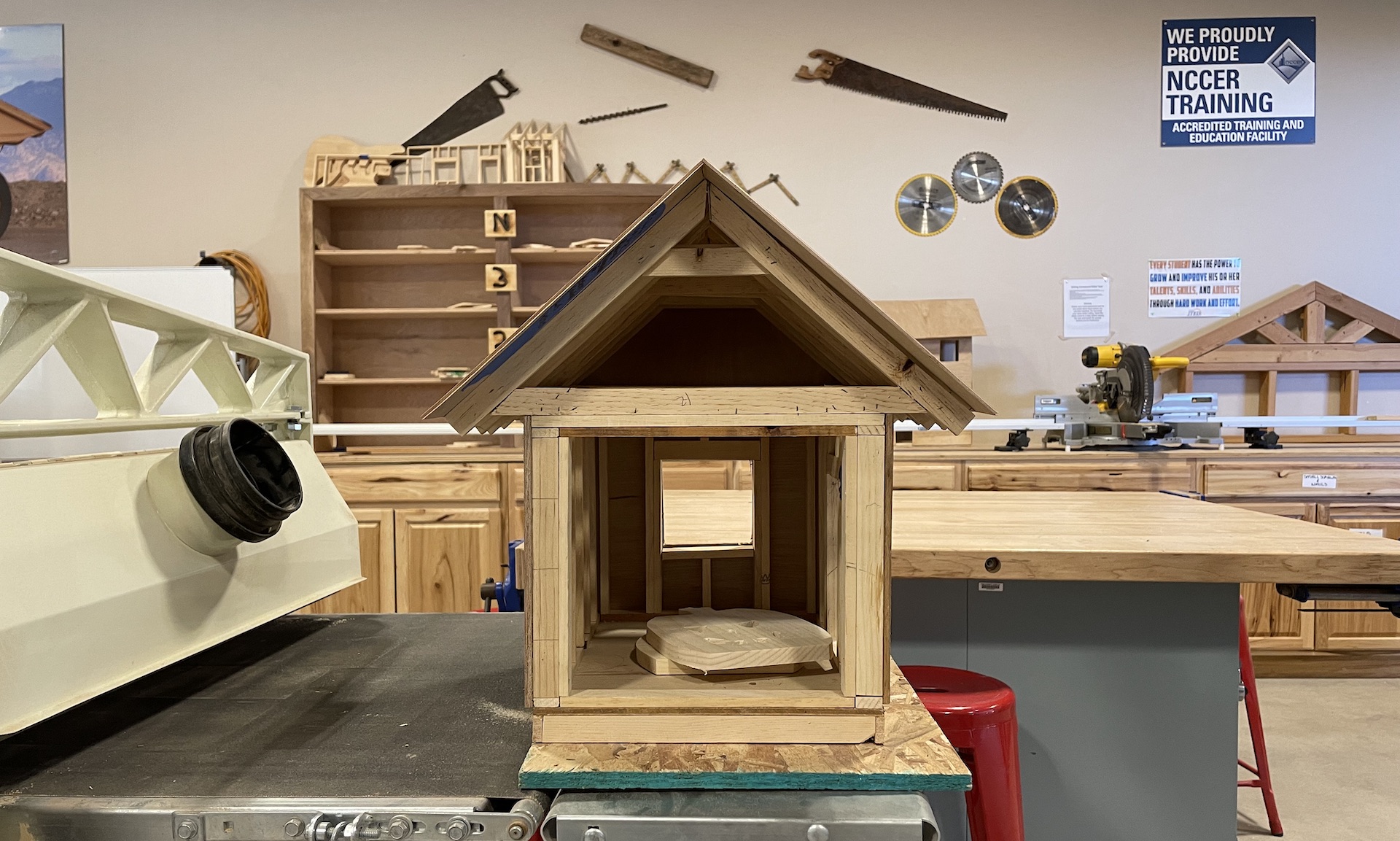 Teacher Craig Bal says the students start with small projects, and work their way up. This small house was built by students in the construction training program where he teaches.
Megan Myscofski/AZPM
According to data from the job search website ZipRecruiter, the average construction worker in Tucson makes about $14 per hour, which is a couple dollars less than the national average. Mike Goodwin, chairman for the Arizona Builders Alliance in Southern Arizona, said that means employers are feeling the push to increase pay, especially as they see ads at fast food chains offering more. "It's highly competitive," he said.
Goodwin said they're making due with fewer people by using more technology, assembling more pieces off-site, and using drones when they can.
But these work-arounds only go so far in the current housing market.
Goodwin's organization wants to get more young people hooked on the industry.
Ayiannice Espinoza is enrolled in a Pima County training facility next door to her high school.
She said seeing her father build houses made her think it could be something for her, too. And she really likes the carpentry classes because they are a good creative outlet.
Espinoza and her classmates are learning the names of tools and what they do. They've been using that new knowledge to make knick knacks, like a pumpkin-shaped napkin holder.
"I finished it yesterday and I gave it as a gift to my Nana, and she loved it. She gave me a hug and everything," she said.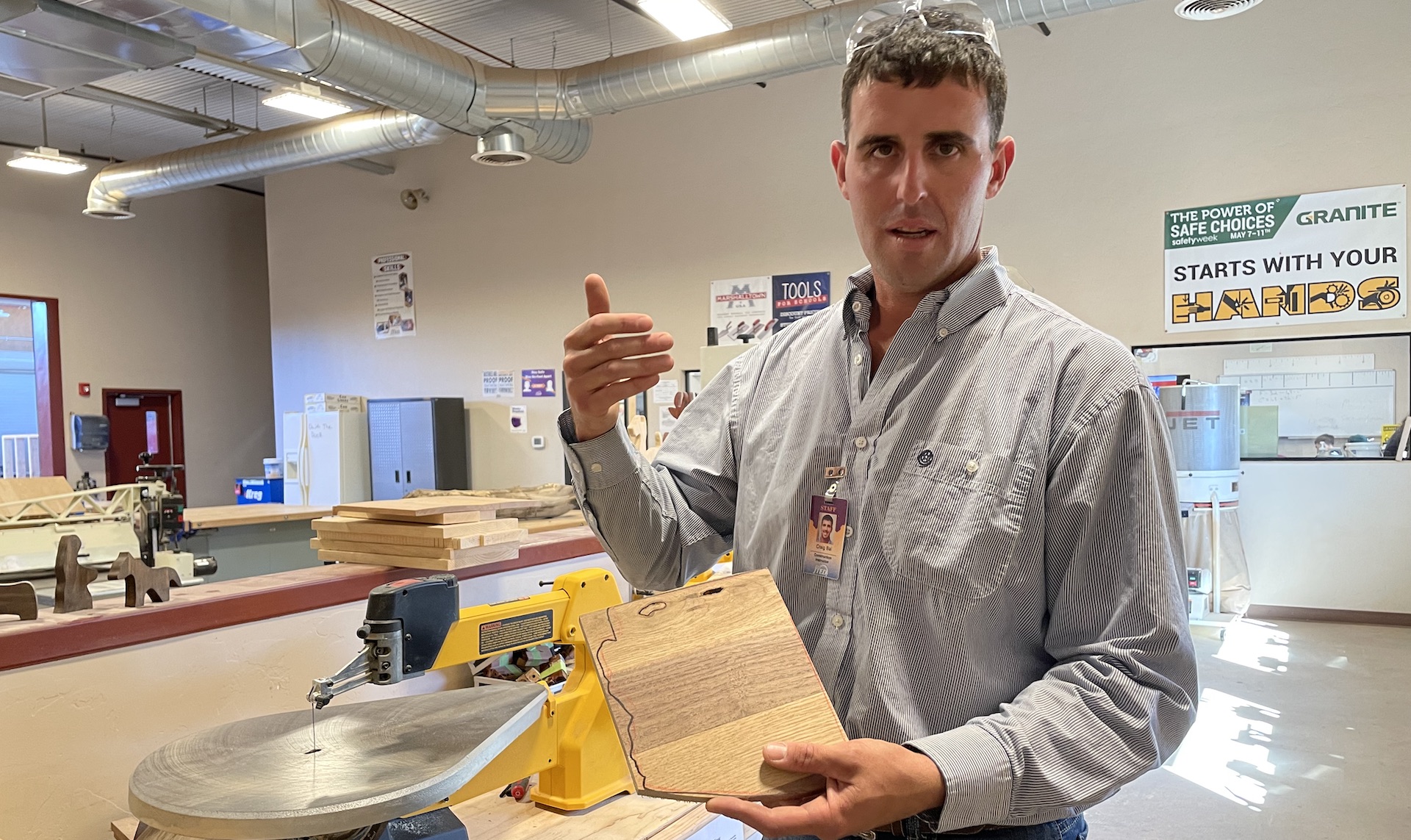 Craig Bal teaches at a Pima County construction training program. He says his students start with knick knacks, like this wooden figure of Arizona. October 26th, 2021.
Megan Myscofski/AZPM

The Buzz
airs Fridays at 8:30 a.m. and 6 p.m. and Saturdays at 3:30 p.m. on NPR 89.1. You can subscribe to our podcast on
iTunes
and NPR One. See more from
The Buzz
.