A bar in downtown Tucson during the COVID-19 pandemic.
The COVID-19 pandemic took hold in the United States about a year ago.
On Feb. 3, 2020, the Trump administration declared a public health emergency due to the novel coronavirus outbreak, just days after the World Health Organization declared a global health emergency. In March, the nation went into a voluntary lockdown that lasted weeks. Initially, cases were slow to spread in Arizona, with less than a dozen confirmed cases in the state.
Even early on, public health officials had a hard time anticipating how widespread — and ultimately deadly — the virus would become. Pima County Chief Medical Officer Francisco Garcia told The Buzz in early March 2020 that he did not think the virus would be significantly different from the flu in terms of impact, though he said, "the story is yet to be told."
But by late March, University of Arizona researcher Mike Worobey told The Buzz to prepare for things to get much worse, comparing the coronavirus to the 1918 Spanish Flu pandemic. In that interview, Worobey stressed what a difference a strategic, public-health-driven lockdown could make on the spread of the virus.
But that didn't happen, as President Trump and governors in many states were eager to restart the economic engines that stalled in March and April.
In Arizona, Gov. Doug Ducey reopened the state in early May, lifting restrictions on hair salons, restaurants and other businesses. At the time, he cited positive public health metrics to support the reopening.
But by July, the state was leading the world in new COVID-19 infections. Arizona remained a hotspot for weeks, logging more than 3,000 new infections every day.
As new cases rose quickly during the holidays, Gov. Ducey resisted repeated calls from public health officials to strengthen restrictions on businesses and gatherings to slow the virus spread. In December and January, Arizona's daily new case rates were three times that of the summer spike, with a single day high of more than 17,000 cases recorded on Jan. 3.
Last week the U.S. Centers for Disease Control and Prevention said Arizona ranked third in the country for COVID-19 deaths per capita over the previous week and had led the nation and the world in deaths and cases at times during January.
As of Feb. 26, Arizona has recorded more than 15,800 deaths due to COVID-19.
UA virologist Felicia Goodrum spoke to The Buzz about why it was so hard to know the full scope of the pandemic early on. Despite public optimism last spring that the pandemic was going to be over in a couple months, she said it quickly became clear that wasn't going to happen.
For one, we learned the novel coronavirus could be transmitted to other people days before the carrier showed any symptoms, which Goodrum said made it harder to trace and treat.
But still, "having had a more proactive public health strategy nationwide would have certainly helped to limit the number of infections and would have put us in a better place than where we are right now," Goodrum said.
As current COVID-19 metrics improve and areas open back up, Goodrum said simple mitigation strategies, like wearing masks and keeping socially distant, remain essential to help reduce transmission even as vaccine rollout picks up.
"We're really in an arms race right now to try to get people vaccinated," Goodrum said.
As for the new COVID-19 variants, Goodrum said that it is normal for viruses to mutate, but these variants could mean the pandemic will go on for a longer period of time. And those variants may also mean people may have to receive new vaccines in the future.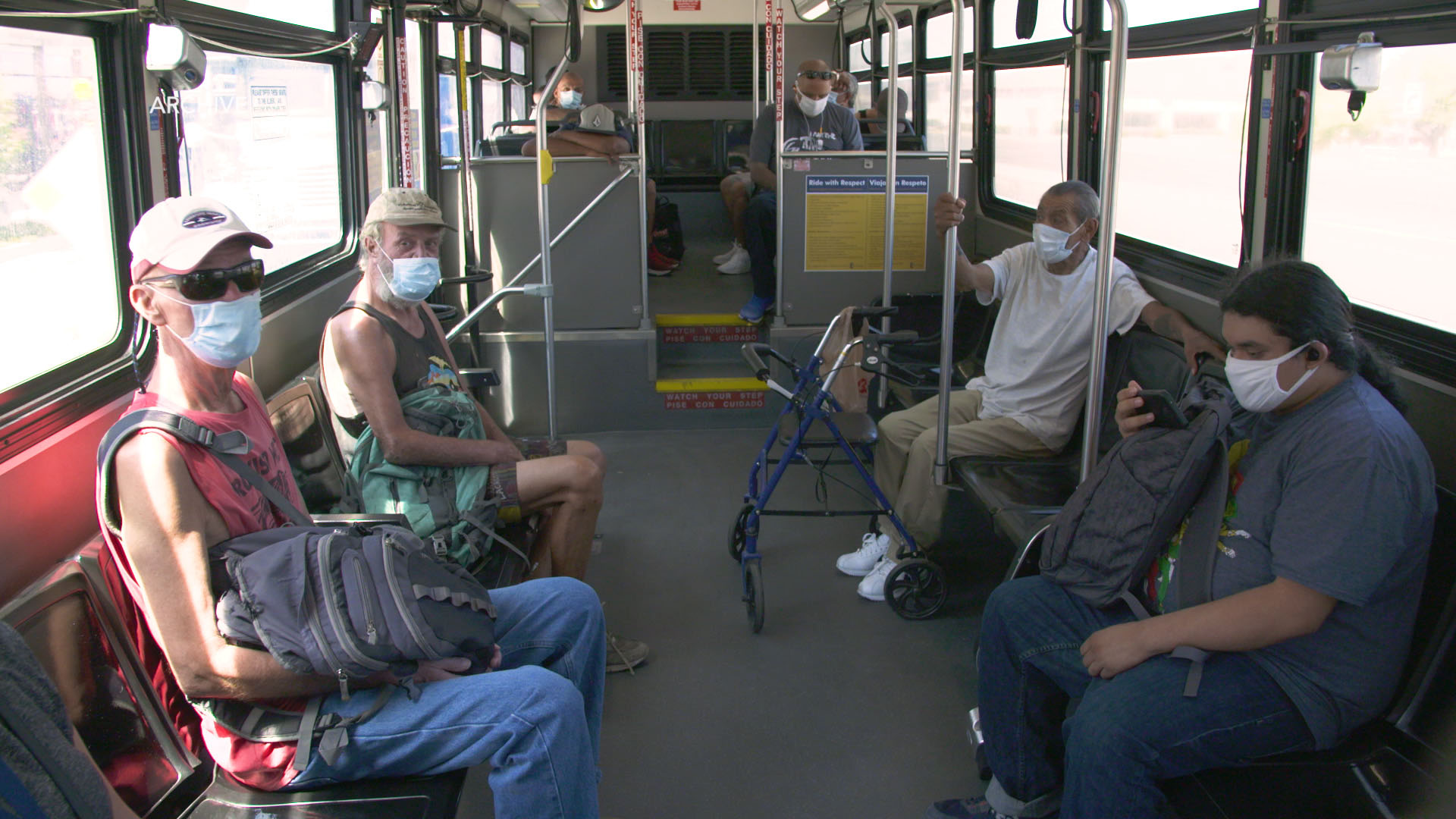 Community members travel by bus during the COVID-19 pandemic.
AZPM
At the start of the national lockdown last year, there were predictions that the pandemic's economic impact would be "V-shaped"— meaning it would take a dive but recover quickly. That hasn't been the case.
Tim James is director of research and consulting with the Seidman Research Institute at Arizona State University. He said it's important to remember that the pandemic isn't over so it's still a bit early to judge the full impact.
"Where we are now is we're entering a phase of what looks like it might be long-run unemployment and a reduction in terms of the size of the economy in absolute terms, compared to, say, 2019," James said.
Still, Arizona's economy has done remarkably well, James said, especially compared to other parts of the country. "We've only experienced a slight reduction in terms of economic output for 2020, and what we're expecting is the economy to sort of bump back up over the next year or so to get to where we would have been 12 months before," meaning about one year of growth lost.
He said the hospitality and leisure industries have been particularly hard hit in Arizona, as they have elsewhere.
While it is too early to determine the long-term impacts of the pandemic on the economy, James said that some changes to shopping behavior, for example, could be here to stay. It will take time for businesses to adapt to those changes.
---
So, what are the factors that make people behave one way or another during the pandemic?
John Ruiz, an associate professor of psychology at the University of Arizona and president of the Behavioral Medicine Research Council, said that people constantly calculate risk in their daily lives. He said during the pandemic people have fallen into different camps in terms of how strictly they follow public health measures, though some, like essential workers, have fewer options to reduce their personal risk of virus exposure.
"The introduction of the vaccine will change the calculus for a lot of people," Ruiz said. "A lot of folks will begin to wonder, is that their golden ticket? Is it a pass to behave back in 'normal' ways again?"
When "normal" life does begin again, Ruiz said there will likely be some awkwardness at first. People will need to adjust and re-socialize after having been away from each other for so long.

The Buzz
airs Fridays at 8:30 a.m. and 6 p.m. and Saturdays at 3:30 p.m. on NPR 89.1. You can subscribe to our podcast on
iTunes
and NPR One. See more from
The Buzz
.