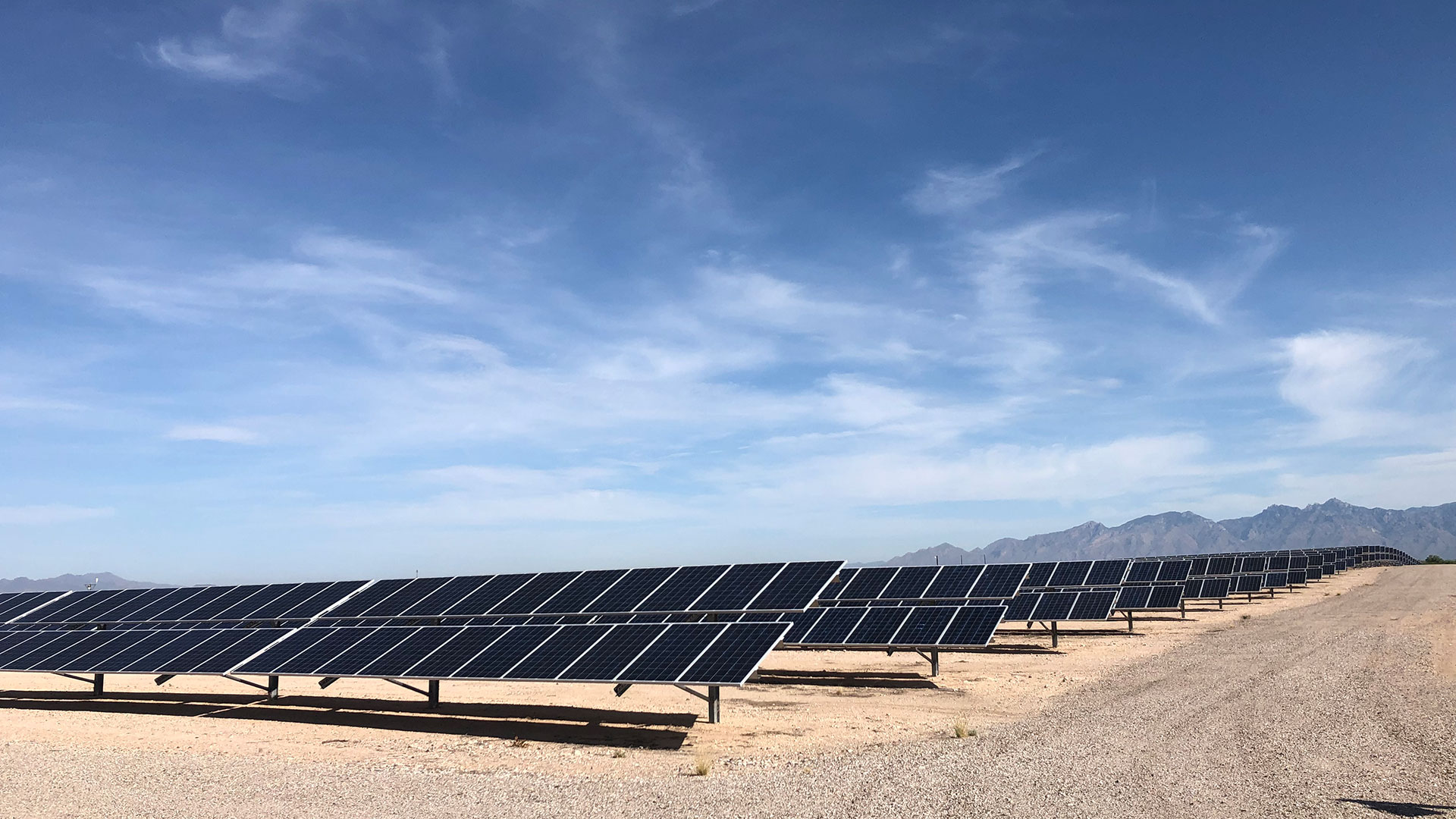 A solar array used by Tucson Electric Power to add renewable energy to the grid, August 2019
Christopher Conover/AZPM
Currently, Arizona requires electric utilities to get 15% of their power from renewable sources by 2025. But Tucson Electric Power has already committed to get 70% of its power from renewable sources by 2035 and Arizona Public Service has promised it will sell 100% carbon-free energy by 2050.
The Arizona Corporation Commission regulates utilities. It is currently considering a measure that would increase the state's standard to 100% carbon-free sources — which includes nuclear power — by 2050.
At the same time Arizona lawmakers are considering a bill that would limit the power of the ACC to set standards for renewable energy use by utilities.
Update: On March 11, the Arizona Capitol Times reported this bill is likely dead after a Republican Senator declined to support it.
Lea Márquez Peterson is the chairwoman of the Arizona Corporation Commission, which last passed an energy standard in 2006.
"It's time that we caught up with our neighbors, with our states surrounding us, that we truly focus on how to provide an affordable solution and reach 100% clean energy," Márquez Peterson said.
She said she wanted the new standard to leave room for innovations in energy production.
Márquez Peterson said that companies considering bringing their business to Arizona express interest in clean energy, as do her constituents.
---
David Jenkins is the president of Conservatives for Responsible Stewardship, a national group with about 800 members in Arizona.

His group is opposed to the bill that would limit the power of the ACC because he argues it's bad for business and doesn't let Arizona maximize the opportunity of home-grown power, like solar.
He said the ACC's proposal to make Arizona utilities 100% clean power by 2050 reflects current energy market trends.
"It plays to this state's strengths, it will ensure that Arizonans benefit from the cheapest sources of electricity available, which for this state is solar energy paired with storage," Jenkins said.
Solar energy is cheaper than energy from nonrenewable resources, like coal, which Jenkins said helps businesses lower their overhead costs. He also shared Márquez Peterson's view that states with good renewable energy standards are attractive to companies looking to relocate.
"Since when do conservatives ignore the business community and take action that actually is counter to the business community's needs?" Jenkins said.
---
Last year, the Arizona legislature passed a bill that prevents cities and towns from implementing bans on natural gas in buildings. Lawmakers made the move as the city of Flagstaff was considering requiring all new construction to get to net-zero emissions and working to electrify existing buildings to cut down on fossil fuels as part of its climate plan.

NPR recently published an investigative story detailing how Flagstaff's effort was ultimately blocked by the Arizona legislature. That was part of a large-scale push by the natural gas utility industry to block future bans on gas hookups across the country.
NPR Energy and Climate Correspondent Jeff Brady, who co-reported the story, spoke with The Buzz. He said natural gas utilities are facing "an existential crisis" right now because of the emerging consensus that we need to shift away from natural gas in buildings towards electricity in order to reduce greenhouse gas emissions.
"And so, they've been going around the country and passing laws preventing local municipalities, local cities, from passing new gas hook-up bans," Brady said. He said this action by the natural gas industry is partly in response to the efforts made by many cities to take action on climate change during the Trump administration, which didn't prioritize federal action on the issue.
---
The Buzz also looked at the influence of the natural gas industry on Arizona politics.
According to campaign finance reports for the Southwest Gas Political Action Committee, in 2020 — the year the legislature forbade cities from restricting natural gas — the company gave Arizona candidates close to $64,000 in donations. That includes candidates running for the legislature and local government, both Democrats and Republicans. In 2019, it donated about $20,000.

The Buzz
airs Fridays at 8:30 a.m. and 6 p.m. and Saturdays at 3:30 p.m. on NPR 89.1. You can subscribe to our podcast on
iTunes
and NPR One. See more from
The Buzz
.