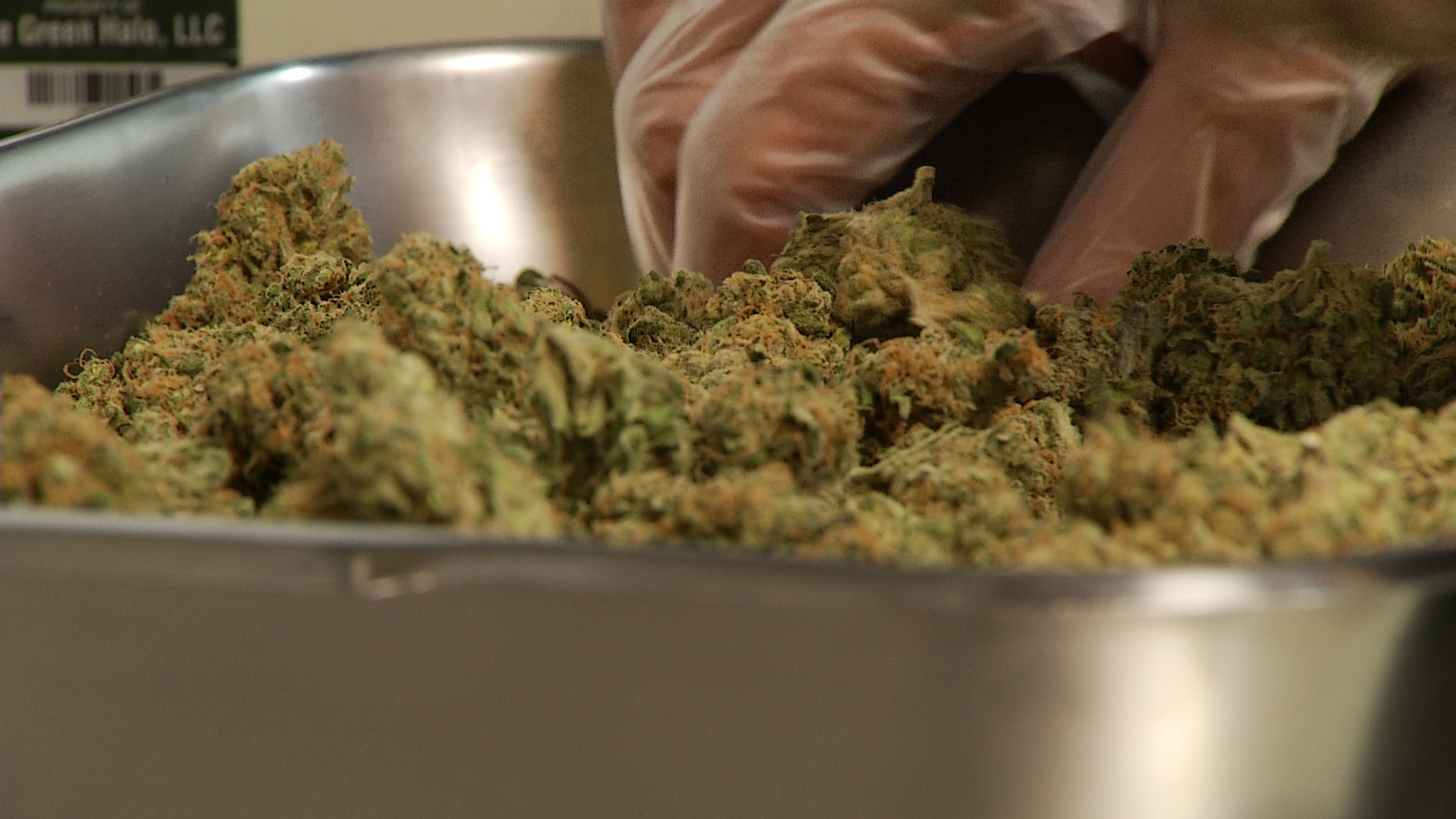 A dispensary employee weighing and portioning marijuana.
AZPM
Almost a year ago, 60% of Arizona voters passed Proposition 207, paving the way for the legal recreational marijuana.
The proposition included language that established a path to erase some low-level marijuana-related offenses through a process called expungement.
It also had a social equity component to it, which led to 26 dispensary licenses being set aside for "individuals from communities disproportionately impacted by the enforcement of previous marijuana laws."
And the law included a tax that would raise revenue for the state.
How are all these provisions working out so far?
Julie Gunnigle, director of politics with Arizona NORML, estimated there are about a quarter to half a million people in the state who are eligible for expungements.
Yet, the Pima County Attorney's Office said only 69 petitions have been filed in the county, as of Tuesday.
The office said of those, 42 have received partial expungements. For example, the marijuana possession charge was cleared, but the paraphernalia charge wasn't, and one petition has been denied, but the attorney's office said it filed a motion for reconsideration.
"It has illustrated the folly of making expungement an opt-in process," Gunnigle said when reflecting on the low turnouts at clinics they're hosting to help people with expungement petition paperwork. "This should have been universal and automatic. This should be work that our 15 county attorneys and our AG is doing entirely on their own."
She said could see this happening if voters put pressure on their county attorneys and the state's attorney general or on their state lawmakers.
Gunnigle said some folks don't believe expungement is real or they become accustomed to life with their charge on their record. But others want their recorders cleaned. They want to regain access to public benefits, student loans, housing, voting rights and more.
More than 10 years after his first arrest for marijuana, Joel visited a legal clinic NORML hosted at the City of Tucson's Ward 6 office to get some help getting the high school transgression off his record.
"If they do get expunged, it's going to be a new life for me. That won't be on my record anymore," said Joel, whose last name will not be used for privacy reasons.
Joel traveled from Phoenix to Tucson for the clinic and after about 20 minutes of going over paperwork with Sen Umeda, a lawyer volunteering at the clinic, Joel was on his way to apply for expungement.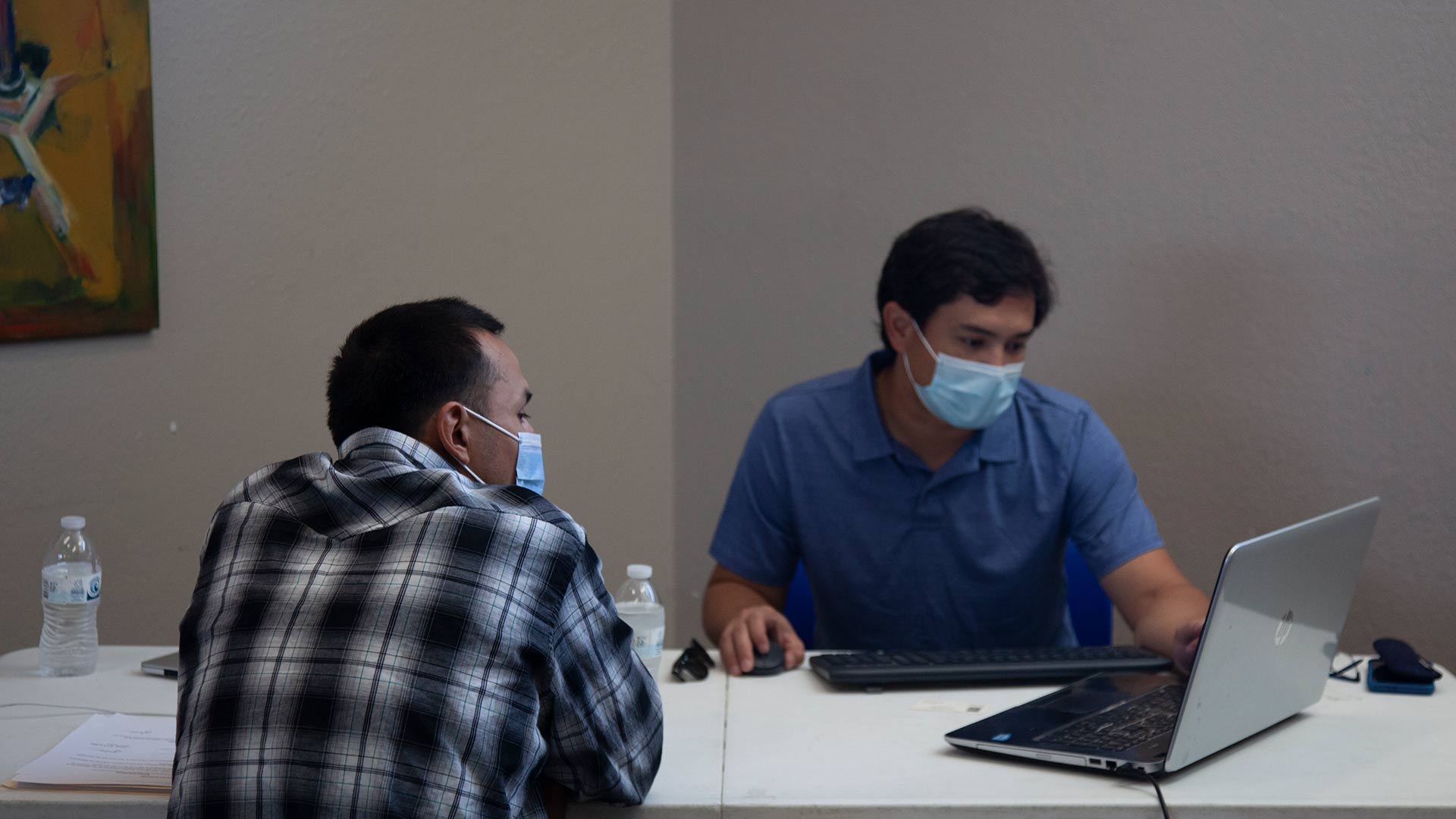 Joel talking with Sen Umeda, a lawyer volunteering with Arizona NORML, during an expungement clinic for low-level marijuana offenses July 31, 2021.
Emma Gibson/AZPM
Proposition 207 also created a social equity ownership program. There are 26 licenses for "individuals from communities disproportionately impacted by the enforcement of previous marijuana laws."
Adriana Kittrell, general manager of GreenMed Wellness Center and PurpleMed Healing Center dispensaries and co-owner of Harambe Cafe, said as a woman of color, she would like to see more diversity in the industry.
She said her father is the only Black owner of a dispensary in Arizona.
A spokesperson for the Arizona Department of Health Services, the agency that licenses marijuana establishments, said he couldn't corroborate the claim because ADHS doesn't collect racial demographic data on dispensary owners, but multiple sources supported Kittrell's statement.
She said he was born and raised locally, but she's seen a lot of wealthier investors move into the industry.
"There's definitely people in the industry who aren't in it for healing and to help the community and are willing to try to hurt others by it," she said.
The Arizona Department of Revenue reports more than $740 million worth of medical and recreational marijuana has been purchased since the start of the year.
Each month, the amount of recreational sales has increased, but it is still outpaced by medical sales. Medical marijuana is taxed by the state at a lower rate than recreational marijuana.
The millions being paid in state taxes may make a dispensary sound like a good business. But federal taxes tell a different story, because marijuana is still federally illegal.
Dispensaries can face steep federal tax rates — particularly dispensaries that do not have the resources to find ways of curbing their tax bills, said Darin Guthrie, a CPA who works with a number of dispensaries in Tucson.
"Other businesses have a whole slew of other deductions, other deductions for administration, for selling expenses. And dispensaries are prohibited from deducting any selling expenses," he said.
At the state level, tax revenue from recreational marijuana is divided between community colleges, law enforcement, fire departments, transportation, public health programs and criminal justice programs.
And in many states that have legalized marijuana, the prospect of levying taxes on it has been a major argument for legalization.
Colorado was not only early in legalizing marijuana in 2012 but also touted that some of the funds from sales would go to education.
Ann-Marie Awad, host of Colorado Public Radio's On Something podcast, said the story is not as simple as saying that taxes from marijuana fund the state's schools.
That money is a drop in the bucket for Colorado's education system, she said.
"For most people who don't use marijuana, don't care about it, aren't planning on interacting with it, the taxes are the big carrot and stick — the big civic payoff to voting for legalization," she said. "And I think there is a real impact when these taxes are targeted at specific thing in a meaningful way. What has played out in Colorado is we get a bunch of money from marijuana taxes. But every year, pretty much every legislative session, a handful of bills get passed that sort of cut pie slices even thinner."

The Buzz
airs Fridays at 8:30 a.m. and 6 p.m. and Saturdays at 3:30 p.m. on NPR 89.1. You can subscribe to our podcast on
iTunes
and NPR One. See more from
The Buzz
.