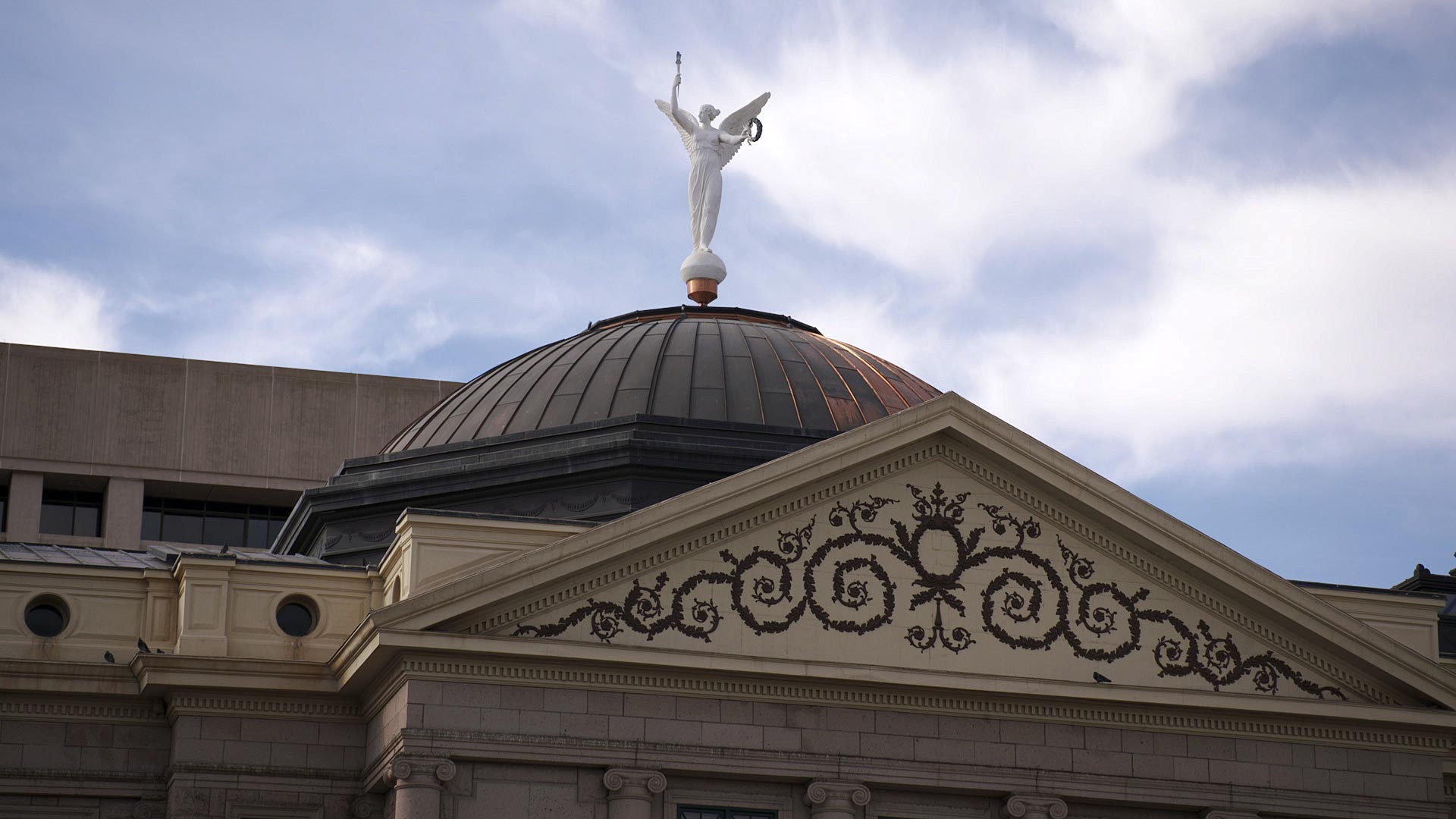 The dome atop the Arizona Capitol Museum at the State Capitol in Phoenix. January 2021.
AZPM Staff
The Arizona Legislature convenes Monday facing a pandemic, drought, a looming cap on education spending and a budget that is better than expected.
This week, The Buzz talks with the top Republicans and Democrats in the Legislature about their priorities for the session ahead.
Both sides said water will be a key issue.
"All of us who have been for several generations in Arizona know that water is the issue," said House Speaker Rusty Bowers, R-Mesa. "We are trying to create some type of instrument that will allow us to gain more outside water rather than everybody keep picking at each other inside Arizona. We still know that we need to conserve as good as we can in an educated and thoughtful way. We'll see more use of wastewater in the future. It's just a must."
Democrats also raised concerns about budget cuts facing school districts if the Legislature does not vote by March to let districts exceed a constitutional cap on spending.
"Teachers could potentially lose their jobs, higher class sizes — this is something that everyday parents, students and communities will absolutely face," said House Minority Leader Reginald Bolding, D-Laveen.
Senate President Karen Fenn, R-Prescott, said the Legislature will eye spending new state revenue on issues ranging from homelessness to helping students catch up on learning interrupted by the COVID-19 pandemic.
"COVID has really done a number on our little kids, right. Many experts are saying our kids have lost an entire year's worth of education. And I think we need to put some more money into that — perhaps some more tutors — to help bring our kids back up to speed," she said.
But Senate Minority Leader Rebecca Rios, D-Phoenix, does not expect Democrats will necessarily have much of a role in crafting in the budget, even though they hold 47% of seats in the Senate and 48% of seats in the House.
"Republicans have been and continue to be pretty much hell-bent on a budget that only includes Republican votes. I have no reason to believe that is going to change," Rios said.
The budget process this year may be further complicated after the state Supreme Court put a stop to the practice of lawmakers cramming unrelated and often controversial policies into the annual spending bill. For example, the court struck down a ban prohibiting schools from requiring students to wear masks, which was attached to the budget last year rather than passed as a separate law.
Bowers said he expected as much from the court.
"We knew that we would be in court and there was a high chance that we would lose it and we did. And hopefully we learned from the lesson," he said.

The Buzz
airs Fridays at 8:30 a.m. and 6 p.m. and Saturdays at 3:30 p.m. on NPR 89.1. You can subscribe to our podcast on
iTunes
and NPR One. See more from
The Buzz
.