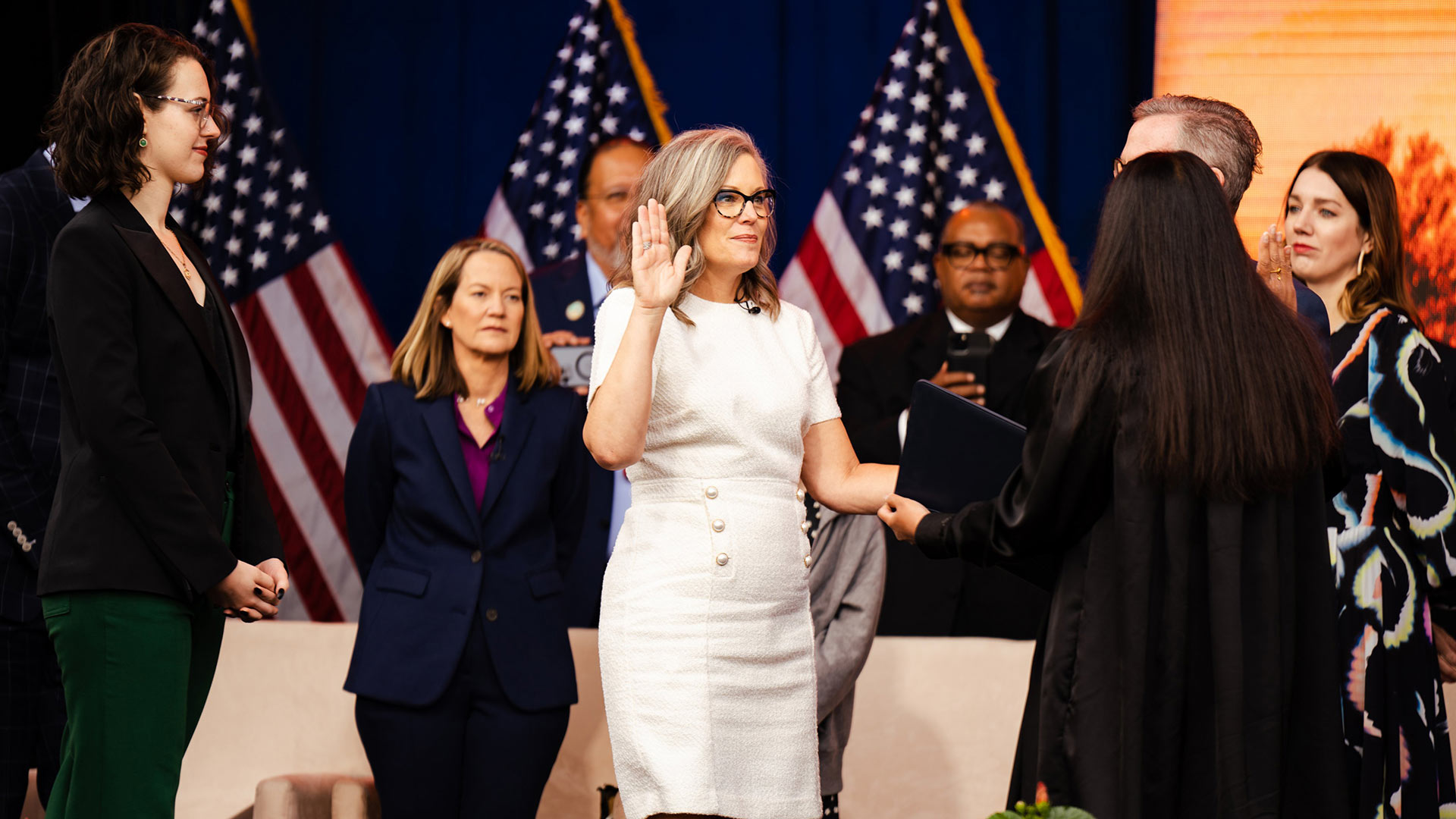 @GovernorHobbs on Twitter
State lawmakers will convene at the Capitol next week for the start of their annual session. But days prior to legislators begin their work, Arizona's newly-elected executive leaders were sworn in.
The winners of November's election took the oath of office in a private ceremony on Monday, with the public inauguration following on Thursday.
Among them is Governor Katie Hobbs, who becomes the first Democrat to hold that position since Janet Napolitano left for a federal cabinet appointment in 2009.
Hobbs said she will put the past behind her and work across the aisle.
"If you're ready to make real progress on the issues that matter most to the people of this state and my door will always be open," she said.
Though she added that she would not give in to the more radical elements of the political world.
""Let me also say just as clearly that chasing conspiracy theories pushing agendas for special-interest attacking the rights of your fellow Arizonans or seeking to further undermine our democracy will lead nowhere," said Hobbs.
One of the people she may have to cross the aisle to work with is Rep. Ben Toma, who will serve as the Arizona House of Representatives' Majority Leader. Toma said he has already had a collegial meeting with Hobbs, but that he plans to keep the work that past Republican-led governments have put in place.
"You have lots of policies that have encouraged lots of people to move here. All of those are things that we're going to be focused on defending from the perhaps incoming administration."
One area that is a notable Hobbs priority that Toma is ready to work on is the education aggregate expenditure limit, a law that caps how much can be spent on education in Arizona.
Unless the AEL is waived by March 1, public schools in the state will face a budget cut of around 17 percent.
"We will find a way. I'm not concerned about it," said Toma. "That was the deal. We increased public education funding and we increased school choice, and for those reasons most of my caucus will support raising the AEL."
The AEL was supposed to be addressed in a legislative special session, according to Capitol Media Service's Howard Fischer, who has reported on Arizona government for decades.
"[Former Governor Doug Ducey] did promise, depending on who you talk to, to call a special session on the aggregate expenditure limit. He got the Democrats to provide him the votes he needed for the budget that he wanted, which included more money for education that some Republicans said over their cold, dead bodies would be provided."
Fischer said that promise was bent if not broken, likely because Hobbs won the election over Republican Kari Lake, and it would be a final chance to horse trade and get another item he wanted in exchange for waiving the AEL.
Fischer said he expects this session to be contentious and that Hobbs will wield her veto power on a number of occasions.
"I think [the legislature's Republicans] will realize, 'we have to work with the reality on the ground.' The governor's power is that big, red veto stamp. People have asked me how many vetos are you expecting this year? I think at some point, they will say, 'what's the point?'"