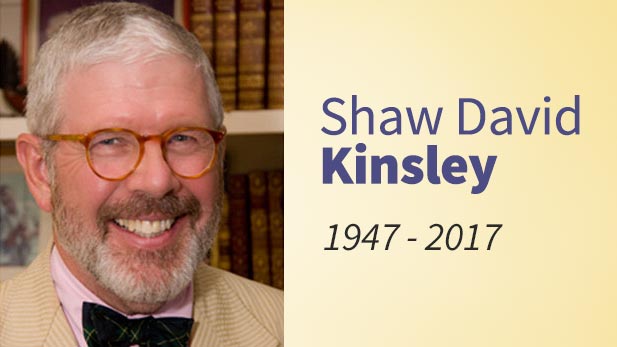 Shaw David Kinsley, a former host at Classical 90.5, has passed away.
We are deeply saddened to hear of the death of our former colleague and friend, Shaw David Kinsley. Below is the obituary that was published by the Green Valley News & Sun which helps detail the incredible legacy he will leave behind. He will be missed.
Oct. 6, 1947 to July 6, 2017
He was born as an only child to the late Wynn Kinsley from Oregon and Faith Anderson Kinsley from New York, in Denver, Colorado. His beloved partner was the late Michael Wolfarth of Tucson and New York City. Shaw graduated high school from Taft School in Watertown, Connecticut, bachelor of arts from the University of Colorado, library science from the Pratt Institute, master's of science from the University of Oxford. He was an Army drill sergeant and in the reserves from 1968-1974.
Among his many accomplishments, he worked at the Center for Creative Photography, University of Arizona from 2000-2005. For several years, he was heard on Tucson's classical music radio station KUAT. Shaw was a member of the Order of St. John of Jerusalem, also known as the Order of Malta and numerous organizations.
He left behind a significant legacy, having been the director of the Tubac Presidio State Historic Park since 2010. His love of history led him to rescue the first Arizona state park from closing its doors. By recruiting volunteers and keeping them dedicated with his leadership and charismatic personality, Shaw was able to maintain and expand the park to become a major Tubac destination. Shaw was the recipient of the Arizona Historical Society Al Merito award that recognizes individuals who have made outstanding contributions and served as role models for preserving Arizona's rich history.
A memorial service is planned in November and a requiem Mass is planned soon. Dates and times may be obtained by calling the Tubac Presidio at 520-398-2252. In lieu of flowers, donations can be made to the Tubac Presidio State Historic Park.
Published in Green Valley News & Sun on July 12, 2017