(VIDEO: AZPM)
Mikee Pruitt is a young street musician we caught up with on 4th Avenue. He's lean, scruffy, and wears a stained suede fedora, suspenders and an embroidered denim shirt. When we found Pruitt, he was playing solo; a one-man-band with a banjo, a yellow plastic kazoo and a bass-drum kick pedal attached to a baby blue Samsonite suitcase.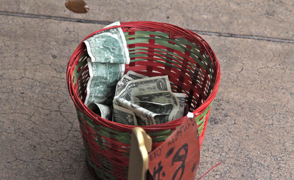 Appreciative listeners donate to the basket. (PHOTO: Matt Ehrichs)
Pruitt is a full-time traveling street musician, or 'busker' as many who perform on the street prefer to be called. Originally from Kansas City, Mo., he literally has friends across the country, moving about freely depending on his whims and the weather. This is how he makes a living.
However, Pruitt says busking is about more than just making a living. Playing music for people is his life's work, and he takes it personally.
"This is what I devote my life to, because if people aren't happy then I'm not happy, " Pruitt says. "When someone walks by and doesn't even look at me...say anything, or show any emotion whatsoever... that indifference just makes me want to play faster and happier. Even if I get just a little glimpse of something then maybe I've helped them, even if they're making fun of me at least they're laughing about something."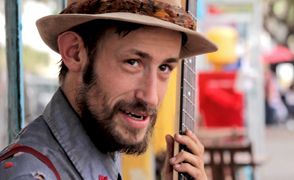 Mikee takes a break from playing and shares a smile. (PHOTO: Matt Ehrichs)
Pruitt plays with intensity, and the responsibility he says he feels to his audience, regardless of the venue, takes a toll.
"I don't have a fingernail on this finger because I play so often, so I have to do these different things to keep my self going," Pruitt says. "During the (Fourth Avenue Street Fair)... I ripped off pretty much this whole tip of my finger and I just used a whole thing of super glue to keep going."
Along with the pain that Pruitt happily embraces, his romanticism about life on the road, the camaraderie and the adventure, passionately, come through.
He says Tucsonans are warm and welcoming.
"This town is so easy to survive in, it's fantastic, I love it," Pruitt says. "...as soon as I roll into town, people are just so friendly here.... when I came in this year... I hadn't seen this guy in a very long time, and he totally remembered me. He gave me some food and bought me a beer."

Arizona Spotlight Radio Story:
Listen to more of Mikee Pruitt's music:
This story is part of Arizona Public Media's week-long series on poverty.