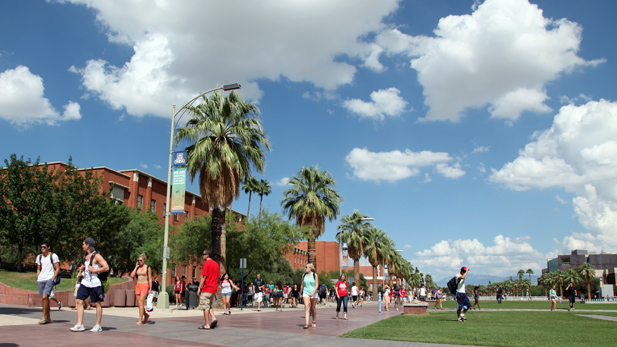 PHOTO: Fernanda Echavarri
The University of Arizona
Undergraduate international students applying at the University of Arizona must achieve a higher score on the Test Of English as a Foreign Language, also known as TOEFL, to be admitted, starting with the 2013-14 school year.
The change comes after "much collaboration and research by the Office of Undergraduate Admissions, International Student Services, the Center for English as a Second Language and approval from the Provost's Office," says Sergio Ayala, UA's international recruitment manager.
The TOEFL requirement will be an overall score of 70, up from the current score requirement of 61, Ayala says.
"We are on the low end of requirements compared to other universities right now," he says. "Institutionally we'd like to see it move up closer to our peers, which is in the neighborhood of 80."
Students who don't meet the new requirement can still meet academic standards and be admitted to the UA. Then they can attend UA's Center for English as a Second Language until they are proficient, he says.