U.S. Rep. Jeff Flake took the Republican nomination for U.S. Senate in Tuesday's primary election and will face Democrat Richard Carmona of Tucson in the general election.
With 99.6 percent of the state's precincts counted, Flake had 69.1 percent of the vote to Wil Cardon's 21.2 percent, in a four-way race.
Carmona, who was unopposed in the primary, said in an interview with Arizona Public Media at the Democratic election night party in Tucson, that he asked Flake to forgo super PAC influenced spending in the campaign.
"Let's run this in a very different way than we've seen in the last year," Carmona said. "The public wants solutions to their problems. It' not about Republicans and Democrats, blue and red."
In U.S. House races, in District 1, former congresswoman Ann Kirkpatrick cruised to the Democratic nomination with 63.9 percent of the vote, as did former state legislator Jonathan Paton on the Republican side, with 60.8 percent of the vote.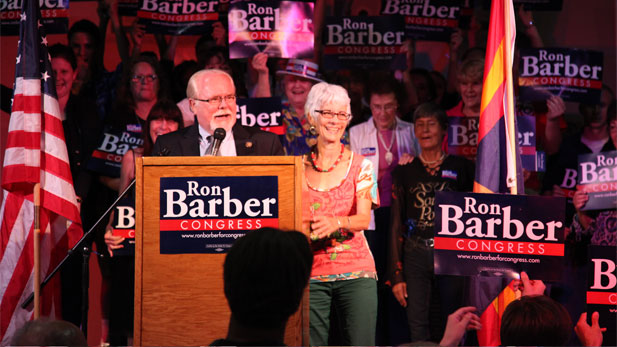 PHOTO: AZPM
Ron Barber gives a victory speech after wining the Democratic Party primary race in Congressional District 2 on August 28, 2012.
In District 2, incumbent Democrat Ron Barber won his primary with 82.2 percent to 17.5 percent for state legislator and challenger Matt Heinz, and on the Republican side, retired Air Force pilot Martha McSally won by an equally impressive margin over Mark Koskiniemi, 81.6 percent to 18.2 percent.
Barber declared victory, invited Heinz's supporters to join in supporting him and warned that McSally "supports ideas that will make it harder on the middle class."
McSally also savored her victory, if briefly.
"We can declare victory tonight, celebrate for a little while, get five hours of sleep and start over," she said.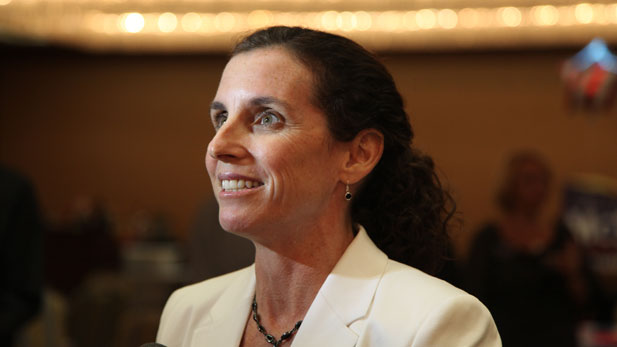 PHOTO: AZPM
Martha McSally wins the Republican Party primary and will face off against Ron Barber (D) during the general election.
In District 3, five-term incumbent Democrat Raul Grijalva easily outdistanced two challengers, with 65.9 percent of the vote and 99.9 percent of the precincts counted. He will face Republican Gabriela Saucedo Mercer, who won her party's nomination with 64.0 percent.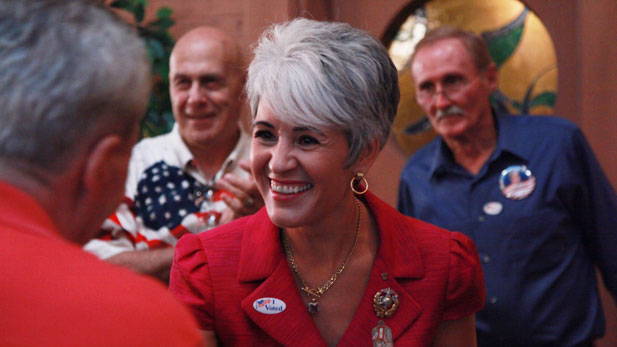 PHOTO: AZPM
Republican Gabrielle Saucedo Mercer during her victory in the CD 2 GOP Primary
"This victory was horribly sweet," Grijalva said. "There is a point at which you quit fighting the inevitable, when you integrate all the people who make this nation great."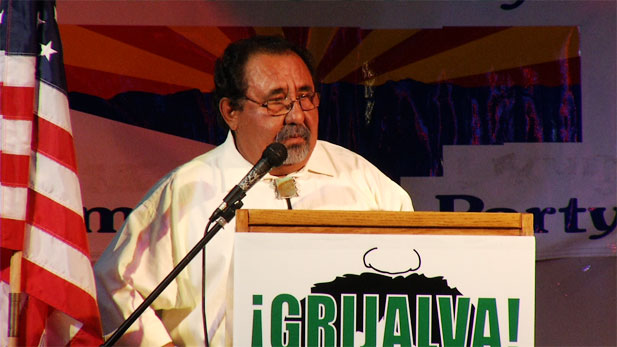 PHOTO: AZPM
Raul Grijalva wins the Democratic Party primary in Congressional District 3.
The Senate race will be a hot contest because it is a rare open seat, being left by retiring Sen. Jon Kyl after three terms and the last six years as the GOP's second in command in the Senate.
Republicans hope to retain the seat as they seek majority control of the Senate, while Democrats hope to capture it as a way of helping keep control.
Flake won the primary by withstanding an onslaught of "flip-flopping" criticism from Cardon, who spent more than $3 million of his own money on the campaign.
The economy and job creation, immigration and the border and health care have been the key issues in the Senate and all the congressional races, and those themes are expected to continue toward the Nov. 6 general election.