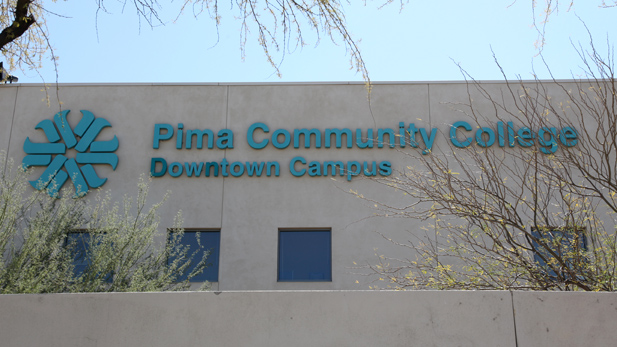 PHOTO: Fernanda Echavarri
Pima Community College Downtown Campus
About two dozen people were at Pima Community College's last public forum Wednesday talking about what characteristics and qualifications the next chancellor needs to have.
The forum was led by Elizabeth Rocklin, a consultant with R.H. Perry & Associates, the private firm hired by PCC to oversee the national search for a new chancellor.
There were a couple of students and a governing board member at the forum, but most of those attending were PCC employees. The majority said PCC needs to hire someone with ethics, technological insight, transparency, understanding of budgets and the ability to connect with the community and business leaders.
"What's also important is image," said Elizabeth Lenell, adjunct faculty at PCC. "Image and economics. I'd like to say that it's also operations but the people below will handle the operations. The chancellor needs to pull those people together and listen to them."
Some employees told Rocklin that the next chancellor should have interpersonal skills and be open to communication. Scott Stewart, the chair of PCC's governing board, agrees.
"I also want someone who will do better PR and make nice with the community," Stewart said. "There's bridges that need to be rebuilt there."
Current and former PCC employees have accused former chancellor Roy Flores of sexual misconduct, harassment, and misuse of funds for outside contracts.

Flores denied the allegations and stepped down earlier this year citing health issues. Suzanne Miles took over as interim chancellor, but has said she will not seek the permanent position.
Rocklin told PCC staff at the forum that their input will help the college move on from what's happened. Making ethics a priority in the next search is appropriate, she said.
"We need a chancellor who can be a healer and build trust in the community and who can build trust within the college," Rocklin said.
After gathering information from the public meetings and talking with the governing board, Rocklin will put together a profile packet that lists the qualifications and characteristics wanted in the next chancellor.
That packet will be posted on the firm's website and on PCC's website in September, when the application process will begin.
In December, PCC officials will select a search advisory committee that will include members of the community, PCC faculty and staff, administrators and a student.
By January, the committee will select three to five finalists after in-person interviews of those chosen by the consulting firm, and the governing board is expected to interview finalists in February.