The Homeless Intervention and Prevention Program or HIP is part of the Primavera Foundation. The HIP center is there to provide counseling, resources and guidance to Tucson's homeless population and those who are at risk for becoming homeless. (VIDEO: AZPM)
According to a 2011 report on homelessness from the Arizona Department of Economic Security, Pima County accounts for 27% of the state's homeless population. The frequency of homelessness in the county is nearly 30% higher than the national average and 42% higher than the statewide average.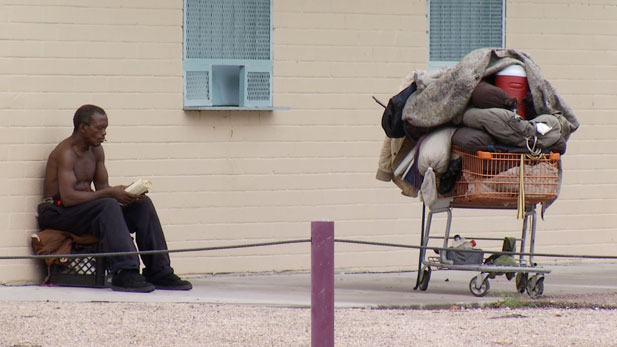 Homeless man reading near Santa Rita park. (PHOTO: Bob Lindberg)
Brad Thayer is program manager for the Homeless Intervention and Prevention program or HIP, part of the Primavera Foundation.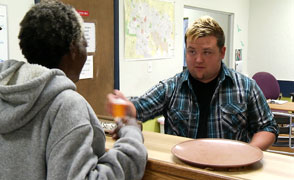 Brad Thayer provides a hygiene product to a HIP participant. (PHOTO: Bob Lindberg)
"We've seen gradual growth and we've have seen a change in the population," he says. "We have a lot more families, a lot more families. We used to see 100 people per day and now we are pushing that to 300 some days, so that's significant growth in just a year."
The HIP center is at 702 S. 6th Ave., and is open Monday, Wednesday and Friday from 9:00 a.m. to 12:30 p.m.
It's "drop-in," in that in lets the public walk in and get general resources, help and guidance. The center's primary focus is the homeless population and anyone at risk of becoming homeless.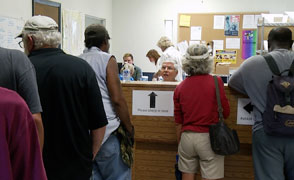 People seeking assistance line-up at check-in counter. (PHOTO: Bob Lindberg)
There's a check-in counter where people can pick-up hygiene products, over-the-counter medications, food and water. They can also speak with a resource specialist about everything from shelter to family reunification. But the HIP center is also a place where people can "decompress" and feel safe.
Living without a home exposes people to the elements. Bug bites, spider bites, snake bites. Sunburn and dehydration in the summer, flu and pneumonia in the winter. Dental and foot problems are common. And regardless of the season, a myriad of diseases must be addressed; including cancer, diabetes and mental disorders.

Last year, in an effort to balance the state's budget, Gov. Jan Brewer and the state legislature approved $500 million in cuts to Arizona's Medicaid program, also known as AHCCCS.

The cuts place a cap on new enrollment. They also prohibit as many as 100,000 childless adults from coverage in the AHCCCS program.
Most of them are poor and many of them homeless.

"You know," says Nick Taras, C.O.O. of the Primavera Foundation, "the homeless population, because they haven't had that access to preventative care have had to use emergency services, which has been costly and certainly could have been prevented."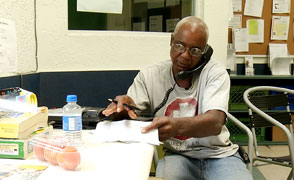 Simon, 60, is homeless. He makes phone calls at the HIP resource center. (PHOTO: Bob Lindberg)
Beyond addressing healthcare issues, Taras says they try to offer a comprehensive support network of basic resources. The kind that many of us rely on in our daily lives. Taras is well aware of the fragile nature of their mission.

"It's like building a sand castle while the tide is still in," he says.
He also acknowledges the complicated, frustrating, sometimes tragic circumstances that Tucson's homeless face each day. Still, he remains faithful to his approach.
"Folks come to us for hope," he says. "You know it's up to us, you know think of hope as a product, you know and we really have to sell that hope. And the homeless population comes to us seeking with hope. And so through that trust-building, that report building, through identifying what the critical needs are, as defined by the participant, it's our hope we can move folks forward."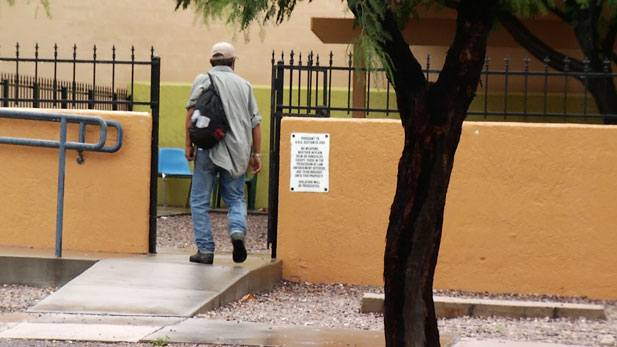 HIP participant enters the rear gate of the HIP resource center. (PHOTO: Bob Lindberg)
In a struggling economy with growing numbers of homeless and government cuts to social service programs, the Homeless Intervention and Prevention program is trying to fill the gap.
The Primavera Foundation is a non-profit agency that started in the early 1980's to address the growing numbers of homeless people living on the streets of Tucson.
Hear an accompanying radio piece about Primavera's HIP program, also produced by Mitchell Riley:
Related links:

Primavera Foundation Annual Report
Tucson Pima Collaboration To End Homelessness