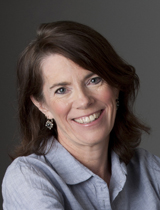 Beth Donovan is NPR's Deputy Washington Editor (PHOTO: NPR)
National political conventions are an opportunity for the party faithful to be seen. They get to cheer rousing speeches, mingle with delegates and try to woo wayward undecided voters. But what are the parties doing to reach beyond their base?
The Republican National Convention was in Tampa, FL this year, and so was NPR Deputy Washington Editor Beth Donovan. She was NPR's lead elections editor for the 2008, 2004 and 2000 presidential elections and is a former political reporter for Congressional Quarterly.
She took time from her convention coverage to speak with reporter Christopher Conover about what the GOP is doing to get more women and minorities to join the party.