Every four years, our nation's leading political parties get a chance to throw their own party, and no opportunity to out-do the competition gets overlooked.
The Democratic National Committee held their convention second this time around, and that gave Christopher Conover a chance to talk with Ron Elving, NPR's Senior Washington Editor, about what's been happening this week in North Carolina...
Listen: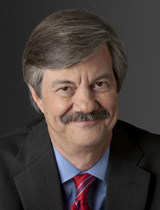 Ron Elving is NPR's Senior Washington Editor (PHOTO: Courtesy NPR)
Ron Elving is the NPR News' Senior Washington Editor directing coverage of the nation's capital and national politics and providing on-air political analysis for many NPR programs.
Elving can regularly be heard on Talk of the Nation providing analysis of the latest in politics. He is also heard on the "It's All Politics" weekly podcast along with NPR's Ken Rudin.