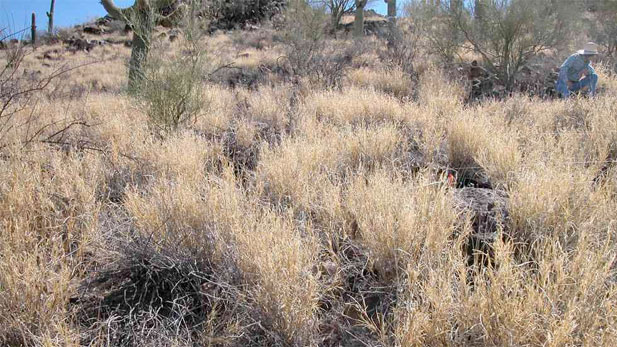 PHOTO: Travis Bean
Buffelgrass on Tumamoc Hill in Tucson.
Saguaro National Park is using helicopters to do aerial surveys this week of its eastern and western park locations in Tucson.
The survey will take about three days, and is expected to be completed this week, but the schedule depends on weather, says Scott Stonum, the chief of science and resource management at the park.
The helicopters are necessary because some of the terrain in the park is too rugged to get to on foot, so park officials are less aware of the Buffelgrass' extent in those areas.
"A comprehensive study from the air allows us to gather that information in a more effective way, more quickly and safer, and allows us to survey hopefully the entire park," Stonum says.
Buffelgrass is an invasive, non-native grass that was cultivated in Arizona as cattle feed. It spreads quickly, burns easily in a wildfire, and prevents native plants from thriving, which is why numerous public and private agencies have launched efforts to rid it from the protected and sensitive areas of the Sonoran Desert.
The park will use the images gathered this week in a comparison with data from 2008, Stonym says. Volunteers and park employees work to eradicate the plant manually, either pulling the grass by hand or spraying it with herbicide.
Stonum says the park is considering spraying the more rugged areas with herbicide from a helicopter, a method that was tested a few years ago in Tucson Mountain Park as a way to get a hold on the plants' spread in tougher terrain. The data from the aerial survey may be used in an environmental impact statement, and in public meetings about the aerial herbicide method of controlling the grass.