State officials are preparing for the possibility that as many as 103 diabetic inmates at the Lewis state prison in Buckeye could be newly infected with Hepatitis C after a nurse improperly administered their insulin.
The nurse works for Wexford, a private medical contractor, which provides care at the Lewis state prison in Buckeye where the incident occurred.
The Arizona Republic reported on September 4 that state corrections and health officials didn't find out until a week after the incident in question, where a nurse re-drew from a multi-dose vial of insulin with a bloody needle from a Hepatitis C-positive patient, then continued to use the vial to administer medication to other patients.
The nurse has since been suspended and any future action will be determined by the state nursing board, said Jennifer Bowser, spokeswoman with the Arizona Department of Corrections.
For Donna Hamm, a lawyer with prison advocacy law firm Middle Ground Prison Reform, this controversy comes just days after she said she mediated a conflict between another Wexford nurse and a prisoner, where the nurse poured powdered medication into an inmate's hand and directed the inmate to lick it off.
Hamm called this specific medication mix-up "inconceivable."
"The incident itself is incomprehensible in terms of a nurse, any nurse with basic training not understanding [the mistake]," Hamm said. "She seems to think that inmates are not worthy of appropriate medical care. And that's a problem that has to go all the way back up to Wexford."
When asked whether DOC would seek disciplinary action against Wexford, officials punted.
"Until the fact finding is complete, no decisions relative to contractual issues can be discussed," Jennifer Bowser, communications spokeswoman with DOC said in a prepared statement.
However, problems with distributing medication in a timely fashion led Clark County in Washington state to decline renewal of a Wexford contract in 2009. Various lawsuits against the company exist stemming from inmate complaints around the country, leading many to question the value of privatized healthcare.
On a public health level, this event signals the need for further education and training of healthcare workers, said officials with the Arizona Department of Health Services. That's why education promotions like the "One and Only" campaign that AZDHS is promoting with the Centers for Disease Control and Prevention is so important, said communications spokeswoman Laura Oxley. The campaign stresses using only one needle, one time, for one individual.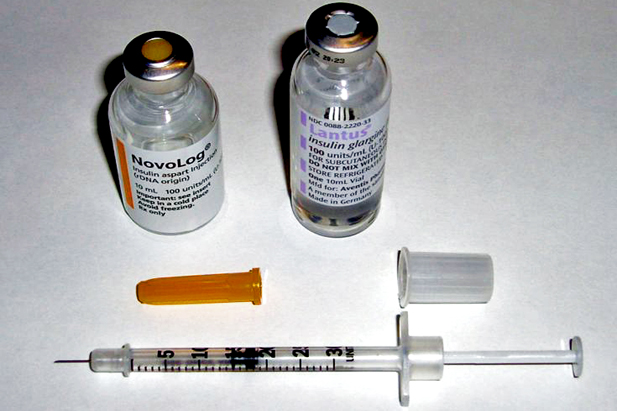 Epidemiologist Shoana Anderson says multi-dose insulin vials like the one shown here, can pose a public health risk if workers contaminate them with a previously used needle.
Shoana Anderson, an epidemiologist with the Arizona Department of Health Services, said a big public health concern is so-called contamination of multi-dose vials, such as the kind used for prisoners' insulin.
"It's really hard if you need to draw up again, sometimes healthcare workers forget to change the needle," Anderson said. "There's a lot of education related to really only using a needle one time for one patient."
Education has to continue in order to prevent new exposures, Anderson said.
"We want to make sure all healthcare workers know this so that you don't have additional exposures out in the community with other individuals and other viruses."
The Wexford nurse has been suspended and the investigation continues, DOC officials said. But Hepatitis C isn't uncommon in the prison population and its spread continues, according to the CDC.
In correctional facilities, anywhere from 16 to 41% of inmates have been infected with Hepatitis C, the CDC found, compared to just 1 to 1.5% in the non-institutionalized population.
DOC said it will continue to monitor the inmates for several months to see if any inmates newly test positive. Most individuals will test positive for the virus if infected within eight weeks but it could take up to three months, Anderson said.