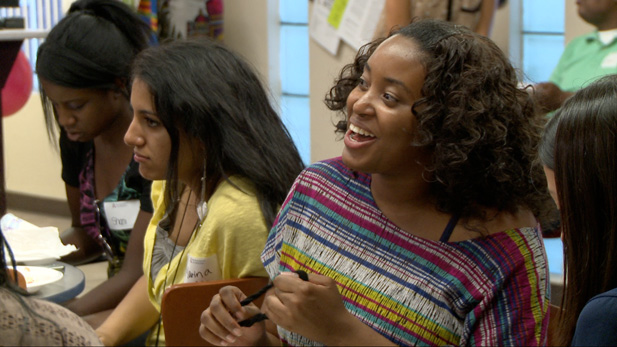 Industrial Engineering student Shannon McKinley (right) enjoys the welcoming nature of the African American Student Affairs (AASA) events.
The fall 2012 African American Student Affairs Open House welcomed new and returning students, and connected them to resources that will help them be successful at the University of Arizona.
Program Director Maria Moore says the mission of African American Student Affairs is to "facilitate a support network for students to achieve academic excellence while providing an enriching African American cultural experience at the U of A".
While mingling and networking, members of the Africana Studies Program introduced a new minor concentrating in Hip-Hop. Dean of Students Keith Humphrey gave a welcoming announcement committing his office to the success of African American students. Open house attendees heard poetry and spoken word and participated in a line dance workshop with Barbea Williams.
African American Student Affairs was founded in 1991 after students protested in 1989 for more resources and attention devoted to the needs of African American students. According to the UA Factbook In the 2011- 2012 school year, 1,487 African American students made up less than 4% of the total student body. That number has grown nearly every year since 1989 when the African American population made up less than 2% of the total student enrollment.
Watch to meet some of the new faces at AASA.
Producer: Heather Wodrich | Videographer: Santiago Bahti | Editors: Lauren Bays, Matt Ehrichs