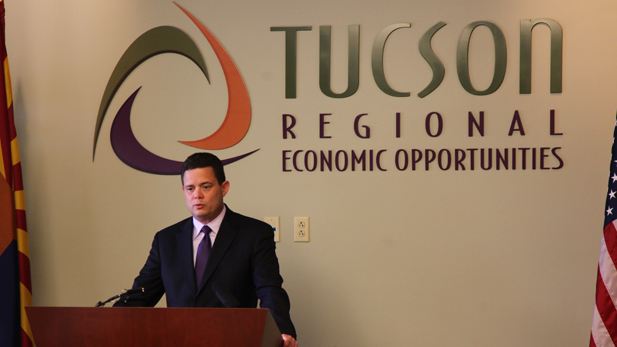 PHOTO: Andrea Kelly
Joe Snell, president and CEO of Tucson Regional Economic Opportunities, announces in August, 2012, technology company Accelr8 is moving to Tucson.
The Tucson Regional Economic Opportunities organization is eliminating almost all public funding sources from its budget.
For the first time since the economic development agency was created in 2005, TREO will rely heavily on funding from the private sector, said Joe Snell, TREO president and chief executive officer.
Instead of accepting money from local governments such as the city of Tucson and smaller cities and towns, Snell said TREO is asking the municipalities to use the money on incentives for recruiting businesses to the area.
Often, the ability to offer a tax waiver or reduction in taxes is the deciding factor, or "tipping point," for a company's decision to relocate, Snell said.
This year, about 40 percent of TREO's $2 million budget, or about $800,000, was to come from local governments in the Pima County metropolitan area, he said. Starting now, the organization will rely on private funding for the majority of its budget, but Pima County government will still contribute to the organization. This fiscal year, Pima County's budget sets aside $350,000 for TREO.
"We think it's a very prudent and strategic and smart move that ultimately keeps the current municipal partners at the table, adds some new voices, that shouldn't be overlooked. This has the ability to be much more inclusive, while creating an opportunity to be much more competitive than maybe anybody else in the state," he said.
Snell said TREO expects to continue with its budget of about $2 million, and that the private funding won't increase or decrease the budget remarkably this year. He said that's because there is enough private funding coming in to make up the difference in the loss of public funding.
TREO has been criticized in recent months for funding out-of-area trips to study economic development in other communities, mainly because Tucson City Councilman Paul Cunningham was accused of inappropriate behavior on one of the trips to San Diego. But Snell said this decision is not in response to community perception of the organization's spending priorities.
"We've been looking at this evolution for quite some time and we decided to make the change now, frankly because we're seeing a strong pipeline, and we had to overcome the issue of lack of tools," he said.
By tools, he means economic development incentives that the local governments can offer to entice businesses to move here.
But the decision doesn't diminish local municipalities' role in the economic development organization, Snell said, because they will still have seats on the 50-member governing board.
Snell says many other economic development agencies operate in the hybrid model, with partly private and partly public funding, but TREO will be one of few to rely nearly entirely on private funding.