From rainy and cloudy to warm and sunny. That's the transformation on tap this week as the monsoon gives way to early-fall conditions.
The mechanism that funnels tropical moisture into Arizona in the summer months is weakening considerably, leaving behind a warm, dry pattern that could last for nearly two months.
Forecasters note that the monsoon officially ends Sept. 30, but unless we get remnant moisture of a tropical storm, the remaining weeks will be mostly dry.
Temperatures will be slightly below average for the next few days.
So, how was our monsoon this year? Slightly below average. At least according to the official rain gauge at Tucson International Airport. As of September 10th, 5.91" of rain had fallen at the airport since the monsoon began June 15, and most of that - 4.13" - came in July. Normally, by that date, we'd have 5.32". Contrast that with last year's seasonal total of 8.62".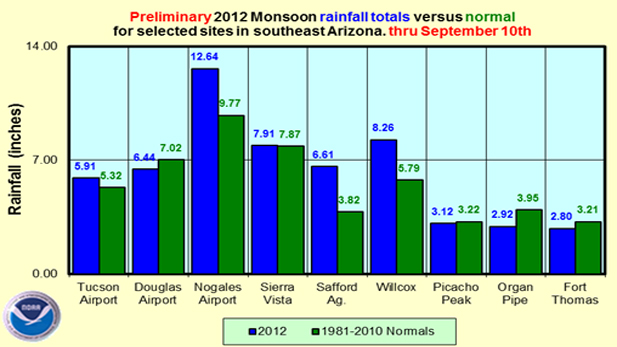 PHOTO: NOAA/National Weather Service
Preliminary monsoon 2012 rainfall totals across southern Arizona tell a tale of variable rainfall, with some areas above average, others below.
2012 official Tucson rainfall totals, by month (thru Sept. 10):
June: 0.34"
July: 4.13"
August: 1.17"
September: 0.27"
TOTAL: 5.91"
2011 official Tucson rainfall totals, by month (June 15-Sept. 30):
June: 0.03"
July: 1.64"
August: 1.35"
September: 5.60"
TOTAL: 8.62"
Average Tucson rainfall totals, by month (June 15-Sept. 30):
June: 0.15"
July: 2.25"
August: 2.39"
September: 1.29"
TOTAL: 6.08"