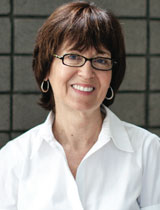 PHOTO: UA Poetry Center
Gail Browne, UA Poetry Center Executive Director
The University of Arizona Poetry Center celebrated its 50th anniversary in November 2010, with former U.S. Poet Laureate Billy Collins as the guest of honor.
During an interview recorded at that time for Arizona Spotlight, Collins shared his view of the Poetry Center's importance, and called the Helen S. Schaefer building "the largest, and certainly the most magnificent, free-standing building in America dedicated exclusively to poetry".
The completion and dedication of the Schaefer building was the primary goal of Gail Browne's tenure as the Poetry Center's executive director, along with the creation of a stronger organization that could continue the Center's mission during turbulent times for arts and education funding in Arizona.
The UA Poetry Center has experienced both growth and an increase in community involvement under Browne's leadership, even at a time when many other literary arts organizations are struggling to survive.
This week, Browne announced that she would be leaving her position at the Poetry Center, as she discusses in this interview...
The search for the Poetry Center's new executive director will begin in October.
Listen: