Congressional District 3 candidates Raúl Grijalva and Gabriela Saucedo Mercer are taking jabs at each other on immigration and border policy.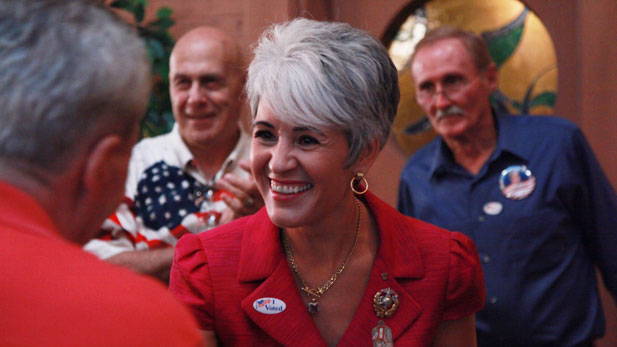 PHOTO: AZPM
Republican Gabrielle Saucedo Mercer during her victory in the CD 2 GOP Primary
Saucedo Mercer, the Republican challenger, is a newcomer to politics, and Grijalva, the five-term incumbent Democrat, has been in political office for decades.
Their general election race started even before the polls closed on the primary Aug. 28, when Mercer beat her opponent and Grijalva emerged the victor in the Democratic primary.
The day before, Grijalva posted a video on YouTube and called attention to comments Saucedo Mercer made in an interview with Western Free Press.
The reporter asked her about OTM or "other than Mexican" immigrants from "countries of interest." Saucedo Mercer says 25,000 were apprehended last year.
"If you know Middle Easterners, a lot of them they look Mexican, or they look like a lot of people from South America -- dark skin, dark hair, brown eyes," she said in the video. "And they mix, they mix in. And those people, their only goal in life is to cause harm to the United States. So why do we want them here, either legally, or illegally?"
View the full 14-minute video here.
Saucedo Mercer told a group of supporters in Tucson last week that she left out the word "terrorist" in that response when describing people who want to cause harm to the country.
Grijalva called her comments "hate speech" and described her views as extremist.
"She is out of any legitimate political mainstream in District 3. Whether you're a liberal or a conservative, she is out of both those streams when it comes to District 3," Grijalva said.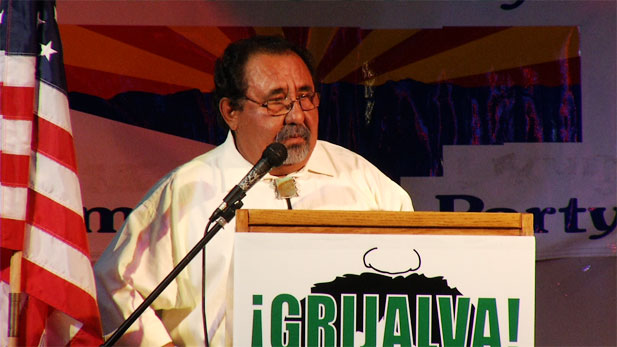 PHOTO: AZPM
Raul Grijalva wins the Democratic Party primary in Congressional District 3.
Saucedo Mercer sought to clarify the comments, saying she is not against Muslims coming to the United States.
"I want to make clear I am not against Muslims, I am against radical Islamic terrorists," whose "only goal in life is to come to America and cause us harm. I want to make that clear."
She said the issue marks a difference between her position and Grijalva's on immigration. She said he hasn't come up with a solution to the problem, and said not favoring a secure border is essentially an anti-American stance.
Grijalva disagreed.
"We voted for the Homeland Security budget, we've been conscious of the amount of money and personnel that have on that border almost to the point of militarizing it, and (we have) been unhappy with some of the use of that money and we've been critical as to what the focus should be," Grijalva said. "That doesn't make me anti-security, and it doesn't make me pro-terrorist."
Each candidate calls the other an extremist, although both align with their parties on issues such as health care and immigration. They both also say they will continue to respond to attacks from their opponent.