By The Associated Press
A commission charged with overseeing the state Capitol grounds has approved plans to create a World War II memorial on the Capitol Mall.
The Legislative Governmental Mall Commission's approval late last week means engineering and construction can begin with a planned groundbreaking of December 7, 2012.
The memorial will feature gun barrels from the battleships USS Arizona and USS Missouri.
The Arizona was sunk in the 1941 attack on Pearl Harbor. Its guns were salvaged. The Missouri was where the surrender ceremony to end the war in the Pacific took place.
Secretary of State Ken Bennett has spearheaded the effort to acquire the big guns and use them for a memorial along with a committee called "Guns to Salute the Fallen."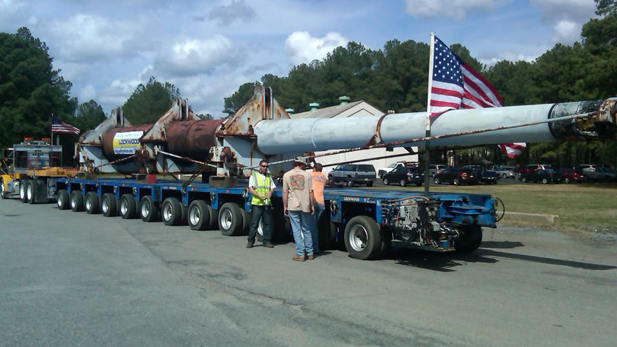 PHOTO: Courtesy of Arizona Secretary of State
One of the gun barrels from the USS Missouri is loaded onto a truck in early March 2012, to be moved to Phoenix. It will become part of the state's WWII memorial, along with a gun barrel from the USS Arizona.