A new survey by the National Institute for Civil Discourse says most voters in the United States have lost confidence in the ability of elected leaders to solve problems.
The bipartisan survey based out of the University of Arizona asked 800 registered voters nationwide to choose two words to describe their feelings about how elected officials act when dealing with problem solving.
More than 60 percent said they felt "frustrated," and 40 percent chose "worried," said Carolyn Lukensmeyer, the institute's executive director.
"I think frustration means we've seen this again and again; we really don't like it but the frustration is we really don't know what to do to change it," she said.
More than 40 percent of those eligible to vote typically don't vote, Lukensmeyer said. Feeling disengaged could keep even more people at home on Election Day.
Data from the survey will be provided to those who will oversee this year's presidential debates, she said.
The point would be to say, "You're sitting in a seat where you could change the tone of the presidential debate. Actually ask some questions that are directive responsive to what the public said they would like to see,'" Lukensmeyer said.
Survey results also showed that the majority of Americans would rather see presidential candidates highlight areas of agreement where there can work across party lines, rather than focusing on party differences.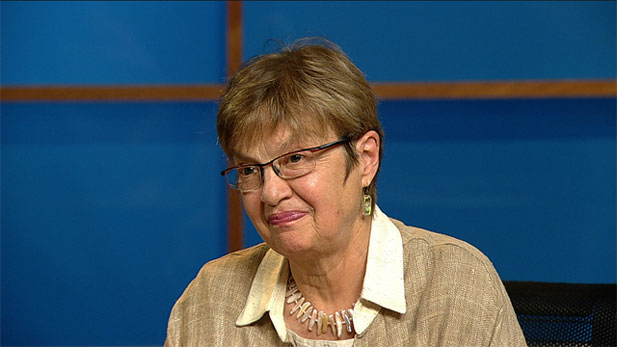 Carolyn Lukensmeyer becomes the first executive director at Tucson-based National Institute for Civil Discourse which was founded after the January 2011 shootings in Tucson. (PHOTO: AZPM)