Story by Christopher Conover and Fernanda Echavarri
(VIDEO: AZPM)
A judge has ruled that police in Arizona can immediately start enforcing the most contentious section of the state's immigration law.
The ruling on Tuesday by U.S. District Judge Susan Bolton marks the first time police can carry out the 2010 law's requirement that officers, while enforcing other laws, question the immigration status of those they suspect are in the country illegally.
Matthew Benson, a spokesman for Governor Jan Brewer, told Arizona Public Media that the Governor is "thrilled to see the injunction lifted and finally see the heart of this law in effect.
The requirement known by the law's critics as the "show me your papers" provision has been at the center of a two-year legal battle that culminated in a U.S. Supreme Court decision that upheld the requirement.
Opponents then asked Bolton to block the requirement and argued it would lead to racial profiling of Latinos. Bolton's one-page ruling did not give an explanation as to her reasoning for lifting the injunction.
Carlos Garcia with the National Day Laborer Organizing Network says immigration activists were not surprised when the injunction was lifted. He says now, however, they will have to change their tactics when it come to resisting 1070.
"We now have to forcefully stop it ourselves. Whether it is asking different police departments to comply with it, whether it will be asking businesses not to allow police officers into their building."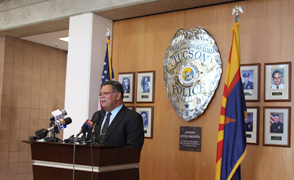 Tucson Police Chief Roberto Villaseñor speaking at TPD's headquarters. (PHOTO: Fernanda Echavarri)
Tucson Police Chief Roberto Villasenor says that reaction does not surprise him and his officers are ready to deal with any resistance.

TPD officers are being trained on how to enforce the law and Villaseñor says there is a tracking system in place in order to make sure every single TPD officer receives training.
"If people have proof of legal residency, they should carry their documentation at all times," Villaseñor says. "That's the purpose of that documentation, and when people are driving they have to have a drivers license, that's presumptive identification."
The main change for TPD officers will be going from allowing officers to inquire about a person's immigration status, to requiring them to do so, should they believe a person is here illegally, Villaseñor says.
Less controversial sections of the law have been in effect since late July 2010.
Read Judge Bolton's order here
View at Google Docs | Download File