Dawn Goldstein thought she'd seen it all.
A nurse since the mid-1980s, Goldstein had for decades treated people with all manner of illnesses and wounds in all kinds of medical settings. But in 2005, she began to think about the wounds she couldn't see.
Her husband was on his seventh of eight total military deployments—he served six times in Iraq, twice in Afghanistan—and struggling with severe post traumatic stress disorder (PTSD).
"Seeing the effects of going overseas is what got me intrigued with the behavioral health perspective," Goldstein says. "I wanted to find a way to help."
Goldstein joined the Army Reserve and began to work directly with soldiers and veterans as a behavioral health nurse and case manager on Fort Huachuca. But she still wanted specialized training to better serve the people in her care.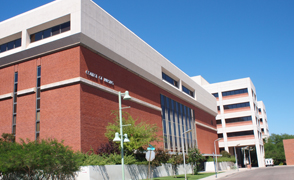 PHOTO: Gisela Telis
The University of Arizona College of Nursing is one of the top-ranked nursing programs in the country.
Now a new program offered by the University of Arizona College of Nursing is giving her the opportunity she's waited for.
The family psychiatric and mental health nurse practitioner, or PMHNP, specialty option provides registered nurses with advanced training in assessing, diagnosing and treating behavioral health conditions through a variety of methods, including prescribing medication.
Over four semesters and hundreds of hours in a clinical setting, students in the option learn how to address mental health from childhood to end of life so that they can help families across the lifespan. Nurses can pursue the specialty as a post-masters certificate, or within the college's doctor of nursing practice academic program.
The specialty option—the brainchild of nursing professors Terry Badger, Rebecca Ross and Kate Sheppard—launched in the fall 2012 semester.
The UA College of Nursing offered a similar option several years ago, but when budget cuts forced the university to pare down its offerings, the program was cut.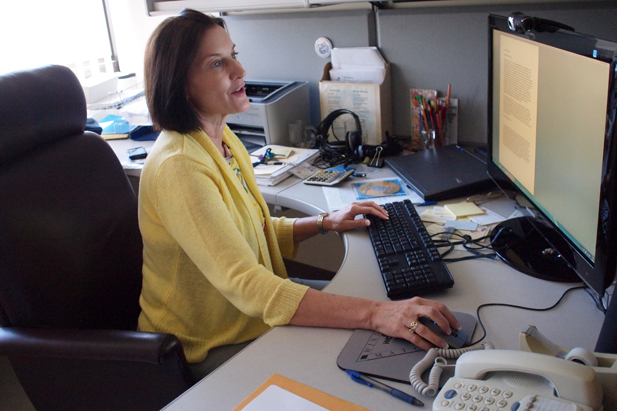 PHOTO: Gisela Telis
Working with two other nursing college faculty, Terry Badger created the mental health specialty option now available in the UA College of Nursing.
Bringing it back has been a priority ever since, says Badger, who also directs the College of Nursing community and systems health science division.
"We have so many people with mental health needs that aren't being addressed in this state," she says. "If you're waiting six to eight weeks to see a psychiatrist because everyone is booked, having access to a nurse practitioner who can treat you can be a real lifesaver."
And many Arizonans are in need of that lifesaver. The National Institute of Mental Health estimates that one out of every four Americans suffer from a diagnosable mental illness each year.
That's more than a million people in Arizona alone, yet a 2004 study found the state had only 691 actively practicing psychiatrists.
The state's average of 12 psychiatrists for every 100,000 residents is well below the national average.
Psychiatric nurse practitioners could ease that shortage, says Sheppard, who heads the PMHNP specialty option program. Training more nurse practitioners to address mental health concerns could also make mental health treatment more easily accessible and less costly, she adds.
"There are so many challenges for people seeking mental health care, and yet there are nurse practitioners willing to provide that care," she says.
But training new practitioners offers an extra benefit, says Sheppard—a chance to fight the fear that so often surround mental illness. Sheppard makes it her top priority to teach students that mental illness is common and nothing to be afraid of.
"They are afraid sometimes. A few are afraid of patients getting violent, but most are afraid they won't know what to say. They're afraid they'll do the wrong thing and make a tough situation worse," she says. "Nurses like to feel like they're in control, and when you're dealing with emotions, it's harder—it's not cookbook."
To ease those fears, Sheppard uses roleplaying that give students the opportunity to practice listening skills and feel more in control. And despite the stigma associated with mental illness, interest in the mental health option is growing.
Sheppard says she receives at least one email daily from interested nurses all over the country. The program will include eight to ten students each year, and eight are currently enrolled.
Goldstein is one of them. Although it isn't easy to juggle her roles as reservist, working nurse and student, she looks forward to the path ahead of her.
"I couldn't be more thrilled that this program is available," she says. "This gives me the skills and confidence to serve my community well, to be really useful. It's exciting. I keep looking at the schedule of courses and I can't wait."