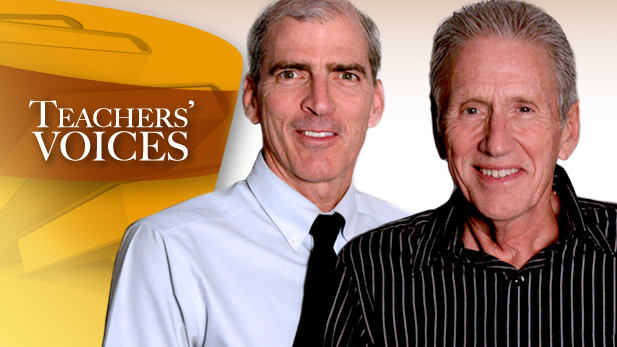 Tucson High English teacher Mike Beeson, with University of Phoenix writing & humanities instructor Ron Mead
In cooperation with Tucson Values Teachers, Arizona Spotlight presents a special series called Teachers' Voices. These conversations between educators, administrators, and students gives them a chance to share personal stories about the struggles and triumphs of their daily school experience.
What's the best way to curb the urge that some students have to dropout of school? One thing that is proven to help is for them to become involved in and motivated by whatever they are learning. For some kids it may be sports or science that can help forge such a commitment, but many a struggling high school student still finds the key to better learning between the covers of a good book.
It's something that these Teachers' Voices guests get to see first-hand every school year. Mike Beeson is a Tucson High English teacher with over 35 years of classroom experience. Ron D. Mead teaches writing and the humanities to older students at the University of Phoenix, and is the author of A Concise Grammar Book for Those Who Hate Grammar.
Listen:
Teachers' Voices segments are produced by Mark McLemore and will air bi-weekly throughout 2012 on Arizona Spotlight, funded in part by University of Arizona College of Education and Cox Communications.