(VIDEO: AZPM)
Swamp coolers, cattle troughs, wire and fences along with their poles all have become hot commodities in a growing wave of metal theft.
The problem of metal theft is growing around the world, and Tucson business owners and residents have absorbed losses of millions of dollars.
To tackle the issue, businesses have enlisted help from police to bring more awareness to metal theft and eventually stop it.
Amber Smith, director of the Metropolitan Pima Alliance, estimates such thefts cost about $1 billion annually nationwide.
"The city of Tucson has experienced about $2 million in reported damage," says Smith, who along with MPA plans to hold a community awareness meeting to educate the community and ensure enforcement has the correct tools to fight the issue.
Lt. Tom Earley of the Tucson Police Department says that commonly these crimes are committed at night in areas that are poorly lit or secured.
"Relative to the damage that they cause (the thieves) are getting a fairly small amount of reward," says Earley.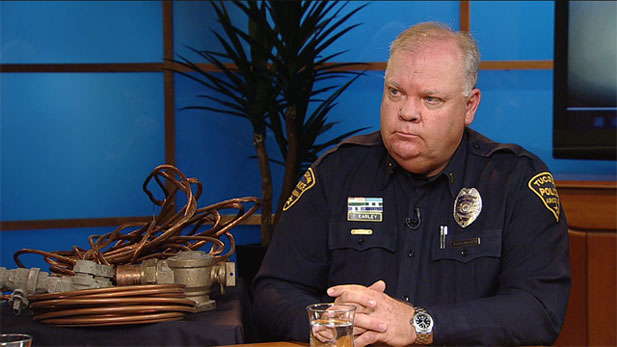 Tom Early, Lieutenant for the Tucson Police Department is raising awareness about the ongoing problem of metal theft in our community. (PHOTO: AZPM)