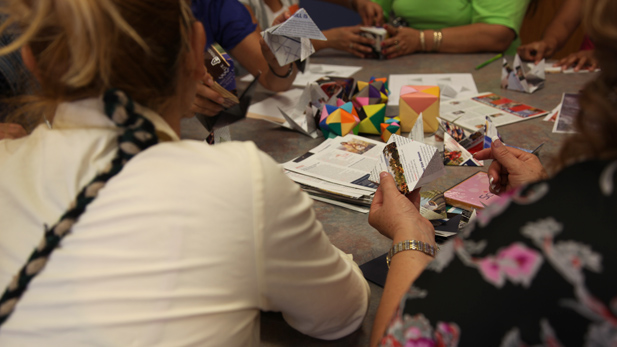 TUSD moms work on hands-on math projects during the 12th Annual Title I Family Conference. (PHOTO: Fernanda Echavarri)
About 100 parents of Tucson Unified School District students took part in the district's annual conference Thursday for low-income families.
"Who Needs Math Anyway?" was the conference theme this year, where parents worked on math problems, participated in geometry group exercises and played with educational experiments they can now share with their kids at home.
TUSD has sponsored the event for the last 12 years, each year focusing on a different theme.
Clarissa Montoya, a TUSD parent, says she's happy it's all about math.
"I have a second grader, and I don't want him to be anxious about math like I am," Montoya says. "It's easier to incorporate reading in daily life, but math can get a little tricky. That's why I'm glad I got all theses math games so I can make math fun and also get my 4-year-old into it."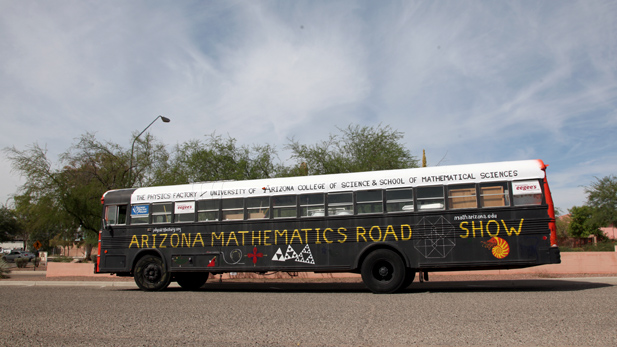 The University of Arizona Math Department bus parked at the Northwest Neighborhood Center, 2160 N. 6th Ave., for TUSD's Title I Family Conference. (PHOTO: Fernanda Echavarri)
Representatives from the University of Arizona Mathematics Department talked with parents as they participated in interactive educational games.
Many parents arrived in school buses at the Northwest Neighborhood Center, 2130 N. 6th Ave., after being picked up at schools throughout the city
The program was strictly for parents. Families needing child care during the four-hour event got it for free, says Teresa Guerrero, TUSD Title I program director.
"The idea is to get parents familiar with the materials covered in their kids' classrooms and get over the anxiety that can come from math," Guerrero says.
Parents visited several rooms, talking to math experts from the UA and representatives from the Girl Scouts and the Children's Museum. They took home books, games and educational resources.
Most of those participating are moms.