Nine community centers in Pima County will soon be getting repairs and improvements, according to county officials.
The Natural Resources, Parks and Recreation Department reviewed all of the county's community centers and wrote a list of recommended improvements, and the county is moving on them.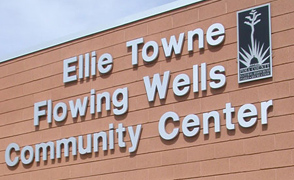 PHOTO: File photo
The Ellie Towne Flowing Wells Community Center
The $1.5 million project was approved by the Board of Supervisors.
The repairs range from adding disabled parking places at Continental Community Center to installing energy-efficient lighting at four locations. Some community centers will be repainted, and others will get new security lighting and fire alarms.
The work is expected to be completed by next July.
Community centers included in the project: Catalina Recreation Center, Picture Rocks Community Center, Ajo Community Center, Drexel Heights Community Center, Continental Community Center, Agua Caliente Community Center, Robles Junction Community Center, Thomas Jay Recreation Center and Ellie Towne Flowing Wells Community Center.