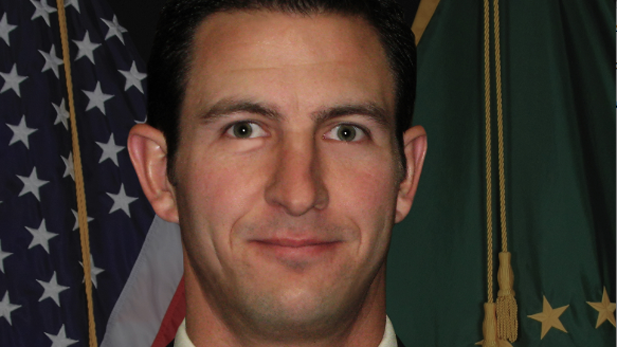 PHOTO: U.S. Border Patrol
U.S. Border Patrol Agent Nicholas Ivie, who was killed outside of Bisbee Tuesday.
By AZPM Staff and The Associated Press
One Border Patrol agent was killed and another wounded in a shooting early Tuesday in Cochise County near the U.S.-Mexican border.
The Border Patrol identified the dead agent as Nicholas Ivie, 30. He had been with the Border Patrol for nearly five years and was a native of Provo, Utah.
"First and foremost, our thoughts and prayers are with Agent Ivie's family during this terrible time," said Jeffrey D. Self, commander of the Border Patrol's Joint Field Command – Arizona. His statement came in a press release.
"This is a tragic loss for Customs and Border Protection," Self's statement said. "We have an unwavering commitment to pursue and bring the perpetuators of this heinous act to justice."
Listen to our audio report here:
The name of the wounded agent and a third agent who was with them but not hurt were not revealed. The wounded agent was reported to be in stable condition at a Tucson hospital following surgery for wounds in the ankle and buttocks.
The agents were shot while on foot responding to a sensor alarm that showed activity in the area. An earlier report that said they were on horseback was said to have been erroneous.
PHOTO: Fronteras Desk
Honor guard at September 2012 dedication of Brian Terry Border Patrol Station, Naco, Ariz.
The Border Patrol press release said the shooting occurred about 1:50 a.m. Tuesday near mile-marker 352 of Highway 80, which is about 10 miles east of Bisbee and several miles north of the Mexican border.
No information was available on which direction the shots came from or any suspects, or if the agents returned fire.
At a Tuesday afternoon news conference in Naco, Self said Ivie was married and had two children.
FBI Agent James Turgal at the news conference declined to discuss details of the shooting or any evidence found at the scene. Turgal, agent in charge of the Phoenix FBI office, referred several questions back to the Border Patrol and said he could not discuss whether guns were found or what the exact circumstances of the shooting were.
"I'm not going to talk about the details of why he was there or what he found there," Turgal said of Ivie. "I'm not going to discuss evidentiary materials."
He said officers were "processing the crime scene actively ... for any evidence. It may take at least a day or two to officially and completely process the crime scene."
Turgal said he did not know details of how Ivie and the other two agents were working at the scene.
"The agents were all responding to that specific area," he said. "Exactly when they arrived in concert with each other, I don't have that information."
Carol Capas of the Cochise County Sheriff's Department said earlier in the day that the agents were investigating an alert that was triggered at 1:33 a.m., indicating movement across the area.
"The information that we have so far is that these three agents were responding to a sensor hit and were walking up the trail in that area when they reportedly took gunfire," Capas said.
The Sheriff's Department attempted to make contact with the agents, but could not reach them, Capas said.
She said the FBI was at the scene, investigating jointly with the Sheriff's Department.
The last U.S. Border Patrol agent fatally shot on duty was Brian Terry, who was killed in a shootout with Mexican bandits near the border in December 2010. The shooting was later linked to the Fast and Furious gun smuggling operation.
The Border Patrol station in Naco was recently named for Terry.
Read the Border Patrol press release here: View at Google Docs | Download File