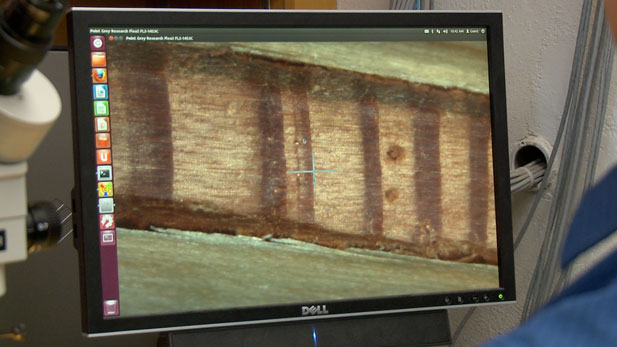 University of Arizona researcher Daniel Griffin takes a deeper look in to tree ring specimens.
"The University of Arizona was a natural place for me to come because the laboratory of tree ring research is one of the prominent facilities for this type of work" says Daniel Griffin, a graduate student at the University of Arizona. The University of Arizona's Laboratory of Tree Ring Research is in fact recognized worldwide as a major center for the study of tree rings.

For the past few years, the tree ring department has collaborated with the UA's Atmospheric Sciences department to look at tree rings as a new way to analyze the monsoon.
"What makes this research special" says Connie Woodhouse, director of this monsoon research, "is that we are finally getting some understanding on what happens to summer rainfall during the monsoon."
This monsoon project is funded by the National Science Foundation. The goal is to provide information to better understand the long-term history and future implications of the monsoon.
Producer: Alexandra Salazar | Videographer: Santiago Bahti | Editor: Lauren Bays