A Central Arizona Project canal near the western Arizona town of Bouse ruptured early Sunday, causing millions of gallons of water to flow from the canal and into the desert. CAP's Mitch Basefsky says the rupture in the canal's concrete sidewall was nearly 25 feet wide. Even though engineers were able to shut off the water flow from upstream within hours of discovering the breach, Basefsky estimates that between 130 million and 160 million gallons of water flowed into a nearby wash before the flow was stopped.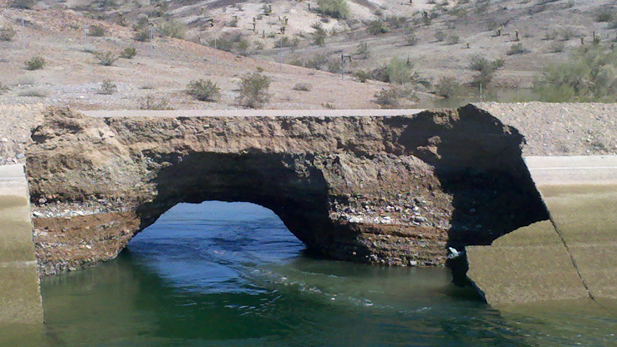 PHOTO: Central Arizona Project
CAP officials say up to 160 million gallons of water poured through a rupture in a CAP canal before engineers were able shut off the flow from the Colorado River.
The Central Arizona Project diverts Colorado River water from Lake Havasu to Pima, Pinal and Maricopa Counties through a system of aqueducts, tunnels and pumping stations. CAP also uses storage basins and reservoirs, including Lake Pleasant northwest of Phoenix. Basefsky says there are more than enough reserves in the lake to make up for the loss of water.
Engineers still don't know what caused the breach, in part because nothing like it has ever happened before. Basefsky says this is the first time they've ever had to shut off CAP flows for a break in the canal. He estimates repairs could take up to three weeks.
According to the Central Arizona Project website, the concrete sidewalls of the canal are 3.5 inches thick. Water depth is 16.5 feet. The canal can carry an average of 1.5 million acre feet of Colorado River water each year, or nearly 500 billion gallons. CAP water ends up in homes and businesses in Tucson and Phoenix and on tribal nations. It's also used to water crops.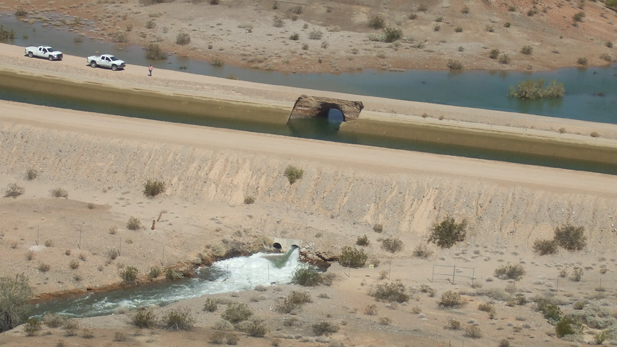 PHOTO: Central Arizona Project
Aerial view of the CAP canal rupture near Bouse, in far western Arizona.