Two anniversary events are being celebrated tomorrow (Saturday) at Madera Canyon south of Tucson. The group Friends of Madera Canyon will mark a quarter-century of partnership working with the Coronado National Forest. And, the U.S. Forest Service is recognizing the 40th anniversary of The Volunteers in National Forests Act of 1972
The Friends of Madera Canyon is a non-profit group founded 25 years ago to help the U.S. Forest Service advance conservation efforts and recreation in the canyon.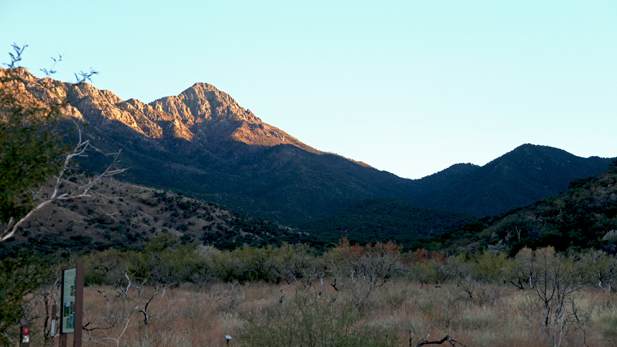 PHOTO: Mark Duggan
Madera Canyon is seen in the shade, to the right of Mt. Wrightson, also known as Mt. Baldy.
Doug Moore is the organization's education manager. He says they help with cleaning, maintenance, restoration projects....anything the Forest Service is unable to do because of limited resources.
Moore says the Friends of Madera Canyon also works to educate people on the importance of the riparian area. One particular group they focus on is kids. Moore leads tour groups of schoolchildren through the canyon to teach them more about conservation.
Also at Madera Canyon Saturday, a celebration of the 40th anniversary of the Volunteers in the National Forests Act of 1972. It gave the forest service the authority to work with volunteers who wanted to donate their time and services to help with forest conservation.
Some volunteers even go on to a career with the forest service. Heidi Schewel started out volunteering with a federal agency in Tucson. Now, she's the Public Information Officer with the Coronado National Forest. But she says she still places a high value on volunteerism. She says tens of thousands of people volunteer in the forests nationwide, because they care about public lands.
Saturday's activities at Madera Canyon will begin at 9:00 a.m. and end at 2:00 p.m. The Forest Service is waiving recreational day-use fees at the canyon for the event.
Read the press release about Saturday's activities at Madera Canyon:

2012 1002 FOMC Anniversary: View at Google Docs | Download File