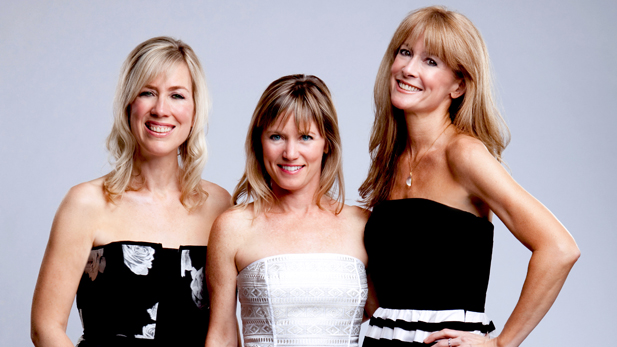 The Eroica Trio is (l to r) Erika Nickrenz (piano), Sara Parkins (violin) and Sara Sant'Ambrogio (cello)
Sara Sant'Ambrogio and her celebrated Eroica Trio join the Tucson Symphony Orchestra to perform on October 5 and 7, 2012.
The trio is visiting Tucson for the first time since 1999, when it played with the Arizona Friends of Chamber Music.
"I'm so excited to come back and play with the orchestra," Sant'Ambrogio said.
Violinist Sara Parkins replaces violinist Susie Park, who joined the trio while she was still in school in 2006 and recently left it.
"I think that she didn't have time to figure out what she wanted," Sant'Ambrogio said about Park's decision to leave. "We thought she brought a lot to the trio, but the fit wasn't exactly what we had hoped for."
With Parkins as a solid third of their ensemble, Sant'Ambrogio and pianist Erika Nickrenz regain a friend they have both known and played with since they attended music camps together.
The three maintained their musical ties as their lives intertwined through studies at the Juilliard School in New York City and the Curtis Institute of Music in Philadelphia. Their continued and close affinity brings a richness and spontaneity to every performance, a synergy that is sensed even while talking with them.
The three are here to play at two distinct venues. In addition to the TSO's season-opening classics concert, the trio is playing a recital.
"It's so wonderful when you have such a big repertoire to play a concerto with the orchestra and then do a recital," she said. "You feel like you really get to put a full picture of yourself out there as an artist."
Listen:
The Eroica Trio makes its Tucson Symphony Orchestra debut performing Beethoven's Triple Concerto at the opening weekend concerts of the 2012-13 season.
Music director and conductor George Hanson, now celebrating his 17th season with the TSO, will be on the podium for the program, which opens with the overture to Richard Wagner's Flying Dutchman and concludes with Ein Heldenleben, A Hero's Life, the seventh in a line of tone poems for which Richard Strauss is well known.

Performances are Friday, October 5 at 8 p.m. and Sunday, October 7 at 2 p.m. at the Tucson Music Hall, 260 S. Church Ave., Tucson. While in Tucson for the opening of the TSO season, the Eroica Trio will also perform a special recital of Gershwin, Beethoven and Dvořák on Tuesday, October 2 at 8 p.m. at Catalina Foothills High School.