Tucson Mayor Jonathan Rothschild, Sahuarita Mayor Duane Blumberg and Oro Valley Mayor Satish Hiremath Tuesday launched the Arizona Mayors Education Roundtable Tuesday.
Rothschild said at a Tucson news conference that the initiative will help schools statewide tackle challenges in public education.
"In Arizona, although mayors don't have jurisdiction over schools, I believe there's a lot mayors can do," Rothschild said. "There's a lot all of us can do to help our kids succeed academically."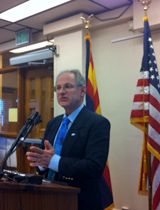 PHOTO: Fernanda Echavarri
Tucson Mayor Jonathan Rothschild
The Arizona Mayors Education Roundtable will focus on making sure children in third grade are reading at grade level, he said.
"Research has shown that the third-grade level is the level when children go from learning to read to reading to learn," he said. "And we found that a lot of the children that don't read, is because their parents are not reading, so we're going to work on adult education as well."
Rothschild and other mayors will work with non-profits and the business community in their communities to provide extra resources for public schools, including adult literacy classes, and incentives for children who exceed in school, Rothschild said.
The Helios Education Foundationis funding the initiative with a $250,000 grant.