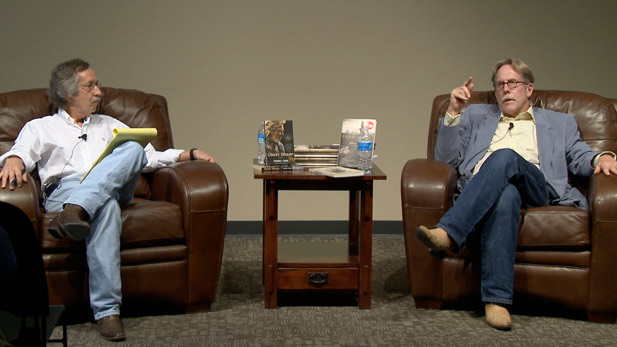 Thomas Cobb (right) discusses his new book with Bruce Dingus (left) of the Arizona Historical Society at a public reading.
Author Thomas Cobb left the desert many years ago, but he says he left his imagination in Tucson. Cobb is the author of three novels. One of which, Crazy Heart, became an Academy Award-winning film starring Jeff Bridges in 2009.
Thomas Cobb received the first MFA in Creative Writing from the University of Arizona. He also holds a bachelors and masters degree from from the U of A. He received a Ph.D. from the University of Houston, where he studied with the postmodern writer Donald Barthelme. A lifelong academic, he taught English for more than 40 years at universities as well as prisons. He lives in Rhode Island.
Cobb returned to the University of Arizona campus to read from his new book. In September, the University of Arizona Press published With Blood in Their Eyes based on a deadly shootout in Graham County in 1918. He calls the book a "non-fiction novel".
Watch to find out more about Thomas Cobb and his new book, With Blood in Their Eyes.
Producer: Heather Wodrich | Videographer: Eric Rawdin | Editors: Lauren Bays, Heather Wodrich