The Triple-A Tucson Padres will be moving to El Paso after one more year playing in Tucson.
Officials with the Pacific Coast League on Thursday announced the purchase of the team by MountainStar Sports Group. The price was not undisclosed.
The Tucson team, which is affiliated with the San Diego Padres, will play the 2013 season at the Pima County-owned Kino Stadium, and then move to El Paso to begin play in 2014.
The El Paso City Council on Sept. 18 agreed to build a $50 million downtown ballpark on the current site of City Hall. The complex will be leased to MountainStar.
Tucson Padres General Manager Mike Feder says low attendance was the biggest factor in the previous owner's decision to sell the team. "Last year we drew just over 200,000 fans," he says. "The next lowest in the Pacific Coast League was 311,000 fans."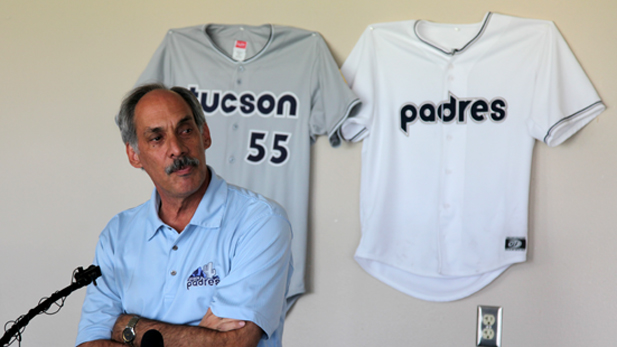 PHOTO: Andrea Kelly
Mike Feder, general manager of the Tucson Padres. The team is moving to El Paso after the 2013 season.
The team moved to Tucson from California two years ago, after a stadium financing deal in Escondido fell through. Team owners stated at the time that the move to Tucson could be temporary and that the team may be sold or move again.
Feder remains optimistic about the city's chances to attract another minor league team in the future. Triple-A baseball has been successful in Tucson before. The Tucson Toros played at city-owned Hi-Corbett Field from 1969 to 1997. They changed their name to the Sidewinders and moved to Kino (then known as Tucson Electric Park) in 1998, then left for Reno in 2008. The independent Tucson Toros played at Hi-Corbett in 2009 and 2010, then suspended operations when the Padres moved to town in 2011.