The exhibit "Symbols of our Mexican Past" is open at Presidio del Tucson downtown, featuring artifacts such as lances and saddles from the early days of the city.
Rick Collins, president of the Tucson Presidio Trust for Historic Preservation, says the exhibit will introduce visitors to little-known early Tucson figures.
Among them was Carlos Velasco, who printed the first Hispanic newspaper in Arizona. Collins has the printing press Velasco used.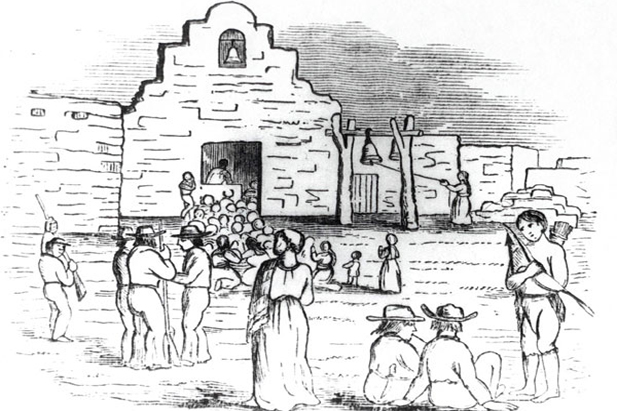 PHOTO: Artist unknown
A sketch of the presidio gates at Tucson. The image features both Spaniards and Pima native Americans.
Collins says he hopes the exhibit will spotlight the contributions of people such as Velasco.
"It's important for the Tucson Presidio Trust ... to have a place of history and of culture that's Hispanic," says Collins. "It's been a neglected population, and we need to celebrate that history."
According to the Tucson Presidio's Trust's website, Spanish soldiers who came from Tubac established a presidio in 1775 at the present-day location of Church and Washington streets.
It remained in use until 1865, when it was dismantled as Americans came to Tucson. Some of the presidio's adobe structures were excavated in 2006. A reconstruction, museum and gift shop are currently at the site.